WEDDING CELEBRANT MELBOURNE
Call or text now on 0422448918
If you are getting married and need to hire a Wedding Celebrant, Sharon Osman is one of Melbourne's most experienced and highly recommended marriage celebrants. Over the past 12 years she has performed hundreds of weddings, including Same Sex Marriages. Sharon loves her job & has served couples of different nationalities, cultures, backgrounds & sexual preferences.
So why not contact her for a free quote and chat.
When choosing a celebrant you want someone who values high standards, has good reviews, considerable experience, offers exceptional service and is naturally warm hearted. Sharon is a great choice.
With a background in Life Coaching and Mentoring, Sharon is genuinely kind, and comes from a place of love. She is caring, gentle, professional, highly organised and pays attention to the finer details that will take the stress of you.
Sharon's approach, mannerisms and style of crafting you a personalised ceremony, is a Game Changer.
She instantly connects with you and creates a safe space for you both to open up and share your dreams and visions for your beautiful day.
Using the information you share about your relationship, love and value to each other, she will script your love story including romance, excitement, your values and most of all humour to complete it.
Being a modern day Life Coach & celebrant, Sharon has an open-minded and flexible approach to weddings & people of all denominations. Her ability to build rapport and present her Ceremony with professionalism and class has won her many awards. She has a calm tone and great public speaking skills to engage your family and friends.
Sharon specialises in personalised ceremonies and your ceremony is uniquely tailored to represent you and your soulmate.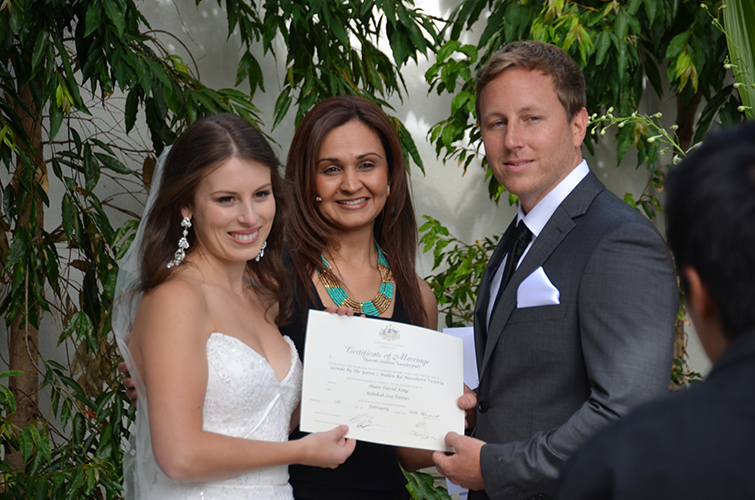 As an-authorised marriage celebrant, Sharon takes care of the legal paperwork required before, during and after the marriage. With a unlimited supply of patience and knowledge, She will guide you through every step of the Ceremony process, allowing you to feel confident and relaxed on the day. Sharon can even offer tips on how to be calm and composed to manage your nerves.
She also offers invaluable information ideas and options if required. You get a list of vows to choose from or Sharon would even help you write your own vows if that's what you want. Everything is organised and ready weeks before, so when the big day arrives, you can relax and enjoy your wedding just the way you visualised it.
Regardless of whether it's a short intimate wedding or a traditional style wedding or anything in between. Rest assured that no matter what rituals, faith or cultural aspects you want, your requests will be honoured and respected.
0422448918