CIVIL MARRIAGE CELEBRANT – REGISTRY STYLE MARRIAGE
Looking to get married with fun & no fuss? Then a Registry Style Marriage might be what you need. No stress just legal proceedings taken care of by Melbourne Celebrant Sharon Osman.
All legalities are attended to from start to finish, easy step by step process in the comfort of my home.
So don't break your budget call Sharon for Legal Registry Celebrant in Melbourne.
Mobile: 0422448918   0387904142
Email: cherishedmomentscelebrated@gmail.com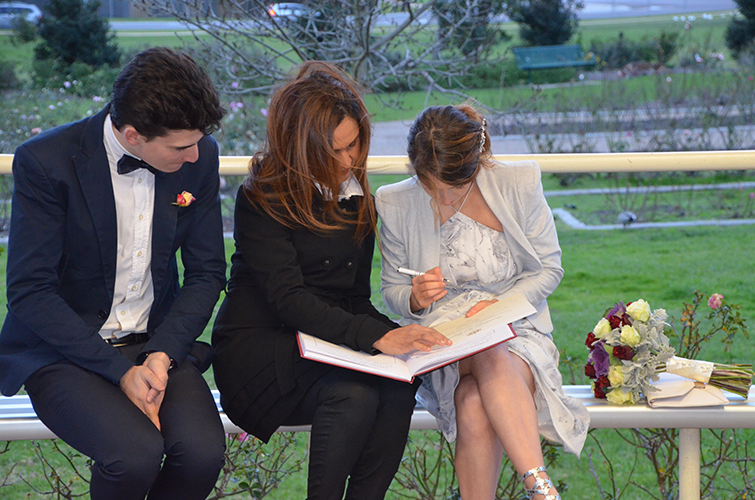 Hello and welcome to my website! I'm Sharon Joanne Osman an Authorised Civil Marriage Celebrant officiating for 8 years in Melbourne.
A little about registry style Marriages/Weddings.
These are designed to cater for those couples who just want a Low key, low cost legal marriage. Or you might be having a marriage ceremony or already done so overseas as just wish to Legalise it in Australia. Or you may just want to get married legally and have a grand celebration another time.
Most often I'm also asks to come to Indian – Hindu, Buddhist, Sri Lankan and Muslim Ceremonies to just perform the Legal formalities.
Or, If you are planning to Legally marry and your partner is overseas, you can still fill in the NOIM lodge it with me and I can provide a letter confirming your intention and booking.
Or if you're marrying for the second or third time, let me help.
The reasons and options are many but the level of Service I offer is always high.
Having graduated from the Academy of Celebrancy in 2009 I have conducted over 400 weddings since and regardless of your situation or where you are from I fully understand and respect every background, nationality and culture.
My passion for being of genuine service has drawn couples to me from all over Melbourne, Australia and all over the world.
I have married couples from all over India including Hindu Ceremonies, Indian and Australian couples, couples from Sri Lanka including Poruwa Ceremonies, Punjabi Couples, couples from Pakistan, Indonesia, Thailand, Chinese bride and Australian groom, and vise versa. Japanese and Australian, Romanian, Italian, Couples from the Netherlands,
Romania, Croatia, students from Italy, Germany, the US, UK, Scotland and Canada.
Some areas I have married people from Include – Beaconsfield, Pakenham, Berwick – Dandenong Ranges – Sherbrooke, Doveton, Endeavour Hills, Springvale, Clayton, Eastern Melbourne – Narre Warren – Rowville – South East Melbourne – Yarra Valley – Brunswick – Fitzroy – Frankston Ferntree Gully – Belgrave – Cranbourne – Carrumdowns – Mulgrave – Clarenda, Blackburn – Chadstone – Doveton – Noble Park, Burwood, Blackburn, Chadstone, Endeavour Hills – Glen Iris, Glen Waverley and all over Melbourne.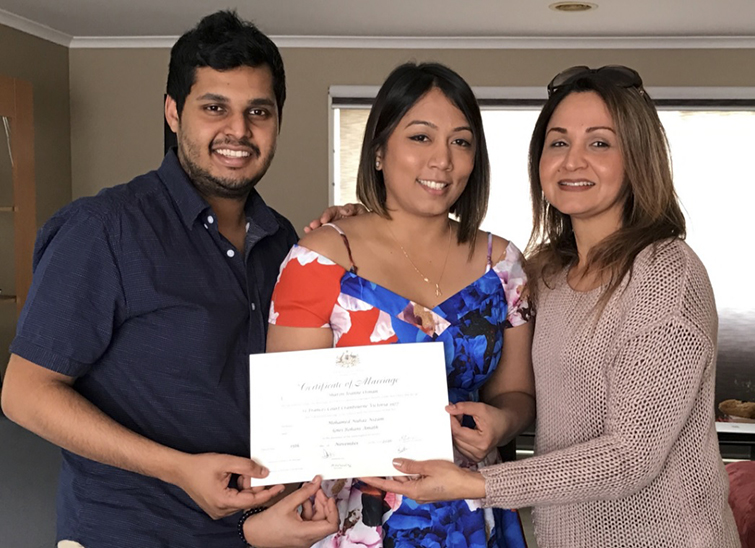 More Suburbs I Service
Carlton 3053
Carlton South
Carlton North
Docklands 3008
East Melbourne 3002
Jolimont
Flemington 3031 (Shared with City of Moonee Valley)
Kensington 3031
Melbourne 3000
Melbourne 3004 (St Kilda Road area, shared with City of Port Phillip)
North Melbourne 3051
Hotham Hill
Macaulay
Parkville 3052
Royal Park
Port Melbourne 3207
Fishermans Bend
Southbank 3006
South Wharf 3006
South Yarra 3141
West Melbourne 3003
Coode Island
City of Port Phillip Edit
Albert Park 3206😊
Balaclava 3183😊
Elwood 😊
Middle Park 3206😊
Port Melbourne 3207 😊
Beacon Cove
Fishermans Bend😊
Garden City
Sandridge
Ripponlea 3185 😊
St Kilda 3182😀
St Kilda South
St Kilda East 3183
St Kilda West 3182
St Kilda Junction
Southbank 3006
South Melbourne 3205
South Wharf 3006
City of Yarra Edit
Abbotsford 3067😊
Victoria Park
Alphington 3078
Burnley
North Carlton
Clifton Hill 3068
Collingwood 3066
Collingwood North
Cremorne 3121
Fitzroy 3065
Fitzroy North 3068
North Fitzroy
Richmond 3121
Burnley North
North Richmond
Richmond South
West Richmond (the nam
Beaumaris 3193
Black Rock 3193
Brighton 3186
Were Street
Brighton Beach
Brighton North
Middle Brighton
Brighton East 3187
North Road
Cheltenham 3192
Southland Centre
Pennydale
Gardenvale 3185
Hampton 3188
Castlefield
Hampton East 3188
Highett 3190
Sandringham 3191
Moorabbin 3189
Beaconsfield 3807
Officer 3809
Officer South
Pakenham 3810
Edit
Avonsleigh 3782
Bayles 3981
Yallock
Beaconsfield Upper 3808
Cations
Bunyip 3815
Bunyip North 3815
Caldermeade 3984
Cardinia 3978
Lisbaun
Catani 3981
Clematis 3782
Cockatoo 3781
Fielder
Wright
Cora Lynn 3814
Dalmore 3981
Dewhurst 3809
Emerald 3782
Lakeside
Nobelius
Garfield 3814
Garfield North 3814
Gembrook 3783
Cornucopia
Gilwell Park
Whites Corner
Koo Wee Rup 3981
Dalmore East
Koo Wee Rup North 3891
Lang Lang 3984
Lang Lang East 3894
Longwarry 3816 (shared Shire of Baw Baw)
Maryknoll 3812
Menzies Creek 3159 (shared Shire of Yarra Ranges)
Modella 3816 (shared Shire of Baw Baw)
Monomeith 3984
Mount Burnett 3781
Nangana 3781
Nar Nar Goon 3812
Nar Nar Goon North 3812
Nyora 3987 (shared South Gippsland Shireand Shire of Baw Baw)
Officer South 3809
Pakenham South 3810
Pakenham Upper 3810
Rythdale 3810
Tonimbuk 3815
Tooradin North 3977
Tynong 3813
Tynong North 3813
Berwick
Cranbourne 3977
Cranbourne East 3977
Cranbourne North 3977
Merinda Park
Cranbourne West 3977
Cranbourne South 3977
Centreville
Doveton 3177
Endeavour Hills 3802
Eumemmerring 3177
Hallam 3803
Hampton Park 3976
Junction Village 3977
Lynbrook 3975
Narre Warren 3805
Narre Warren North 3804
Narre Warren South 3805
Blind Bight 3980
Cannons Creek 3977
Clyde 3978
Clyde North 3978
Devon Meadows 3977
Fiveways
Harkaway 3806
Lysterfield South 3156
Pearcedale 3912
Tooradin 3980
Warneet 3980
Edit
Dandenong 3175
Cleeland
Dunearn
Dandenong East
Dandenong Plaza
Oakwood Park
Dandenong North 3175
Lyndale
Dandenong South 3175
Keysborough 3173
Parkmore
Noble Park 3174
Harrisfield
Noble Park East
Yarraman
Noble Park North 3174
Springvale 3171
Sandown Park
Springvale South 3172
Lyndhurst 3975
Bangholme 3175
Carrum Downs 3201
Frankston 3199
Eliza Heights
Frankston East
Frankston Heights
Karingal
Leawarra
Long Island
Mile Bridge
Mount Erin
Olivers Hill
Frankston North 3200
Pines Forest
Frankston South 3199
Baden Powell
Langwarrin 3910
Sandhurst 3977
Seaford 3198
Belvedere Park
Kananook
Skye 3977
Lyndhurst South
Bentleigh 3204
Bentleigh East 3165
Coatesville
Eastmoor
Caulfield 3162
Caulfield East 3145
Caulfield North 3161
Caulfield Junction
Crimea
Caulfield South 3162
Hopetoun Gardens
Carnegie 3163
Elsternwick 3185
Gardenvale 3185
Gardenvale West
Glen Huntly 3163
Booran Road
McKinnon 3204
Murrumbeena 3163
Beauville
Ormond 3204
Ormond East
St Kilda East 3183
Aspendale 3195
Aspendale Gardens 3195
Bonbeach 3196
Braeside 3195
Carrum 3197
Chelsea 3196
Chelsea Heights 3196
Cheltenham 3192 (Shared with City of Bayside)
Cheltenham East
Cheltenham North
Clarinda 3169
Clayton South 3169
Dingley Village 3172
Dingley
Heathen Hill
Edithvale 3196
Heatherton 3202
Highett 3190
Mentone 3194
Charman
Mentone East
Moorabbin 3189
Moorabbin East
Wishart
Moorabbin Airport 3194
Mordialloc 3195
Mordialloc North
Parkdale 3195
Patterson Lakes 3197
Patterson Gardens
Waterways 3195
Ashwood 3147
Stocksville
Burwood 3125 (Shared with City of Whitehorse)
Chadstone 3148
Jordanville South
Clayton 3168
Clayton North
Petersville
Westerfield
Whitburn
Glen Waverley 3150
Brentwood
Syndal
Syndal East
Hughesdale 3166
Huntingdale 3166
Monash University 3800
Mount Waverley 3149
Bayview
Highbury View
Jordanville
Pinewood
Mulgrave 3170
Monashville
Mulgrave East
Mulgrave North
Valewood
Waverley Gardens
Waverley Park
Notting Hill 3168
Oakleigh 3166
Oakleigh East 3166
Oakleigh South 3167
Moorleigh
Wheelers Hill 3150
Brandon Park
Jells Park
So call me today for a great offer.
0422448918