MELBOURNE WEDDING CELEBRANT – THAI WEDDINGS
Call or text now on 0422448918
Are you a Thai National looking for a Melbourne Marriage Celebrant to perform your Thai Wedding?
Well let me introduce myself, I'm Sharon Osman and I specialize in Mixed marriages. Whether an Australian Marrying a Thai or Thai marrying a Thai or anyone at all. If you are after a glamorous ceremony or just after Marriage Registration in Melbourne, I offer the best price. So call me now.
Hello and welcome! As a Melbourne Marriage Celebrant, I love conducting Thai weddings. The very first couple I married was a Australian groom and a Thai Bride in 2009. I must say they were lovely and brought my business a lot of luck. I have married almost 700 couples since, both of Australian and other ethnic backgrounds.
If you want to find a Melbourne Marriage Celebrant to do Thai weddings, one who is so open minded very respectful and most professional. Then …That's me!!! 🙂
My love for the Thai people, culture and food led me to visiting Thailand in 2012 and I loved it. It gave me an opportunity to lean more about the country, culture, traditions and people.
Having graduated from the Academy of Celebrancy, I hold a Cert 1V in Celebrancy and consider myself the best in what I do because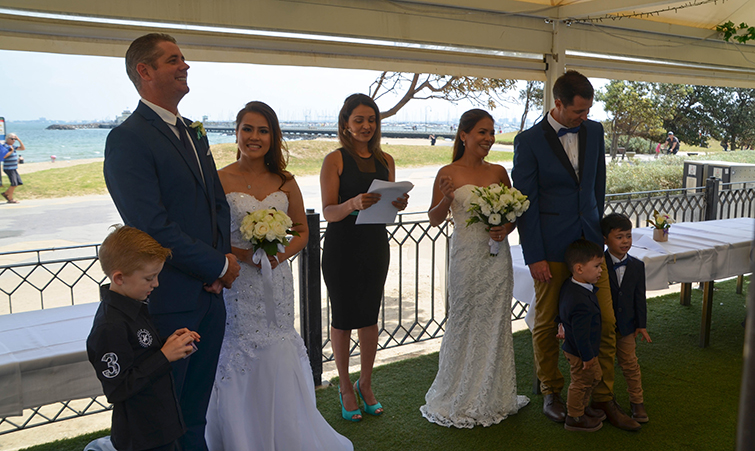 I love what I do. I say this with most sincerity and humility.
I love being a Melbourne Marriage Celebrant performing marriages between Aussies and Thai's or Thai's and Thai or simply anyone. Often known as the Melbourne multi cultural Celebrant I have married couples from all nationalities, cultures and religions.
I'm not just a Melbourne Marriage Celebrant doing Thai Weddings but a professional, humble and non judgemental one who offers you the best deals. If you need a letter for a spouse visa and book with me, I can provide you with one.
I'm excited to say that my most recent booking was a double Wedding!! Two Australian friends marrying two Thai brides in St. Kilda. Wow! How unique! I feel honoured to have the best job in the world. My brides love and connect with me effortlessly and the grooms are happy with me because I make the brides happy. My calm and loving energy enables them all to relax and let me do the hard work.
Big or small anywhere in Melbourne I create a perfect ceremony that reflects you both. Whether you choose traditional Thai or mixed with Australian style I give you what you want.
Or, for a lower cost you might choose to go for a Registry Style marriage at my home office, or for a small fee I'll come to you. Either way I treat everyone with kindness, respect and professionalism.
So for a Melbourne Marriage Celebrant who not only does Thai weddings but travels to you anywhere in Melbourne call me today.
O422448918.