MARRIAGE CELEBRANT – BURWOOD REGISTRY WEDDINGS

Call or text now on 0422448918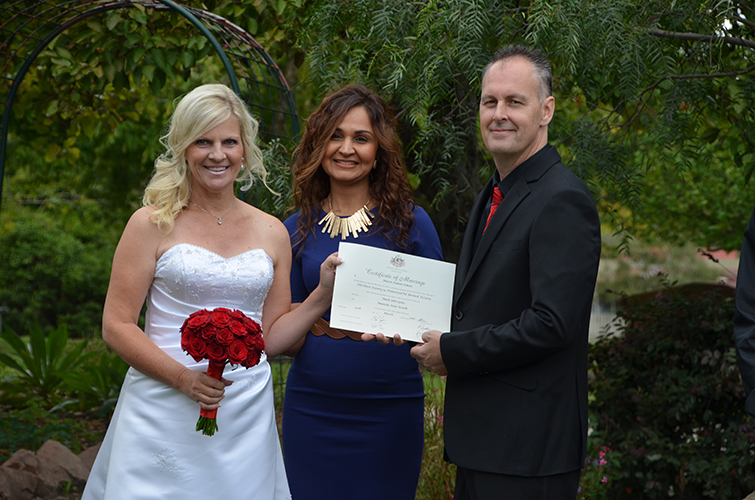 Are you Engaged and planning a Registry Wedding in Burwood?
Congratulations and let me introduce myself. I'm Sharon Osman Marriage Celebrant servicing Burwood.
Marriage Registration or Elopement style marriages are becoming more popular especially after Covid.
I am a firm believer that marriages are for life and the commitment marriage brings to a relationship is profound.
I started off over 12 years ago and love my job as a Burwood Wedding Celebrant.
I'm very driven and extremely passionate about creating a fun and memorable day for all my couples.
My background in Life Coaching has inspired my creativity enabling me to write the most amazing ceremonies.
With my approachable and friendly nature you are totally comfortable and feel safe in my company.
As a Burwood Wedding Celebrant, I am both humbled and grateful to have received multiple ABIA AWARDS simply by votes from very happy and satisfied couples.. This has not only increased my credibility massively but greatly contributed to my success.
Regardless of what sort of wedding you are looking at or where you are located I am happy to travel and work with you to give you what you want.
Over the years I have married hundreds of couples from all walks of life and different beliefs, sexual preferences, nationalities, cultures and backgrounds. Whether it's a Burwood Registry Wedding, whether you are young, middle age, first time marrying,  second marriage, third and even a couple in their 90's. What a precious privilege that was.
I'm come from a place of love, judgment free and don't discriminate. Love is love and I happily perform same sex weddings.
I'm very grateful for the opportunity and ability to create amazing wedding ceremonies that reflect a couple's relationship, dreams and desires. There are so many choices, options and possibilities these days to make your wedding ceremony unique and memorable. My expertise is personalising ceremonies and telling your love story in a way that captures the attention of your guests will leave you with timeless memories.
With a background also in quality, I am well organised, punctual & professional.
Skilled at public speaking, creating the perfect tone in a gentle, calm way creating a balance of humour, emotion and fun.
I enjoy working with a diverse range of couples and celebrating their love for each other on their most special of days.
You can be assured of my full attention. Contact me today to arrange a no obligation face-to-face or virtual meeting.
0422448918