MELBOURNE CELEBRANT – BACKYARD WEDDING
Call or text now on 0422448918

Planning to have a backyard wedding and not sure where to start? Congratulations to you both and welcome to the excitement!
I'm Sharon Osman a Celebrant of over 12 years and would love to not only officiate at your wedding, but offer you options, opportunities and possibilities that you might not have considered.
Backyard Garden Weddings are suited for couples who love the outdoors, have a small guest list, want a uniquely energetic vibe, or wish to have their dream wedding without all the bells and whistles and keep costs low.
Regardless of whether you choose a quick legal registration from my office, just with you both & your two witnesses or something a little more special. Offering couples the opportunity to marry in my backyard garden benefits them not only financially but also presents the option of inviting around 20 people to celebrate in their ceremony without having to pay hundreds of dollars to hire a ceremony venue or garden.
Call for a quick chat 0422448918
You have 2 or 3 backdrops to choose from, a table and two chairs for signing, a under cover area in case the weather changes and sufficient parking. Bring your own photographer or ask for photography options. Having a backyard wedding at your Celebrant's home has never been easier and more cost effective.
I enable you to still celebrate your wedding day and marry in style. You still get to walk down the isle to music, invite around  20 close family and friends and pay a fraction of the cost you would normally be required to.
I not only provide you an elegant backyard wedding space for around a hour or so,  but I take care of all the legalities, create a personalised ceremony and present it with grace and enlightenment.
After the ceremony you may take as many pictures as you like are then you might choose to take more pictures at Wilson's Botanical Park in Berwick which is 5 minutes away &  then go off to a restaurant or home to celebrate, but at least you have the ceremony venue taken care of.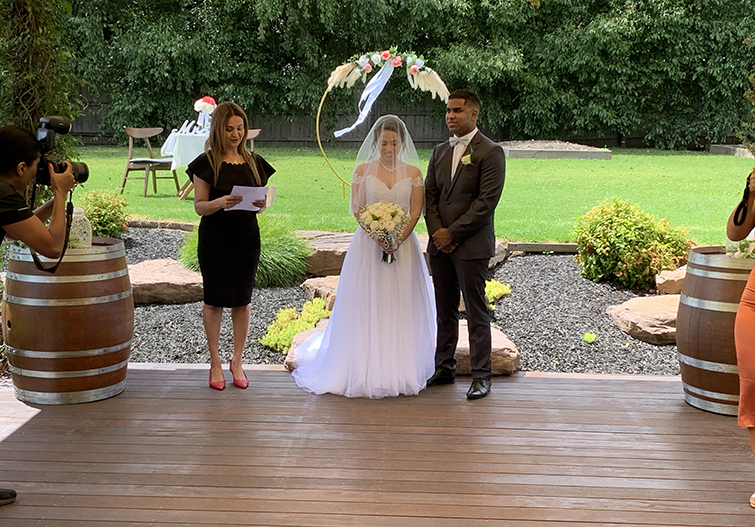 For a wedding on a budget a backyard garden wedding at your Celebrant's house is great option.
Call me or email me.
0422448918