CIVIL MARRIAGE CELEBRANT BALACLAVA
Call or text now on 0422448918
Choosing a Wedding Celebrant can be quite a daunting task for most couples whether in Balaclava or anywhere in Melbourne.
I'm Sharon Osman, an authorised Balaclava Wedding Celebrant and I hope to make things a lot easier for you.
Such an honour it is to be a Celebrant servicing Balaclava. As a 5 year Finalist at the Annual Bridal Industry Awards (ABIA Awards) from 2017 to 2021, I feel deeply humbled to have been voted by my past couples.
Choosing a marriage celebrant to be apart of your special day is easy but choosing the right one takes a little effort.  No two Marriage Celebrants are the same and you need to feel relaxed and confident that your Celebrant will carry out your wishes and give you the best advice. Professional Celebrants give you complete choice and encourage you to take part in the planning of your ceremony and designs one that reflects your feelings, beliefs and personality.
I'm certain that I could be the right Balaclava Wedding Celebrant for you. Personal recommendation is always the best way. I travel within Balaclava and all over Melbourne catering to your needs and suiting your budget. I capture your love story and personalise your ceremony sharing it with your family and friends. Read reviews or testimonials from past clients of the Celebrant To witness for yourself.
The best way to check whether a Celebrant is suitable is to make a simple phone call and ask the Celebrant about their process in regard to ceremonies (see The 10 Point Quality Wedding).
If this is satisfactory to you then ask the Celebrant if they are available on the day and time you require. Arrange an obligation-freee interview with your Celebrant to confirm that you are comfortable with your choice of Celebrant.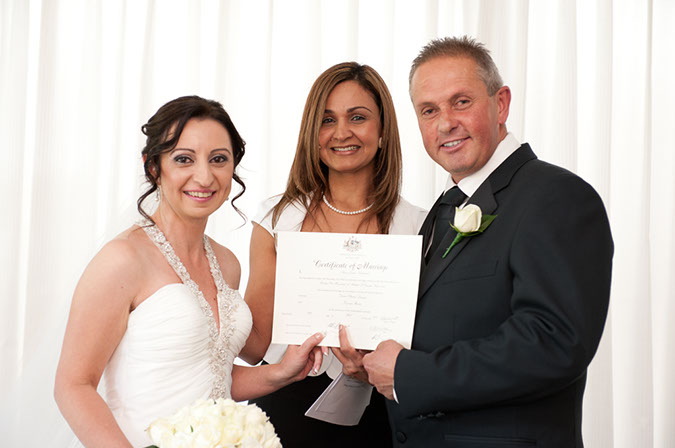 How do you FEEL in their presence? Is your celebrant listening to you or forcing their opinions onto you?
Are they coming across as bossy and intimidating?
It is important for you to feel at ease, this person is going to be a part of your big day. You should be able to tell them anything, ask any questions, share how you feel without feeling judged.
There should be that sense of connection. The tone if their voice, their personality, mannerism and warmth.
What do you get from me?
My style is professional and warm, organised and polite, patient and focused. I love my job and believe strongly that offering help and assistance is anyway possible is my calling. To design a ceremony or Same Sex ceremony that will make your dream come true is what gives me fulfilment and joy.
I specially will design a ceremony fur you and basically tell your story the way you want me to.
Below are some vows for you to read to give you an idea.
VOWS- Vows are important for all Sexes.
An important component of the ceremony are the vows. Section 45 of the Marriage Act states that:
"Where a marriage is solemnized by or in the presence of an authorized celebrant, not being a minister of religion, it is sufficient if each of the parties says to the other, in the presence of the authorized celebrant and the witnesses, the required words:
Of course, as long as something similar is used in the vows it will be okay. I'm happy to work with you on the best, and legal, way to say them.
Below are five examples of vows you could use or gain inspiration from.
The first is a traditional vow, followed a couple of short and simple vows that are quite effective, I've included a beautiful heartfelt vow and then one which was derived from a great exercise you should consider and that is writing a love letter to each other.
If you would like a great wedding checklist, tips on your ceremony and some additional samples of vows please click here. If you make the decision to utilise my services as a registered marriage celebrant you will receive a complimentary booklet which has additional information on vows.
The Traditional Wedding Vow
I ask everyone here today to witness that I Alexander Petrovski take you Marianna Allan as my lawful wedded wife, to have and to hold from this day forward, for better for worse, for richer for poorer, in sickness and in health, to love and to cherish, till death do us part, and thereto I give you my pledge.
The Simple Wedding Vow
I call upon everyone here present today to witness that I Maree Louis Lawless take you Jim Walter Pennington to be my lawful wedded husband. I promise to respect you as an individual. I want to love you through good fortune and adversity, while we both shall live.
A Short Affirmation Vow
I affirm my love for you Erin as I invite you to share my life. I promise always to respect your needs and individuality. I will endeavour through kindness, unselfishness and trust to achieve a warm rich life we will now share. And now I ask everyone here today to witness that I Rodger Wilson take you Annmarie Lisa Edwards as my lawful wedded wife.
A Beautiful Heartfelt Vow
I ask everyone here today to witness that I Benjamin Hofman take you Trish Jane Myers as my lawful wedded wife. In doing so I vow to do my utmost to make our lives together a true partnership. I commit to being motivated in our marriage and I will observe and act on your needs. I vow to care for your well being and show my love in all I do throughout our lives together. I will endeavor to comfort you and enrich you with my love. I will show you I can be an equal partner and with my support build a stable foundation for our lives together.
A great way to create your vows is by drafting up love letters to each other. You can then select components you would like to share in your ceremony.
Here is a great example.
Love Letter Wedding Vow
Sonia, I choose you above all others, to share my life with me in marriage. I promise to love and cherish you always, forever increasing over the passage of time. I promise to stand by you in all things and provide for your warmth, tenderness, understanding and protection. I promise to nurture a home environment filled with love, light and laughter. I promise to speak to you lovingly, with an open heart and to always honour the divine within you, your heart, your body and your spirit. I promise to fully appreciate your presence in my life and to accept you fully as you are. I promise to support and encourage you in the fulfilment of your hopes, your dreams, your life purpose, your highest good. This is my pledge and my commitment to you and our life together as husband and wife for all the days we shall live. And now I ask everyone here today to witness that I Joshua James Jones take you Samantha Marie Robson as my lawful wedded wife.
Here are some venues in and around Balaclava that you might like.
Red Scooter Unique Events Venue
25 William St, Balaclava Vic
Balaclava Hotel
123 Carlisle St
St Kilda East, VIC, 3183
Carlisle Wine Bar
137 Carlisle St
Balaclava 3182