Wedding Celebrant Berwick
Call or text now on 0422448918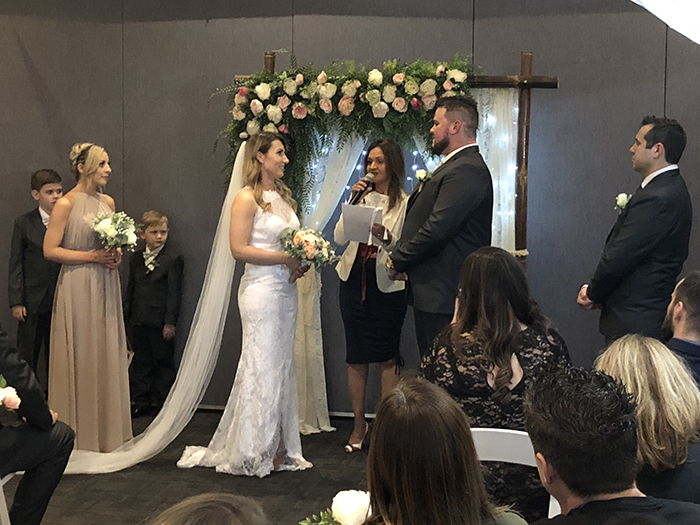 Looking for a Celebrant in Berwick? Hello, my name is Sharon, congratulations on your engagement. Thank you for popping by to visit my website.
I am an authorised Berwick Wedding Celebrant of over 12 years with a passion for weddings and people in love.
Over the years I've learned and evolved a lot, one thing I know for sure is that when it comes to ceremonies, "one size certainty does not fit all".  Every couple is special, unique and have the most exciting stories.
My background is in Coaching and public speaking so I offer a service that is beyond excellence. My love for weddings has inspired me to create authentic, meaningful, modern, multi cultural, fun or traditional Ceremonies. Just perfect for you!!
With 4 ABIA awards, and extensive customer reviews, I am humbled with the valuable experience which will now benefit couples like you.
You may choose something short and sweet or something more personalised and romantic. Regardless you will be presented with a professional and meaningful Ceremony that will set the scene for your cherished magical event.
Whether you are marrying in Berwick or anywhere in Melbourne, I'm confident that as a Berwick Wedding Celebrant I am experienced to conduct something elegant & traditional or something quick and easy. My flexibility allows for many options to suit your style & budget.
Please ask about my special Student Rates.
I can conduct an easy legal registration Wedding from my office with you both and your two witnesses. This is an easy and cost effective way to get married. Especially for couples who wish to legalise their wedding here and celebrate later with family overseas. My couples are people from different cultures, nationalities, backgrounds, religious beliefs and genders.
Call or email me for more information.
0422448918
cherishedmomentscelebrated@gmail.com
You might choose the Botanical Gardens in Berwick or a venue in the city. Regardless of your choice, with my experience & your input, I will create a ceremony that reflects your love, personalities and aspirations for your future.
You are in charge and it's my role to guide, support, offer valuable information and ideas for you to choose.
I fully respect that the declaration and commitment of love is a special and intimate moment for everyone. Officiating as a Berwick Wedding Celebrant, my aim is make sure that you are stress free and your day flows easily.
Your Wedding is a very important day and there's an element of seriousness, but  there's always room for fun. Please browse through my website and find out more about me and please read what my couples have to say.
Do not hesitate to contact me to arrange a obligation free chat or meeting to discuss your requirements. I would love to hear from you and provide more information and clarity any questions you may have.
Call me on 0422448918