WEDDING CELEBRANT MELBOURNE –  BOOK YOUR 2022 WEDDING

Call or text now on 0422448918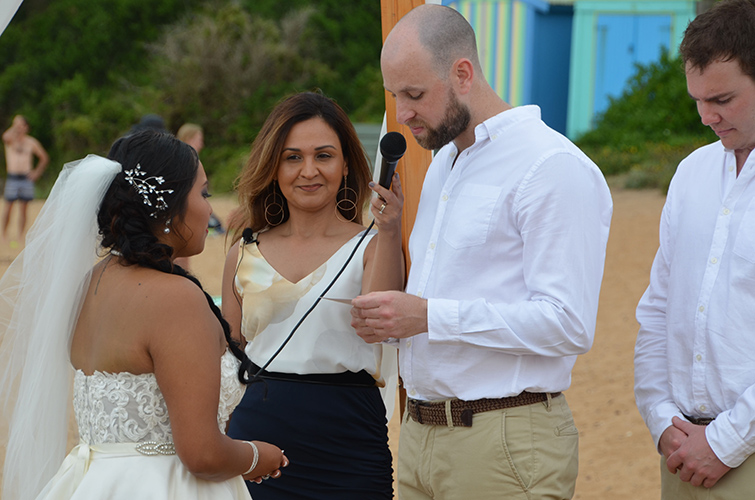 Hello and Congratulations! Before I go any further, I just want you know that I am truly inspired by all you guys who had to battle the challenge of Covid while planning your wedding.
Congratulations & welcome to a wedding ceremony you well deserve. In the midst of the pandemic  I still saw so much positivity that so many of my couples were displaying and it was amazing.
I am very proud of the way that the wedding industry peers are approaching the situation. My heart is filled with compassion for those who had to cancel or postpone due to Covid.
When you book your 2022 Wedding with me as your Melbourne Wedding Celebrant, you will experience nothing but patience, flexibility and understanding. Especially after everything you've experienced and no guarantees of how things will unfold. On a positive note I am very grateful and hopeful that we are reaching the end of this pandemic. With Victoria being hit so hard, many small businesses are struggling right now. I feel very grateful and blessed that I am still here and loving my job marrying people.
With over 12 years of experience as a Marriage Celebrant, along with unlimited knowledge, rest assured that you are truly in good hands. We are all in this together and working toward a common goal which is to get you hitched and have the most memorable day ever, even if that means you have to marry a little later than originally planned.
Although I'm a Melbourne Wedding Celebrant I offer unlimited free advice and guidance regarding anything you might need help with. Ideas, inspiration or support. I'm here and that's what I do best.
Call me for a quick chat and to possibly book your 2022 Wedding today. 0422448918
Were you planning to do a big thing a few months ago when all of this hit?  So you decided to postpone until this passes, then you realised that it's becoming more and more clear that the pandemic "passing" is not going to be a quick or tidy process. Right?
Well you are not alone!  As a Melbourne Wedding Celebrant I painfully watched all my couples who had 2020 weddings booked dealing with this same situation. They were changing their dates multiple times, and still very uncertain. Some were lucky they only had an initial deposit put down and got back their money, some venues refused to refund and only offered rebooking. Some had to settle for dates and times of the year they were not happy with. It saddened me to hear all their stories and like everyone I couldn't wait for it all to end. So if you ask me, don't go putting down large deposits, especially now.
On a happy note, when we were in stage 2 and 3 I had conducted many weddings and many couples were really happy.
Some were happy that they were able to have a small wedding and save and some were happy to just have legal registration done and celebrate with family and friends later.
Call me on 0422448918
& I'll send you the information you need.