CIVIL MARRIAGE CELEBRANT BURNLEY

Call or text now on 0422448918
Sharon Osman is a Burnley Wedding Celebrant specialising in Weddings in the Burnley area and all over Melbourne. Contact me for unbeatable prices on Elopements, Weddings, or Renewal of Vows Contact
Congratulations and Welcome!!! Sharon Osman is has conducted a diverse range of marriage ceremonies for people all over the world. Overseas visitors who choose to marry in Burnley or anywhere in Melbourne know that my approach to wedding ceremonies is both easy going and highly professional. Drawing on her experience as a Professional Life Coach, quality facilitator, and trainer, I take the time to write very personal marriage ceremonies that reflect you and are also quite entertaining. As a multi award Finalist in the Australian Bridal Industry Awards, I am very humbled and extremely grateful to all the satisfied and happy couples who have voted for and rated my services highly.
Weddings can be a whole lot of work and fun, in fact it should be a whole lot more fun. I'm a part of a small but growing group of Melbourne Marriage Celebrants that consider good performance and natural storytelling as essential to a wedding ceremony. Melbourne is a cosmopolitan city, full of interesting people. Their beliefs, style, humour and lives in general are fantastically diverse. I enter each wedding ceremony with an open mind and a sense of adventure distinctively created to the couple with regard to their individual personalities, sexual preferences and experiences. Sharon is very professional while creating ceremonies that are as enjoyable as they are significant.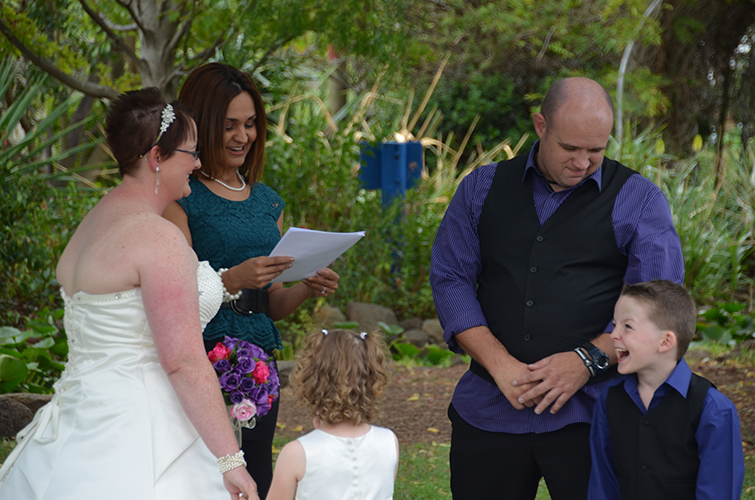 If you and your partner have decided to elope, and if all you want is a simple but lovely, intimate wedding that is just for the two of you,  just do it! Stress-free, and hassle-free … Here's how!
Not everyone wants the huge wedding with countless guests – and a huge bill to match! Often the planning and preparation for a wedding can overtake the commitment that you both want to make to each other – that is so very important and personal.
Under Australian law it is mandatory that a Notice of Intended Marriage (NOIM) – 'Form 13 (Regulation 38)' should be lodged with the celebrant no less than one month, and no more than 18 months, from the proposed marriage date. If you are wanting a Victorian Marriage Registry styled ceremony then it is simple to lodge your NOIM at the Melbourne Private Marriage Registry in Burnley, so that you can be legally married in four weeks time.
Please read some of my testimonies before you decide.
TESTIMONIALS –
Thank you so much for making our special day what it was. Both Matt
and myself warmed to you instantly and found you incredibly helpful in
organising our ceremony. Our guests commented on how well spoken and
friendly you were and you also managed to look fabulous – despite the cold weather! You made the whole process easy due to your professional manner and obvious experience and I am grateful for finding you.
Thanks again!!
Liana & Matthew Smiles.
2013
Dear Sharon,
We just wanted to say a massive thank you for our wedding. We are so grateful that we could make it legal and so are our parents!
We really appreciate all your help with putting together and
delivering the ceremony. We have had such positive feedback about the whole thing.
All the best,
Nick & Julia De Ville
"Sharon was the celebrant for our wedding in February
2011. She was an absolute pleasure to work with. Throughout the entire
wedding planning process Sharon was there to offer guidance and
support. On the wedding day itself she made both myself and my husband very comfortable. Our ceremony was very relaxed and personalized and
many of our guests were full of praise for how the ceremony was
conducted.
Sharon, a heart felt thanks from both Aaron and I for making our
wedding day amazing!
All the best
Aaron & Sarah Tan
We were absolutely satisfied with Sharon as our celebrant at our
wedding ceremony.
Sharon captured the heart and soul of our relationship and was able to
convey the true meaning of our marriage. She was very helpful in
preparing us for the "Big Day" which turned out fabulously.
Upon meeting Sharon for the first time, we were equally comfortable in
deciding to have her conduct and share in our celebration of our
marriage.
She performed the ceremony graciously and was able to make it
enjoyable for us and the audience too.
We would highly recommend Sharon to any soon to be Husband and Wife.
Thank you very much Sharon for making our wedding day, as beautiful as it was…
Mr and Mrs Lay
2011
Hi Sharon,
I would to thank you again for all your help and support in making
our day so special. As every Bride & Groom knows, no matter how big or
small the ocassion , it can be a very stressful time. Your warmth ,
patience, your deep understanding of love and commitment, your sense
of family and spirituality added so much to our 'Special Day' You
thought of everything and helped us with our vows and understood that
they had to be just right to encapsulate our emotions. We, our family, & friends still look back on that day and just  –  smile. It was just
perfect.
Kind Regards
Diane & Ron
Hi Sharon,
I would just like to thank you so much for your lovely ceremony
yesterday, you did such an amazing job & really made Indies day one to
remember. We had lots of comments on what a beautiful job you did.I
have passed your details on to a friend who asked me for your details
for her daughters naming day.
Thank you once again & hopefully if we ever are blessed with another
child in the future you will be around to do the ceremony.
Kind Regards
Jen, Sean & Indie
Hi Sharon,
I hope you're well…
Now that we are back from our honeymoon, we both wanted to say an absolute HUGE thank you for the most amazing ceremony you provided for us on our wedding day! The words, your spirit, your voice, your calmness, your honesty in your delivery and your joy was so evident
amongst us and our guests throughout the ceremony, and it was just perfection…
We have received so many compliments and amazing feedback on the ceremony that we truly, from the bottom of our hearts, thank you
sincerely for being a part of our beautiful day and for making it
exactly what we had envisaged. We honestly could not have asked for
anything more…
Thanks again so much, it was honestly perfection…
Lots of love and hope to see you again soon and we will definitely be
recommending your services to anyone we know getting married or any other ceremony…
Fabian and Angela Mawer
Xx
Sharon was a fantastic celebrant that made our wedding day perfect and complete. Not only is she elegant and presented perfectly, but she speaks eloquently and made the ceremony process simple and easy for us to just concentrate on the day.
Sharon comes highly recommended from myself and my husband and we
believe that in all situations she would make a wedding day smooth and perfect, just like she did ours.
Regards
Madurya & Benjamin
2013
Dear Sharon,
Thank you for helping us with the vows, this part was the scariest and
on the day we thought they worked out just perfectly thanks to you.
Regards
Suzie  & Kunal
Sharon is a beautiful person who made our special day a truly memorable experience. She is great to deal with – friendly, warm, polite, efficient and punctual. She really feels like more of a friend than a stranger whom we just met. She took the time to write personalized vows for us which really pulled on the heart strings and had tears welling in the eyes of our guests. We would recommend Sharon to anyone who would like their event to be beyond special.
Mr & Mrs Todzy
Dear Sharon,
Thank you for being a fantastic Celebrant for us, on our very special Wedding Day.
Your calm and pleasant nature was the perfect combination for us. Thank you so much for your help and support on Saturday, you made us feel very at ease and calm.
You were a part of of our very special big day- Thank you.
Love
Scott & Freya
March 2014
Dear Sharon,
Thank you so much for creating such a beautiful Wedding Ceremony for us. From meeting you the first time, you made us feel at ease and confident that the day will just be perfect. You were a breath of fresh air, and we could not have wished for a more empathetic and passionate Celebrant than you.
Thank You.
Michael & Fretzi Walburgh
Dear Sharon,
Thank you for performing Maya's naming Ceremony and celebrating her special day with us.
With Love
Lee Sarah & Maya
xox