FIANCÉ VISA/CELEBRANT FOR PROSPECTIVE MARRIAGE VISA
Call or text now on 0422448918
Hello and congratulations!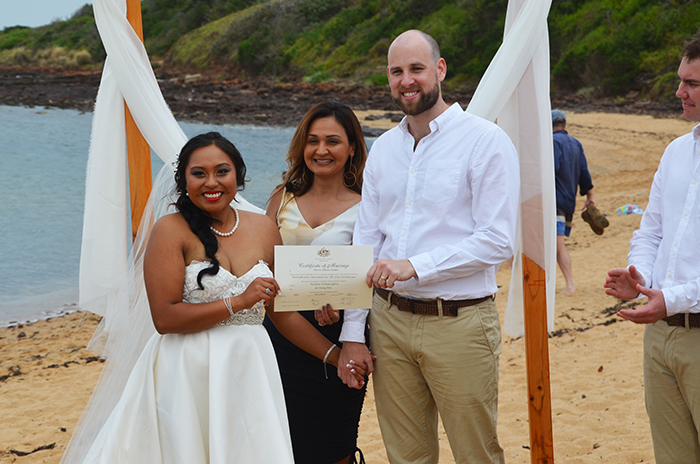 If you are applying for a Prospective Marriage Visa and need a Wedding Celebrant, you are in the right place.
Are you planning to marry in Australia and do you need Proof of Notice?
If the immigration department asked for you to provide proof of Notice that you intend to marry, I can help.
As your Celebrant assisting with your application for prospective wedding visa, the first step is to help you lodge the Notice of Intention To Marry form with me.
As a celebrant of 12 years I am authorised by the Attorney General's office to provide you with a letter for the Immigration Department confirming details that you have successfully lodged your form.
I have helped hundreds of couples over the years who were applying for fiancé visa or partner visa and successfully married them when their partners arrived.
In the business for so long, I am very understanding, flexible and accommodating if couples want to update the letter a few months later with a new date.
As visas take an intermediated time for processing I do charge a fee to formally lodge your Notice form and provide a letter along with a copy of your form.
If you need me to send you the form asap please call or email me.
Offering my services as a Celebrant for Prospective Marriage Visas/ fiancé Visa, I have worked with and helped couples of all nationalities, backgrounds, religious beliefs and sexual preferences.
I am extremely blessed to be able to contribute in a positive way to unite couples in love. With me you will be guaranteed
professionalism and promptness.
If you need a reputable Immigration Lawyer or Immigration agent I can help.
To prove my credibility please feel free to read the reviews and testimonials on my website.
I look forward to hearing from you and would love to help.
Sharon Osman Celebrant for prospective marriage visa/ fiancé visa
0422448918