FIANCÉ VISA APPLICATION- CELEBRANT LETTER
Call or text now on 0422448918
If you are applying for your fiancé visa or spouse visa, most likely you will need a letter from your Wedding Celebrant.
Hello and congratulations! If you are on this page then you must be looking for a Celebrant Letter for your fiancé visa application.
I'm Sharon Osman and would be delighted to help as I have helped Hundreds of couples in your situation for the past 12 years.
Regardless of who you are or where in the world your partner is, I can help make your dream come true.
If you are planning to marry in Australia and your Fiancé is overseas, you will need a letter from your celebrant for the immigration department to approve their visa.
What is the process to get a Celebrant Letter for Fiancé Visa Application?
This process basically entails you booking my Celebrant services by filling out the Notice of Intention to marry form and lodging it with me.
Once I have your form I prepare a letter for immigration department stating that I am authorised by the Attorney General's Office to conduct weddings in Australia and that I have received your formal intent to marry, including other relevant details.
I send either you or your immigration lawyer/agent the celebrant letter or letter stating proof of your intentions to marry. I also include a copy of your form, with all my details in case I need to be contacted.
This is the normal process from my end and usually your Immigration lawyer/Agent looks after the rest.
If you need a reputable Immigration Lawyer or Immigration Agent I can help.
Call me on 0422448918
Sometimes you might need me to send you a updated letter depending on how long immigration takes to sanction the visa. I'm quite flexible and happy to do so.
If you have any questions or need clarification do not hesitate to ask. You can call me on 0422448918
Email: cherishedmomentscelebrated@gmail.com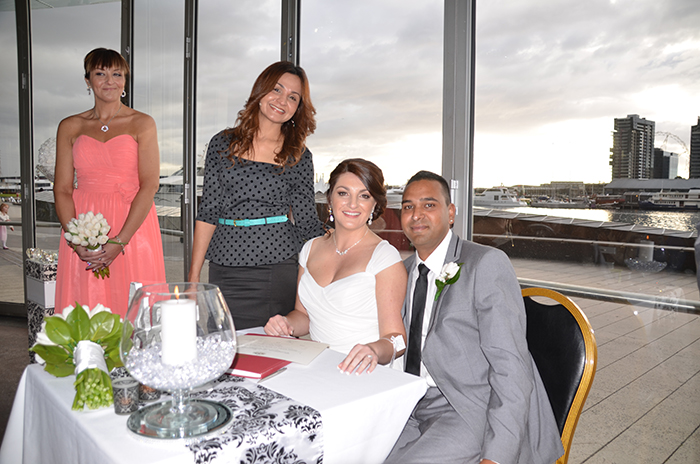 There is a fee for this application process, but you don't have to decide what sort of wedding you wish to have immediately.
Hundreds of my couples who contact me for a Celebrant Letter for Fiancé Visa Application, book a legal registration style weddings from my office with the couple and two witnesses. This is quick easy and cost effective way to marry.
Others prefer the whole glamorous ceremony or fairy tale wedding, celebrating with family and friends at a venue.
Here I create a personalised ceremony for you with meaningful vows along whilst sharing your love story and dreams for the future.
I then professionally officiate a warm, authentic and a most memorable ceremony on the day, attending to all paperwork & details like PA sound system and microphones.
My service includes all legalities & I even offer the option of applying for your legal certificate for you on your behalf.
So why not call me today and see what I can do for you.
0422448918