MARRIAGE CELEBRANT CHADSTONE
Call or text now on 0422448918
My love and passion for weddings and people in love has led to the best job ever. Are you planning on getting married and need a Wedding Celebrant in Chadstone? I have had a lifelong interest in public speaking, writing and advocating for love. I would love to help you affirm a stronger connection with your beloved.
Regardless of whether you are planning a grand wedding ceremony or a personalised intimate marriage registration I can guide you to tap into your incredible potential and share your thoughts on exactly what you want and deliver it to you in the most elegant way.
I have worked for many years in the area of quality assurance, life coaching, mentoring and multicultural community development. My deep interest in people has drawn couples to me from all walks of life, nationwide. I have performed different ceremonies including cultural and religious aspects, rituals that enhance people's wellbeing and enhance their relationship.
For over 12 years I have worked closely with a diverse range of people, of different age groups, colour and sexual preferences. With a strong passion for life and love, everyone who meets me feels comfortable, safe and enlightened. My easy going and non judgmental nature has caused me to create wonderful memories and friendships with many of my couples. I am very grateful and humbled to have been voted several times for ABIA awards and highly recommended as a competent authorised Chadstone Wedding Celebrant.
If you choose to go with me I will work with you to put together a ceremony that reflects who you are as a couple. I will gently guide you to identify those aspects that make your commitment heartfelt, authentic and inclusive. I will take you step by step through the legal process and ensure that all legalities are attended to, so you don't have to worry about that stuff.
With my wealth of knowledge, skills, experience and enthusiasm, I am able to actively listen to your wishes while collaborating your values, beliefs and aspirations. It is my job to commemorate the meaningful, treasured and loving moments in your life through an authentic and beautiful ceremony.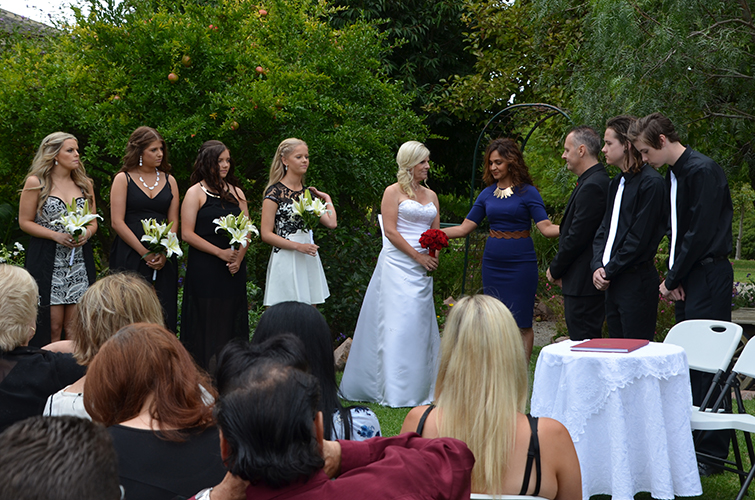 Conducting marriages in Chadstone for years, I'm a celebrant who is very honoured to have the privilege of working with you to create a unique wedding ceremony that can reflect your love, personalities, shared values and family or cultural traditions.
I am not just a Chadstone Wedding Celebrant but a mother, wife, grandmother and friend to all. I am warm by nature, placid and fun-loving, easygoing with all the couples I have worked with. My aim is inspire, support, guide and respect your decisions to ensure your ceremony is a true expression of you, your special relationship.
My professionalism is outstanding, my customer service unlimited and warm approach unmatched. Choosing me as your celebrant will give you the opportunity to discover your style, express your desires, relax and take in your day leaving the rest to me.
I would love to hear from you! So call me for a quick chat and you'll be surprised with all I can offer.
0422448918