SHARON OSMAN – WEDDING CELEBRANT CLAYTON

Call or text now on 0422448918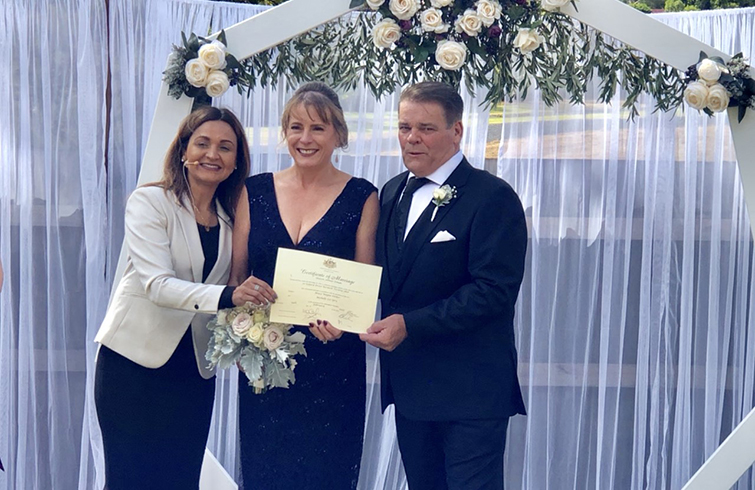 Hello and Welcome!
I am happy to extend my Wedding Celebrant services to Clayton & surrounds.
If you are planning to marry & need a Clayton Marriage Celebrant.. Congratulations on your engagement and you have come to the right place. As an open minded and professional Celebrant, I am also a mother, wife, grand mother, Clayton Wedding Celebrant and professional life coach.
With 12 years in the Celebrant business I have conducted many many weddings in Clayton and all over Melbourne.
I am very grateful to have been nominated as Finalist for 5 years at the ABIA (AUSTRALIAN BRIDAL INDUSTRY ACADEMY) Awards, voted by my couples….  I feel privileged to conduct these special ceremonies.
Regardless of how elaborate or Intimate, whether at my home office, your home, in your back yard, or a Garden, Beach, Hotel, Restaurant, Public Hall or Reception Centre, I deliver a personal and unique ceremony to suit your personal needs.
I focus on my couples totally and I make it all about you!!! Whatever you and your beloved dream of as a ceremony, I will be honoured to assisting in making it a reality.
What makes it easy for you is that I am completely open minded, non judgmental, flexible, affordable and very professional.
My approach is warm and I come from a place of love and understanding. Creating a safe space for you both to be yourselves no matter where you are from or who you are or how many times you choose to marry.
So please don't hesitate to contact me today to chat about your wedding plans. With pride and honour I will stand with you and help you both proclaim your love and commitment to each other, whether privately or before your family and friends.
Here's what some of my couples had to say –
Wedding ID: 434899
Nomination Date: 06-05-2018
Sharon was an absolute pleasure to work with from the day we met her to our wedding ceremony. She went above and beyond to create a culturally mixed ceremony for us and it exceeded our expectations. We were so happy with how she delivered the ceremony on the day, as were our family and guests.
Wedding ID: 434898
Nomination Date: 06-05-2018
Was easy to talk too and explain everything very clearly that needed to be done. Had a very special thanks to Sharon
Wedding ID: 430818
Nomination Date: 15-03-2018
Sharon is the best celebrant, she guided us through the whole process, explained the options clearly. Me and my wife are happy we chose the right celebrant.
Wedding ID: 430819
Nomination Date: 14-03-2018
Sharon went out of her way to make our ceremony unique. Everything went exactly how we planned.
Customer Reviews
Wedding ID: 428428
Nomination Date: 13-03-2018
She had it all under control and executed the function very nicely. Had done her homework on the couple enough to personalise the vows to be intimate to their relationship. Celebrant make us feel special in our special day
Wedding ID: 428584
Nomination Date: 28-02-2018
Sharon officiated our wedding on 16/02/2018 in Berwick. She has kindly gone through all legal requirements, and ensured that we were aware of the application process. On the day, everything ran smoothly with her arriving punctually, helping with the vows and with the formal registration process. We will continue to recommend her for anyone getting married, regardless of culture, religion, setting. We wish her all the very best.
Wedding ID: 426144
Nomination Date: 14-02-2018
Best person to make your day special. Responsive and very friendly. Recommended for best experience.
Wedding ID: 428208
Nomination Date: 14-02-2018
I highly recommend Cherished Moments… it's an awesome experience …very amiable staff and didn't feel like new to the them. Excellent service and totally worth the money.
Wedding ID: 427438
Nomination Date: 14-02-2018
Sharon was lovely to work with and added a special touch to our special day!
Customer Reviews
Wedding ID: 419759
Nomination Date: 13-02-2018
Sharon made our wedding ceremony just the way we wanted. It was just a small family affair, and she made us feel the same.
Wedding ID: 426234
Nomination Date: 13-02-2018
Sharon was a wonderful celebrant catering to all our needs. She was extremely flexible and accommodated our needs accordingly. I would definitely recommend her to anyone wanting to get married.
Wedding ID: 427440
Nomination Date: 11-02-2018
Sharon was just amazing. Her service was excellent and we couldn't fault it. She put her effort to make our ceremony such a unique, personal and intimate one. We are so grateful that we chose Sharon as our civil celebrant.
Wedding ID: 426282
Nomination Date: 10-02-2018
Sharon is one of the best celebrantes around the east side of Melbourne.  Thanks again Sharon
Wedding ID: 426260
Nomination Date: 29-01-2018
Service went really well and vows easy to select well presented and fitted in well  Thanks
Customer Reviews
Wedding ID: 426240
Nomination Date: 29-01-2018
Sharon did an amazing job on the big day as well as the whole lead up to the wedding. I would definitely recommend her !! 😊
Wedding ID: 426258
Nomination Date: 26-01-2018
The entire procedure was very smooth and we were made to feel really special.  P.S. we loved the location of the office cause of which we were able to click some amazing post wedding pictures.
Wedding ID: 426283
Nomination Date: 24-01-2018
Sharon Osman was a real gem of a Celebrant. Right from day one, she made us feel at ease and took care of every single detail. Very professional and fun!
Wedding ID: 426272
Nomination Date: 23-01-2018
Sharon honestly made our day everything we wished for. She really understood what we wanted and customized the ceremony to really celebrate our journey. I'm a very nerves person and Sharon was able to guide me through the whole thing. We are and always will be so grateful for Sharon
Wedding ID: 426262
Nomination Date: 23-01-2018
We were extremely happy with Sharon as our wedding celebrant. She held the energy gracefully, was very well spoken and appropriate. We couldn't recommend her highly enough.
Customer Reviews
Wedding ID: 426148
Nomination Date: 22-01-2018
Because we were waiting on my fiances visa to be approved it was difficult to give Cherished Moments a time and date for our wedding, but when we were able to the celebrant helped us and gave top quality service all the way. We are really glad we picked Cherished Moments as our celebrant.
So for a Clayton Marriage Celebrant, why not call me on 0422448918