MELBOURNE WEDDING CELEBRANT – WEDDINGS / MARRIAGE REGISTRATIONS
Call now on – 0422448918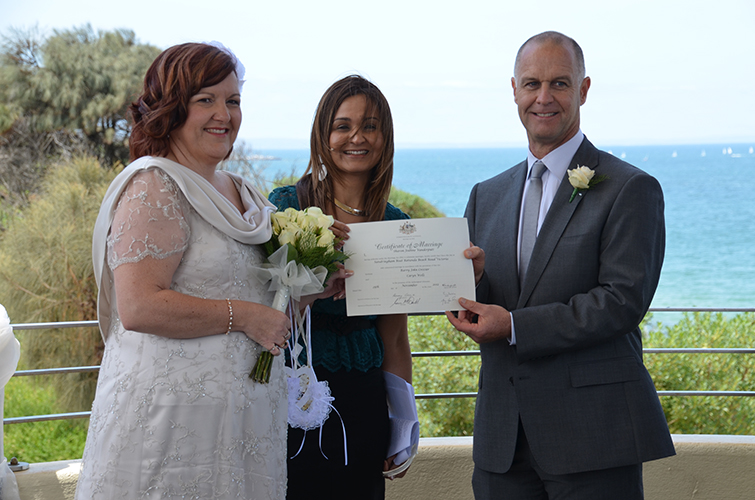 Hello and welcome! Congratulations on your up coming wedding, If you had to cancel or reschedule due to covid last year, my heart goes out to you. The pandemic not only affected many of my couples, but the entire wedding industry in fact the whole world and every industry is impacted. I don't think anyone could have foreseen this pandemic that's affecting the entire world. Now that we are in a better place, I truly hope that that the light at the end of the tunnel starts to shine brighter for other countries.
Are you planning to get married in the coming months? Regardless of whether you are after a whole personalised ceremony with family and friends at a venue you have booked or whether you are planning Legal Marriage Registration!!
I'm Sharon Osman, a Melbourne Wedding Celebrant  conducting weddings and Legal Registrations for over 12 years. I have met and married couples from all over the word, of different backgrounds, religions and cultures. Different age groups, sexual preferences and alternative views. Every one is treated with the utmost respect and regard.
I'm presently taking bookings for weddings and Marriage Registrations and fully understand that dates might change according to the situation post covid life presents.
Over the last few months, I been receiving a large number of queries from concerned couples desperately seeking guidance on what to do right now. Although I don't have all the answers, I promise to do everything I can to help and give whatever support advice possible. This is the whole purpose of my job. To serve you offering exceptional value and understanding.
Practicing as a Melbourne wedding celebrant, has been incredibly rewarding and fulfilling. I'm very grateful and fortunate to have married hundreds of couples from all walks of life, different nationalities and backgrounds throughout Australia, including students and couples on prospective marriage visas.
Planning a wedding is usually stressful, so allow me to lift the stress so you can relax and take in your special day.
Call Sharon Osman Melbourne Wedding Celebrant On  0422448918
OR Email me – cherishedmomentscelebrated@gmail.com
Regardless of what you choose, whether just Legal Elopement type registration or whether you choose to go all all out and have a glamorous fairytale wedding or something in between.
I have a package for everyone. I also provide situations where you can bring along a few people to witness your ceremony in my garden.
Enquire now you have nothing to lose and everything to gain.
Sharon- 0422448918