DISCOUNT WEDDINGS MELBOURNE –  EASY REGISTRY STYLE
Call now on 0422448918
Congratulations and welcome to most significant event, at the most uncertain times as we battled through the COVID19 situation.
My name is Sharon and I am an authorised marriage celebrant in Melbourne, practicing for almost 12 years. I would be honoured to be of assistance during this testing time. As per the government rules, I'm conducting Registry style weddings from my home Office/ Garden at DISCOUNTED prices to help you.
I'm here to take the stress out of the already stressful state of affairs my couples are facing. With Easy Registry Style weddings, regardless of what's happening you can celebrate your Love. Your wedding ceremony can be anything you choose, as long as we abide by the 5 person wedding Rule, practicing hygiene requirements and social distancing according to law. It's your day and I am here to make sure it runs smoothly.
It's really a privilege to be able to unite people in love even in these dire circumstances. I am still marrying couples who have lodged their Notice Form with the Registry office and have had their wedding cancelled. If you are one of them, and are able to have your form transferred to me, I can arrange for you to get married under the new law with you both and your two witnesses ASAP.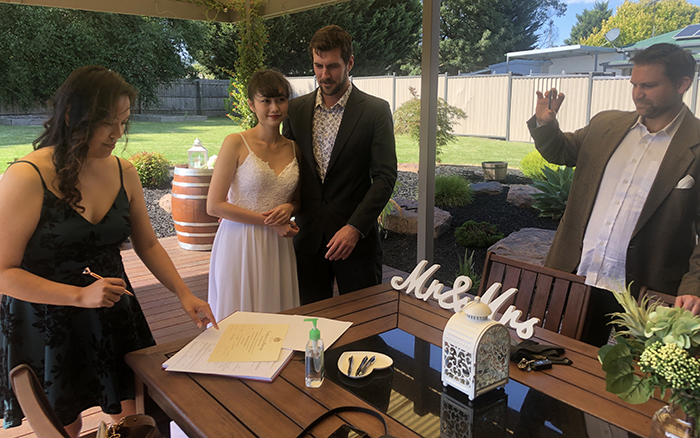 Or if you wish wish to fill in the Notice form and lodge it with me, I can arrange for you to get married in as early as a month. Based on what you have in mind, I can provide you short legal ceremony or a unique personalised ceremony that is intimate relaxed and fun.
Call for an obligation free chat and I'll answer all your questions.
0422448918
OR
Email me: cherishedmomentscelebrated@gmail.com