WEDDING CELEBRANT MELBOURNE – EASY WEDDING DAY
Call or text now on 0422448918
Everyone dreams of an Easy Wedding Day! As a Melbourne Wedding Celebrant, I'll be delighted to contribute to that dream. I offer couples Easy Weddings, Professional Services and extremely affordable prices. Whether it's an Elopement or a Fairy Tale Wedding anywhere in Melbourne. Contact me today.
Weddings are my passion as it is your dream. I take pride in officiating and designing a ceremony to suit everyone's needs and budget. With me you can have a no fuss easy Wedding and personalised ceremony at the most affordable price anywhere in Melbourne.
My job as a marriage celebrant is to work with couples and present to them the endless possibilities towards a Easy Wedding day.  As a finalist for Best Celebrant in the 2017, 2018 (and every year since) at the AUSTRALIAN BRIDAL INDUSTRY ACADEMY AWARDS, I'm both humbled and honoured to have the best job ever.
I love what I do and I do what I love and that is uniting people in love. By offering choices available to them in order to ensure their day is amazing and all about them. I also provide information and guidance to my couples in order to support not only their contribution but also to encourage full participation in the development of their ceremony.
For an exceptionally smooth Easy Wedding day, Contact me any where in Melbourne and we will meet to discuss the type of ceremony you want.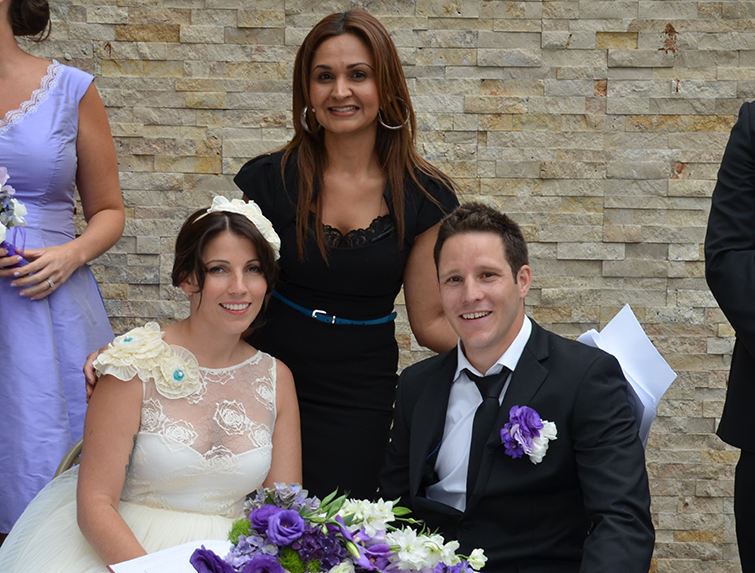 I will ask some basic questions and go through some options and also ask you to share information that will enable me to design a personalised ceremony for you. I send you a list of what you will need to provide for eg. Identification documents (birth certificates etc.) You then complete the first set of forms which is the 'Notice of intended Marriage' – note this must be done at least one month and one day prior to the ceremony. I will view and confirm that all your documents are as required. I would then work up a draft ceremony, with all the points that you want included. I write a ceremony that is unique to your relationship and also share your love story with your family and friends. I then email you the draft ceremony and when you are happy we should have a reasonable finalisation of the ceremony. I will document fully the agreed ceremony and provide you with a copy for you to check and peruse at your leisure and you can advise me of any changes only after you have read it thoroughly. During this time, you may wish to contact me by phone or email, anytime on the day, I will be at the time and place arranged, and will be around 30 mins early to ensure that all preparations that are required are complete. I will need a nominated person from you to check with at the venue. I will check again with that person after the ceremony before I leave. Then in the next couple of days I will complete and forward all legal documentation to the appropriate authorities.