CIVIL MARRIAGE CELEBRANT MELBOURNE- EASY WEDDING DAY
Everyone dreams of an Easy Wedding Day! As a Wedding Celebrant, I'll be delighted to contribute to that dream. I offer couples Easy Weddings, Professional Services and extremely Affordable Prices. Whether it's an Elopement or a Fairy Tale Wedding anywhere in Melbourne. Contact me today.
Sharon Osman
Civil Marriage Celebrant A11233    Email: cherishedmomentscelebrated@gmail.com       Phone:  0422448918    ‭03 8790 4142‬
Wedding are my Passion as it is your dream. I take pride in Officiating and designing a ceremony to suit everyone's needs and budget. With me you can have a no fuss Easy Wedding, Personalised Ceremony at the most affordable price anywhere in Melbourne.
My job as a marriage celebrant is to work with couples and present to them the endless possibilities towards a Easy Wedding day.  As a Finalist for Best Celebrant in the 2017,2018 &2019 AUSTRALIAN BRIDAL INDUSTRY ACADEMY AWARDS, I'm both humbled and honoured to have the best job ever.
I love what I do and I do what I love and that is uniting people in love. By offering choices available to them in order to ensure their day is amazing and all about them. I also provide information and guidance to my couples in order to support not only their contribution but also to encourage full participation in the development of their ceremony.
For an exceptionally smoothe Easy Wedding day, Contact me any where in Melbourne and we will meet to discuss the type of ceremony you want. There is an obligation meeting and after discussing your budget ( obviously within reason) I will explain how I can give you a ceremony to suit your budget. You get a chance to meet me and decide if you want to go ahead.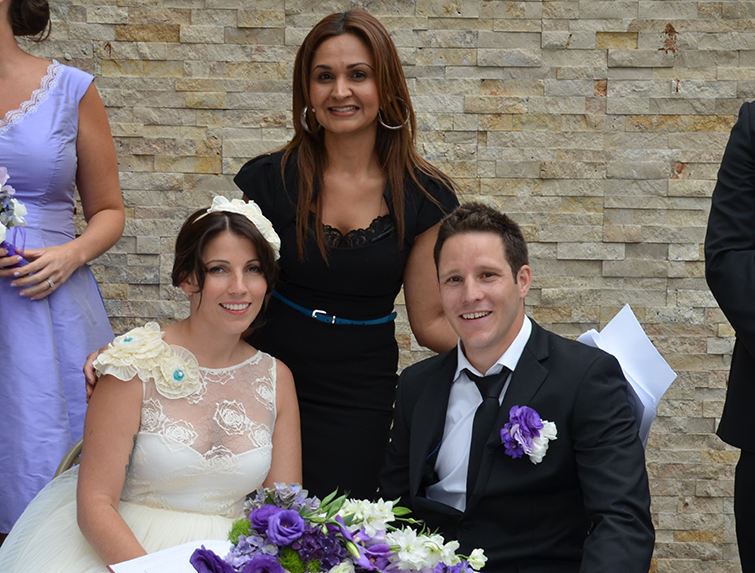 I will ask some basic questions and go through some options and also ask you to share information that will enable me to design a personalised ceremony for you. I send you a list of what you will need to provide for eg. Identification documents (birth certificates etc)You then complete the first set of forms which is the 'Notice of intended Marriage' – note this must be done at least one month and one day prior to the ceremony. I will view and confirm that all your documents are as required. I would then work up a draft ceremony, with all the points that you want included. I write a ceremony that is unique to your relationship and also share your love story with your family and friends. I then email you the draft ceremony and when you are happy we should have a reasonable finalisation of the ceremony. I will document fully the agreed ceremony and provide you with a copy for you to check and peruse at your leisure and you can advise me of any changes only after you have read it thoroughly. During this time, you may wish to contact me by phone or email, anytime.On the day, I will be at the time and place arranged, and will be around 30mins early to ensure that all preparations that are required are complete. I will need a nominated person from you to check with at the venue. I will check again with that person after the ceremony before I leave.In the next couple of days I will complete and forward all legal documentation to the appropriate authorities.
SOME IMPORTANT INFORMATION ON WEDDINGS
Traditional Roles and Responsibilities of Family and friends.
Each wedding can be as 'traditional' as you want it to be – the choice is up to you!
Below is an example of the traditional roles and responsibilities of family and friends
Bride's Mother-  Helps compile guest list. Assists with ceremony and reception details. Informs groom's mother regarding attire to enable compatibility. Sits in front row. Is last to be seated and first to rise following ceremony.
Bride's Father- Accompanies bride to church and escorts bride to groom at ceremony. (Mother may also do this). Dances second dance with bride at reception. May make a first speech and propose toast to bride and groom to at reception. (Mother of bride may also say a few words)
Bridesmaids/ Matron of Honour-May assist bride in requested tasks associated with wedding such as selection of dresses for bridal party. May host and assist with pre-wedding parties. Precedes bride down aisle. Holds bouquet during vows. May hold groom's ring.
Best Man/ Groomsmen-May help with bachelor party. Greets guests at wedding. Escorts bridesmaids down isle following ceremony. (May escort bridesmaids down isle prior to ceremony). Directs guests to reception site. Best Man stands next to Groom at ceremony and may carry bride's ring. Reads emails at reception and may give the third and final speech at the reception on behalf of the bridesmaids. (One of the Bridesmaids/Matron of Honour may give the speech themselves).
Ring Bearer-Traditionally young boy who precedes the bride down the aisle carrying rings perhaps on a cushion. May be accompanied by a flower girl.
Flower Girl-Traditionally a young girl who carries a flower or a bouquet and may accompany the ring bearer.
Guest Book Attendant-Stands beside guest book as guests enter reception and shows guests where to sign. Alternatively, the book may be left in a prominent position for guests to add thoughts at leisure.
Singer/Musicians-May play/sing for bridal entrance and during signing
Reader-The ceremony may include one or two readings. The reason / significance of the choice of reading should be given prior to the reading.
Master/Mistress of ceremonies-Someone to coordinate flow of speeches. Traditionally there are three speeches. Content depends on the individual circumstances. Ladies often participate nowadays. The MC asks people to switch off phone during speeches and ensure that people know where facilities are and the whereabouts of a wishing well or guest book.
Suburbs I Service
Carlton 3053
Carlton South
Carlton North
Docklands 3008
East Melbourne 3002
Jolimont
Flemington 3031 (Shared with City of Moonee Valley)
Kensington 3031
Melbourne 3000
Melbourne 3004 (St Kilda Road area, shared with City of Port Phillip)
North Melbourne 3051
Hotham Hill
Macaulay
Parkville 3052
Royal Park
Port Melbourne 3207
Fishermans Bend
Southbank 3006
South Wharf 3006
South Yarra 3141
West Melbourne 3003
Coode Island
City of Port Phillip Edit
Albert Park 3206😊
Balaclava 3183😊
Elwood 😊
Middle Park 3206😊
Port Melbourne 3207 😊
Beacon Cove
Fishermans Bend😊
Garden City
Sandridge
Ripponlea 3185 😊
St Kilda 3182😀
St Kilda South
St Kilda East 3183
St Kilda West 3182
St Kilda Junction
Southbank 3006
South Melbourne 3205
South Wharf 3006
City of Yarra Edit
Abbotsford 3067😊
Victoria Park
Alphington 3078
Burnley
North Carlton
Clifton Hill 3068
Collingwood 3066
Collingwood North
Cremorne 3121
Fitzroy 3065
Fitzroy North 3068
North Fitzroy
Richmond 3121
Burnley North
North Richmond
Richmond South
West Richmond (the nam
Beaumaris 3193
Black Rock 3193
Brighton 3186
Were Street
Brighton Beach
Brighton North
Middle Brighton
Brighton East 3187
North Road
Cheltenham 3192
Southland Centre
Pennydale
Gardenvale 3185
Hampton 3188
Castlefield
Hampton East 3188
Highett 3190
Sandringham 3191
Moorabbin 3189
Beaconsfield 3807
Officer 3809
Officer South
Pakenham 3810
Edit
Avonsleigh 3782
Bayles 3981
Yallock
Beaconsfield Upper 3808
Cations
Bunyip 3815
Bunyip North 3815
Caldermeade 3984
Cardinia 3978
Lisbaun
Catani 3981
Clematis 3782
Cockatoo 3781
Fielder
Wright
Cora Lynn 3814
Dalmore 3981
Dewhurst 3809
Emerald 3782
Lakeside
Nobelius
Garfield 3814
Garfield North 3814
Gembrook 3783
Cornucopia
Gilwell Park
Whites Corner
Koo Wee Rup 3981
Dalmore East
Koo Wee Rup North 3891
Lang Lang 3984
Lang Lang East 3894
Longwarry 3816 (shared Shire of Baw Baw)
Maryknoll 3812
Menzies Creek 3159 (shared Shire of Yarra Ranges)
Modella 3816 (shared Shire of Baw Baw)
Monomeith 3984
Mount Burnett 3781
Nangana 3781
Nar Nar Goon 3812
Nar Nar Goon North 3812
Nyora 3987 (shared South Gippsland Shireand Shire of Baw Baw)
Officer South 3809
Pakenham South 3810
Pakenham Upper 3810
Rythdale 3810
Tonimbuk 3815
Tooradin North 3977
Tynong 3813
Tynong North 3813
Berwick
Cranbourne 3977
Cranbourne East 3977
Cranbourne North 3977
Merinda Park
Cranbourne West 3977
Cranbourne South 3977
Centreville
Doveton 3177
Endeavour Hills 3802
Eumemmerring 3177
Hallam 3803
Hampton Park 3976
Junction Village 3977
Lynbrook 3975
Narre Warren 3805
Narre Warren North 3804
Narre Warren South 3805
Blind Bight 3980
Cannons Creek 3977
Clyde 3978
Clyde North 3978
Devon Meadows 3977
Fiveways
Harkaway 3806
Lysterfield South 3156
Pearcedale 3912
Tooradin 3980
Warneet 3980
Edit
Dandenong 3175
Cleeland
Dunearn
Dandenong East
Dandenong Plaza
Oakwood Park
Dandenong North 3175
Lyndale
Dandenong South 3175
Keysborough 3173
Parkmore
Noble Park 3174
Harrisfield
Noble Park East
Yarraman
Noble Park North 3174
Springvale 3171
Sandown Park
Springvale South 3172
Lyndhurst 3975
Bangholme 3175
Carrum Downs 3201
Frankston 3199
Eliza Heights
Frankston East
Frankston Heights
Karingal
Leawarra
Long Island
Mile Bridge
Mount Erin
Olivers Hill
Frankston North 3200
Pines Forest
Frankston South 3199
Baden Powell
Langwarrin 3910
Sandhurst 3977
Seaford 3198
Belvedere Park
Kananook
Skye 3977
Lyndhurst South
Bentleigh 3204
Bentleigh East 3165
Coatesville
Eastmoor
Caulfield 3162
Caulfield East 3145
Caulfield North 3161
Caulfield Junction
Crimea
Caulfield South 3162
Hopetoun Gardens
Carnegie 3163
Elsternwick 3185
Gardenvale 3185
Gardenvale West
Glen Huntly 3163
Booran Road
McKinnon 3204
Murrumbeena 3163
Beauville
Ormond 3204
Ormond East
St Kilda East 3183
Aspendale 3195
Aspendale Gardens 3195
Bonbeach 3196
Braeside 3195
Carrum 3197
Chelsea 3196
Chelsea Heights 3196
Cheltenham 3192 (Shared with City of Bayside)
Cheltenham East
Cheltenham North
Clarinda 3169
Clayton South 3169
Dingley Village 3172
Dingley
Heathen Hill
Edithvale 3196
Heatherton 3202
Highett 3190
Mentone 3194
Charman
Mentone East
Moorabbin 3189
Moorabbin East
Wishart
Moorabbin Airport 3194
Mordialloc 3195
Mordialloc North
Parkdale 3195
Patterson Lakes 3197
Patterson Gardens
Waterways 3195
Ashwood 3147
Stocksville
Burwood 3125 (Shared with City of Whitehorse)
Chadstone 3148
Jordanville South
Clayton 3168
Clayton North
Petersville
Westerfield
Whitburn
Glen Waverley 3150
Brentwood
Syndal
Syndal East
Hughesdale 3166
Huntingdale 3166
Monash University 3800
Mount Waverley 3149
Bayview
Highbury View
Jordanville
Pinewood
Mulgrave 3170
Monashville
Mulgrave East
Mulgrave North
Valewood
Waverley Gardens
Waverley Park
Notting Hill 3168
Oakleigh 3166
Oakleigh East 3166
Oakleigh South 3167
Moorleigh
Wheelers Hill 3150
Brandon Park
Jells ParK