MELBOURNE CELEBRANT EQUALITY WEDDINGS
Call or text now on 0422448918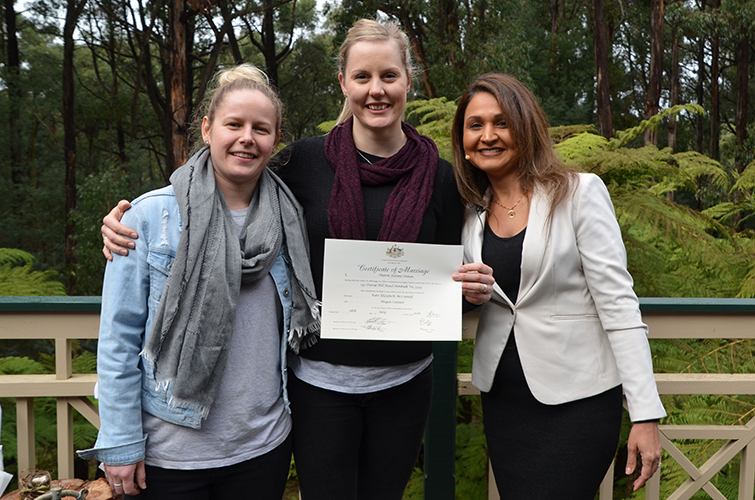 Hello and Welcome to my Celebrant Services! Now that Same Sex marriages are legal in Australia, anyone can legally marry here. Do you feel the need to commit to each other in the same way heterosexual couples can, by being married?Well, Congratulations & you have come to the right place. As an open minded and professional Life Coach and Melbourne Celebrant, I have conducted many EQUALITY WEDDINGS. With over 12 years of experience as a Celebrant and Finalist in 2017, 2018 and every year since at the ABIA.
(AUSTRALIAN BRIDAL INDUSTRY ACADEMY) Awards, voted by my  couples…. I feel privileged to conduct these special ceremonies. Regardless of how elaborate or Intimate, whether at home in your back yard, or a Garden, Beach, Hotel, Restaurant, Public Hall or Reception Centre, I deliver a personal and unique ceremony to suit your personal needs.
I take the time to listen to you, incorporate all your wishes & dreams into the most special day of your life. Every Ceremony I create is warm, meaningful and capturing.
It's all about you!!! Whatever you and your loved one dreams of as a ceremony I will be honoured to assisting in making it a reality.
So contact me today to chat about your EQUALITY WEDDING. With pride and honour I would stand with you and help you both proclaim your love and commitment to each other, whether privately or before your family and friends.
Here's what one of my couples had to say –
Testimony:
Sharon is the best! We decided to have a surprise wedding and called Sharon at the last minute and we surprised all our family and friends. Sharon was laid back and respectful and helped us guide what we were meant to do whilst keeping that day true to exactly what we wanted. Very prompt with her responses to us and on the day was perfect in every situation. We were very relaxed so she took a step back and let us take our time and do things differently. We appreciate and highly recommend you.
Kate and Megan
So why not call me on 0422448918 or 03 8790 4142