MELBOURNE WEDDING CELEBRANT EXPERIENCED & PROFESSIONAL
Call or text now on 0422448918

Celebrants are easy to find, but are you looking for just any celebrant or an experienced & professional Melbourne Wedding Celebrant? If so.. You are in the right place.
For small intimate groups of 10-15 guests, garden facilities available. Call to find out more & receive an obligation free Quote
Hello & Congratulations on engaging with your soulmate.
I value your time & I invite you to have a quick browse to see if I'm the one for you.
I'm Sharon Osman, with over 12 years of experience and professionalism as a Melbourne Celebrant I would be delighted to help you. I have invested time, money and effort in myself so I'm able to show up offering you the best service, unbeatable value and an outstanding Ceremony.
It's an absolute honour to have been nominated 3 Years in a row at the ABIA Awards for Celebrant of the year Victoria. I am extremely excited & humbled to extend my most heart felt gratitude to every couple who has voted & rated my services.
As a Qualified Melbourne Wedding Celebrant, I Serve you with sincerity & respect, as I operate from a place of love & deep passion.
I'm passionate about people in love and uniting people in marriage is a privilege I don't take lightly. To start off with, I would love to meet you or skype if distance is a barrier. This gives you the opportunity to get to know me, sense whether you are comfortable with me and whether I'm the one to represent your love on the day.
Once you are happy and book me, I send you all the relevant paperwork to fill in and submit. Then I start to create your Ceremony, which is unique to you both. Being a specialist in personalising Ceremonies & with a love for writing, along with you I create a Love story that is authentic & meaningful. One that represents your personalities, one that is exciting, interesting & humorous that leaves a lasting impression on both you & your guests.❤️
My belief is that adding lightheartedness & fun to ceremonies engages everyone, so I stay clear of old fashioned lectures on marriage or any boring stuff.
I offer step by step assistance & send you a list of vows that you can choose from or you may just want to create your own. Regardless of what you choose, I am available to guide you every step of the way. You will receive a rough copy of your Ceremony well in advance for your approval.
I'm totally flexible and allow for all of your personal requirements.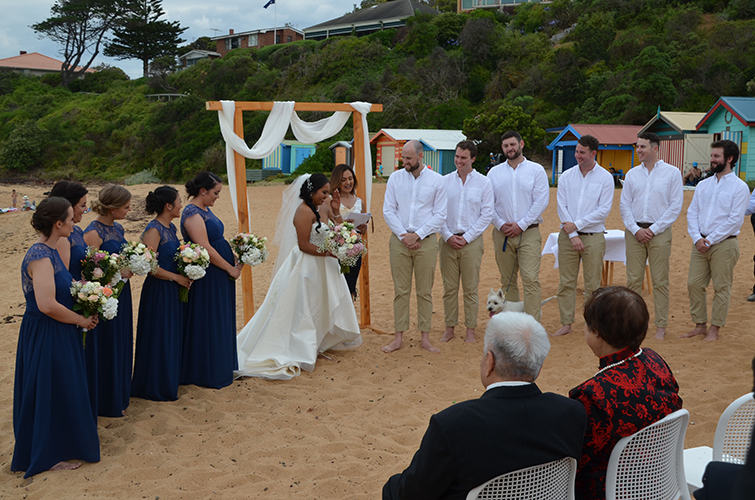 I use a professional PA system and a microphone so that your Ceremony is audible to all your guests. If needed I can even play the music for the Ceremony which you provide.
After the wedding I promptly lodge all your documents with Births Deaths & Marriages & send you a link so you may apply to them for your legal certificate.
Thanks again for your valuable time and attention. I'm only a call away and look forward to serving you.
Sharon
0422448918