SHARON OSMAN- GAY WEDDING CELEBRANT MELBOURNE
Call now on 0422448918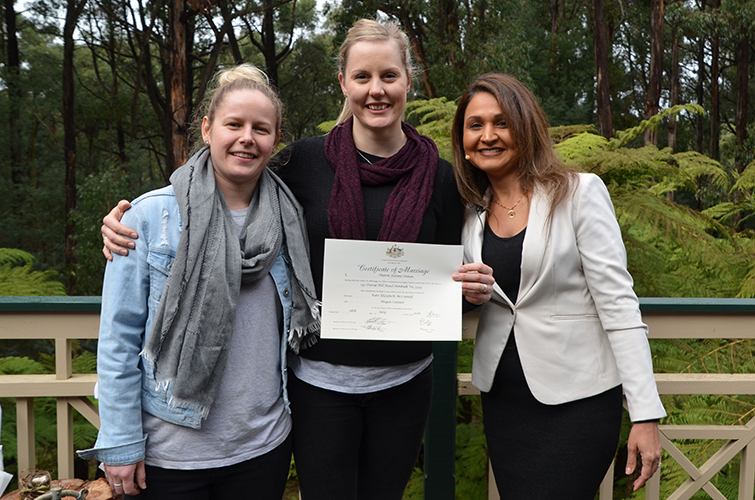 Getting Married & Looking for a Gay Wedding Celebrant? I'm so pleased you found me. I cater to all Melbourne Same Sex & LGBT couples & travel all over Melbourne to Celebrate your Special day.
Planning a wedding  and be a huge task & I'm here to offer not only my Celebrant Service but as much wedding support as possible. So why not contact me
Email- cherishedmomentscelebrated@gmail.com
Mobile- 0422448918
Although Same Sex marriages are now Legal in Australia, many couples still face some a few unique challenges, despite the drastic shift in the political landscape.
All weddings have some element of stress, there are a few additional issues that some gay couples experience that hetero couples don't encounter.
Hello and Congratulations!  I'm Sharon Osman Proud to be a Gay Melbourne Wedding Celebrant with over a Decade Of Experience. My credibility lies in the three time Nomination as Finalist for Celebrant of the year by ABIA at the annual awards in 2017, 2018 & 2019.
Such a humbling honour and privilege to be a Gay Melbourne Marriage Celebrant, & to be recognised. I'm deeply grateful to all my couples who have voted for me and taken the time to write such heart warming reviews.
Everything is Love! Why am I so Incredibly Blessed & most sought after Gay Wedding Celebrant in Melbourne? I ask myself that all the time. Well, I believe that I'm just an ordinary Celebrant who has achieved extraordinary results simply because I come from a place of genuine Love. A genuine sense of care and love for people. A desire to help, offer you the best service possible and support you along the way if challenges arise. Most importantly It's no effort, because I love what I do, so I do what I love and that is unite people in Marriage.
For you, all the excitement starts from the day of the proposal however, revealing your engagement and looking for your Gay wedding Celebrant can be stressful for couples. It goes without saying choosing a Celebrant who is open minded and genuinely supportive of Gay Weddings is paramount.
So choose wisely:) Meet your Celebrant if possible or at least speak to him or her over the phone. Although your Celebrant doesn't have to be Gay, you will know in your heart if that's the right fit for you and the one to be a part of your incredibly special day.
In my experience I've had couples share with me some of their biggest challenges. One is who to invite to the wedding? Assessing which of their family members and friends are genuinely supportive of their same-sex marriage. This issue pops up when gay couples need to select wedding vendors.
Choosing vendors is already a daunting task in itself. However, times are changing and unlike some states in America where Vendors turn down wedding business to a gay or transgender couples, things are much brighter in Australia.
I'm proud to say that along with me, my fellow Australians have broadened their thinking and expanded their awareness. Slowly letting go of all the man made rules and beliefs and finally understand the  meaning of true Love. The meaning of Oneness & most importantly Equality.
Any which way you look at it…Love is Love my dear friends and I've extended & designed my services to alleviate as much of that stress as possible.
Wherever possible, I help bring my couples together with vendors who share the same respect and values as myself. Vendors who encourage & support same-sex marriage, speak the language, understand the culture and are obviously more than happy to work with same sex couples.
To name a few Photographers, make up artist, fellow celebrants, florists, venue providers & event planners.
So call me today and at least let's have that chat:)
0422448918