INDIAN MELBOURNE CELEBRANT- INDIAN & PUNJABI WEDDINGS

Call or text now on 0422448918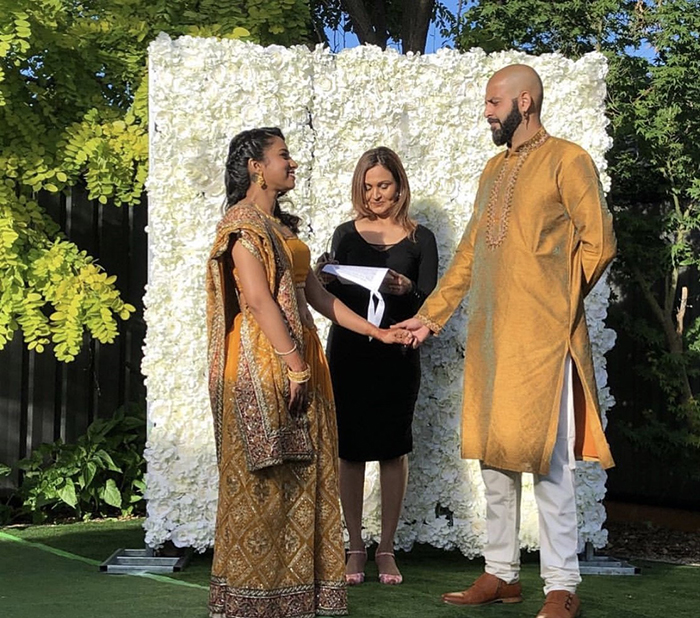 Hello and Congratulations!  If you are Indian or marrying an Indian or Punjabi and looking for a Indian Melbourne Wedding Celebrant, I can help.
Weddings can be exciting and fun but looking for vendors can be quite overwhelming.
How do I know? I have been in the wedding business as a Indian Wedding Celebrant for over 12 years and have heard stories from couples all the time.
When it comes to choosing a Celebrant, it's quite different from choosing other service providers.
Your Celebrant and you both need to have that energetic connection and feel comfortable, because they are going to be a very crucial part of your special day, conducting your ceremony.
I'm Sharon Osman, an Indian Melbourne Wedding Celebrant. Very blessed to have met and married hundreds of couples from all walks of life and from all over the world, including most parts of India.
I have conducted legal marriage registrations and whole personalised wedding ceremonies for Indian & Punjabi couples or mixed marriages.
Although all my ceremonies are in English, I am very flexible and happily include traditional, cultural or religious aspects to your ceremony. I have also worked with Indian priests and religious figures.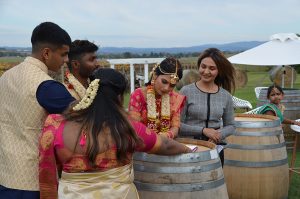 In my journey as a Indian & Punjabi Wedding Celebrant in Melbourne, I often get asked to attend a Indian, Hindu, Muslim, Bengali, or Punjabi wedding to conduct the legal registration and some cases present a personalised ceremony sharing how the couple met, fell in love and the qualities they love about each other.
Indian Weddings are truly magical !!! From the colour & dress to the music and the food. You name it the list goes on. For me it's the feeling I get when I am there. It's the warm welcoming feeling of home…INDIA.
I love what I do and that is marrying people. Regardless of whether you are having an Indian Registry style wedding from my home office or something more extravagant like inviting family and friends at a reception venue or whether it's your 1st, 2nd or 3rd marriage….I design something for everyone and cater to individual needs.
Most couples feel comfortable with a female Indian Melbourne Wedding Celebrant.
So if you are looking for someone with an Indian background with 12 years in the wedding industry, call
Sharon Osman
INDIAN MELBOURNE CELEBRANT- INDIAN & PUNJABI WEDDINGS
0422448918