WEDDING CELEBRANT LANGWARRIN
Call or text now on 0422448918
As a Langwarrin Wedding Celebrant & finalist in 2017, 2018 (and every year since) in the ABIA for VICTORIAN CELEBRANT OF THE YEAR AWARD, I extend my services to Langwarrin and Langwarrin South. I conduct professional and exceptional ceremonies. From Legal elopements in my home office or to you in Langwarrin … to Glamorous Weddings anywhere in Melbourne, Why not contact me today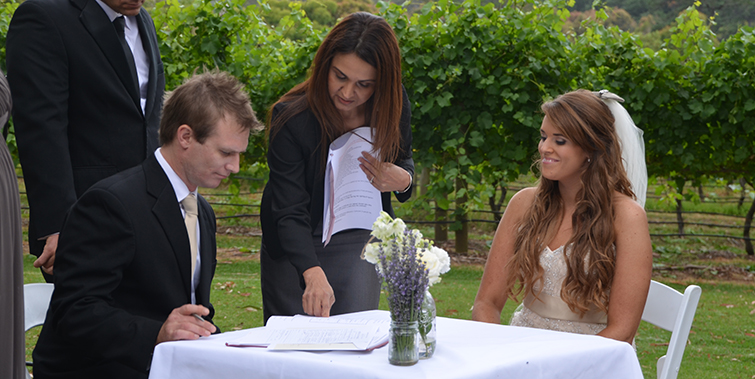 Are you in search of a Wedding Celebrant in Langwarrin? Congratulations and welcome to my website. My name is Sharon Osman and I have been in the wedding industry for 12 years now. I have graduated from the Academy of Celebrancy in Melbourne and hold a Certificate 1V in Celebrancy. I am blessed to have met and married couples from all walks of life. Different Nationality, Religions, cultures and Backgrounds.
Finding the best wedding Celebrant in Langwarrin is a matter of finding someone to cater to your needs. With me you can enjoy a marriage ceremony that is tailored to your taste and closely follows your wishes, ensuring a stress-free day that you will cherish forever. I will provide you with everything required to make the day all the more special.
Not only am I a Langwarrin Wedding Celebrant, I am also a Life Coach with vast experience, knowledge and skills that assist me in my Celebrant job.
My positive and warm energy has attracted couples to me from all over the world. My ability to connect with them and establish rapport easily, builds their trust in me.
My promise to you as a Professional Langwarrin Celebrant is, To ensure that our first meeting together will be conducted in a relaxed environment where we can discuss all of your wedding requirements – at a place of your choice perhaps a coffee shop, or in my home office in Narre Warren North, as so to give you choices of ceremony styles, vows and readings that will give you ideas for your special ceremony.
I ensure that all the necessary legal paperwork is completed on your behalf as required by law and that all your documents are lodged with the Registrar of Births, Deaths and Marriages.
I also provide you with a printed Marriage Certificate on the day.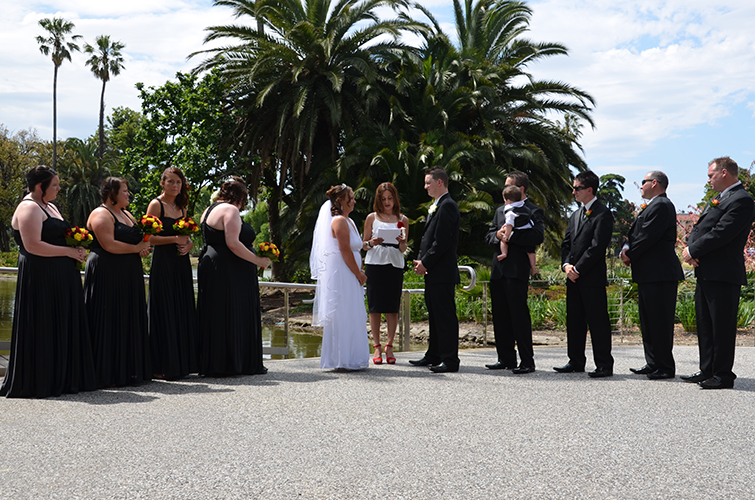 Current trends are all about putting on the glitz!!  If you are planning a wedding at the moment in Langwarrin or anywhere in Melbourne, I have some good news for you! There is a lot to look forward to, A LOT! No matter what your budget, the top trends reporting for this coming wedding season I have something to offer for everyone!   Whether it at a Five Star reception, a chapel, a garden, beach, in an old building, in an aero plane, on a boat, in a vineyard or even in your back yard, you will be treated with utmost respect and your ceremony will be prepared and presented in the most dignified manner.
Marriage is your personal commitment to each other and a declaration of love. Your personal sincerity is so strong you want to declare it to the one you love and share it with those who know you with a marriage ceremony.
An occasion that deserves a caring experienced Melbourne celebrant like myself to officiate the moment you join your lives legally together.
Allow me to create a special, happy marriage ceremony for you.  A marriage ceremony tailored to your taste and closely following your wishes to ensure a stress-free day you will cherish forever.
My Initial consultation, obligation-free to hear about your needs
One-on-One discussion of your ideas; giving you as much time as you need
You can then select from a wide range of ceremonies
I will visit you at your home or you can meet me at a place of your choice.
Sound system is provided at no extra cost to ensure all guest can hear the service
As a celebrant in Langwarrin and all over Melbourne, I offer a style of ceremony that it is just right for you:
Traditional Ceremonies
Personal Ceremonies
Intimate Ceremonies
Romantic Ceremonies
Spiritual Ceremonies
Hindu Ceremonies
I will also take care of all your legal needs for that special day:
Consultation on the legal documents you will need:
Lodgment of all relevant legal documentation prior to and after your ceremony
Lodging of all documentation with Births, Death and Marriage Registry
As a Civil Celebrant, Sharon will be delighted to be part of your marriage ceremony, find it a pleasure, fun and above all, a privilege.
My approach to my work is professional yet friendly. With a true commitment to fairness and justice. I have a very positive outlook on life. Strongly endorse the attitude of gratitude and value my family and friends greatly.
I believe in celebrating life's milestones and acknowledging family traditions.
I believe strongly that your wedding day and ceremony belongs to you. It is your special day, one of the most precious days of your life, so the ceremony should reflect you and your relationship. I can assist you to create your ceremony and get it just the way you want it. It will be personal, warm, fun and inclusive of your family and friends.
Call me today on 0422448918