WEDDING CELEBRANT LILYDALE
Call or text now on 0422448918
Conducting Weddings in Lilydale, Sharon Osman is a Lilydale Wedding Celebrant, Vibrant with a fresh new approach to Elopements, Wedding Ceremonies, Same Sex Unions and much more. For an unbeatable price ring or email today!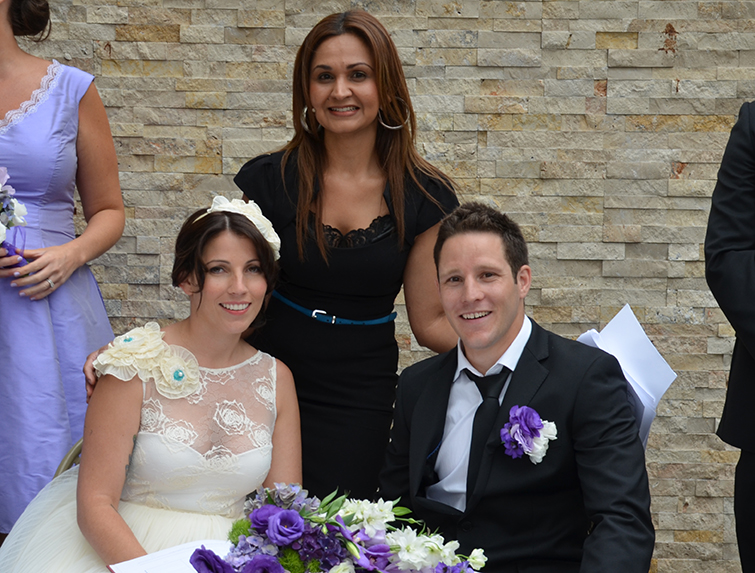 Congratulations on your engagement! Whether you are getting married in Lilydale or anywhere in Melbourne, my responsibility is to advise & guide you on every single aspect of the ceremony, based on my wealth of experience, substantial knowledge and compassion.
Having officiated over 600 weddings, Sharon is a finalist for 2017, 2018 and every year since in the ABIA VICTORIAN CELEBRANT OF THE YEAR AWARD. Sharon Plans and writes a unique ceremony for you, in consultation with you, to your full satisfaction. All legal requirements and "paper-work", including the lodgment and the registration of the marriage.
Hello! I'm Sharon and I have married couples from different nationalities and backgrounds in Melbourne, interstate and overseas. Quite often known as the Multicultural Celebrant.
Your wedding ceremony sets the scene for the best day of your life. It is happy and funny, passionate and romantic and it is the ultimate declaration of your love for one another. Working with you and for you, I am honoured to create that personal and unique ceremony just as you have pictured. The day is simply one that everyone remembers for how special and unique it was.
Are you looking for a personal and private, down-to-earth and light-hearted ceremony? With a background in Quality Assurance and Public Speaking, each ceremony is articulated professionally and thoughtfully and presented with elegance and style.
I basically deliver whatever you want with a touch of grace and sparkle to it. No matter how big or small, simple or spectacular, every wedding ceremony is different – private, personal and unique.
I have the ability to make you feel relaxed and calm so you can take in and live your day to its fullest.
As your Melbourne Wedding Celebrant Servicing Lilydale, I ensure that you are ease on the day and relaxed. In saying that I world like to remind you about the importance of a wet weather back up!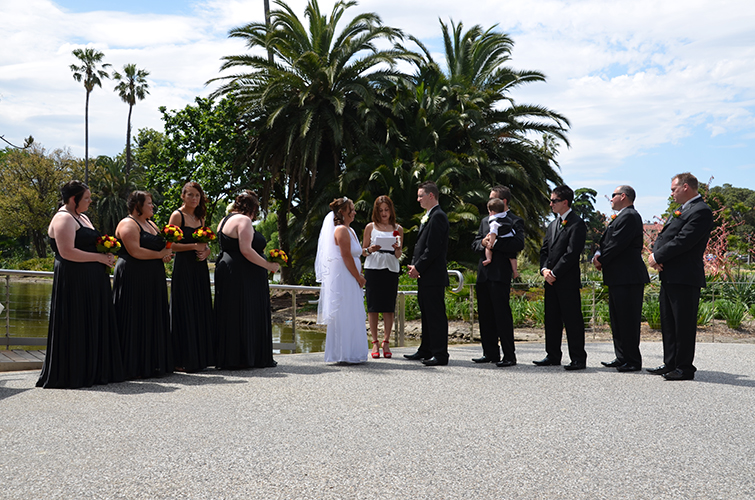 As I type this I am listening to the rain falling outside and I'm hoping it passes for the brides getting married this weekend. There is no doubting that Lilydale is one of the best locations in Melbourne for a wedding, however rain, wind and extreme heat is no stranger to Melbourne! I'm always a little worried when couples plan to have their wedding in the outdoors with no plan B. If you are thinking of a ceremony location where there is no shelter from the wind and the rain please have a read through the points below before you make your final decision.
If you've decided to have an outdoor wedding in Lilydale congratulations! Outdoor weddings are romantic and beautiful. However, they aren't as easy as they may look. Outdoor weddings come with additional challenges and pitfalls, but if you follow these tips, you'll be sure to shine on your wedding day.
1. Make your guests comfortable. Think about what the weather will likely be at the time of day and month of the year of your outdoor wedding. Sunny but not hot, cool but not freezing or raining.
2. Have a backup plan. What will you do if it rains? The ideal outdoor wedding location has an indoor location waiting just in case. Many brides and grooms opt to have their ceremony outside and reception inside. In a pinch, the tables can be scooted to the back of the room during the ceremony.
A tent is another option, but only for light to moderate rain storms. A heavy rain will soak the ground underneath, leaving guests with soggy and muddy shoes. Make sure any tent you rent is sturdy so it won't flip over, and that it has thick and weighted sides.
3. Plan for Wind. Many outdoor weddings suffer from windy conditions. Avoid light fabrics like chiffons and china silks in your dress and the bridesmaid dresses.  You also might want to think twice about having a vail if it is windy on your wedding day. Tell your hairstylist that you'll be having an outdoor wedding so she/he can plan a style that won't leave you looking like Cousin It! Men in the wedding party should also use styling product.  And of course, make sure your tent will stand up to gusting winds or find an indoor backup plan.
4. Can everybody hear? When you picture your dream wedding at the beach, you're probably not hearing the roaring of the waves, the rushing wind, or the local kids running and screaming around you.  Make sure your celebrant has a good sound system that will over power these background noises.
5. Decorations. One of the bonuses of an outdoor wedding is the natural beauty around you, lessening your need to decorate. But you still need to do some work. Visit the site a week before your wedding to make sure the grass is mowed etc. If your wedding is at a public park, you may want to ask the groomsmen or friends to do this the morning of your ceremony.  Other decorations you may want to consider include an arch or trellis to focus the ceremony and frame the bride and groom as they say their vow or strings of lights or lanterns in the trees.  Your photographer will be a great person to discuss decorations with as they will know what will look best in photos.
6. Make things tasty outside. Does your caterer have experience planning an outdoor wedding menu?
7. Don't leave your guests parched. Since alcohol is dehydrating, consider serving a variety of lemonades, teas and punches. If cold coffee and tea. If it's a hot day, Be sure to have plenty of ice and water around as well. For a fancy cocktail, why not serve a classic mint julep or a mojito? The mint will refresh and cool your guests.
8. Those pesky flying things. Be sure to put out citronella candles, or have a few can's of aerogard handy, so that your guests won't spend the whole ceremony swatting at the air.
9. Here comes the sun. Consider timing your outdoor wedding for sunset where your guests will see you take your vows surrounded by the warm glow of the sun. Those having a daytime outdoor wedding should orient the ceremony so that the sun will be on guests' backs rather than in their eyes.
10. Permits. Don't forget to contact your local council to get a permit for an outdoor wedding. Be sure to ask about rules concerning rubbish removal, candle or torch lighting, and pre-wedding photographer.
If you have any doubts at all chat to your celebrant as they will be able to help with ideas and advice.  Outdoor weddings can be spectacular but always plan for the unexpected and don't be disappointed if you need to change the plans slightly.  The important thing on your wedding day is not the weather but the person you are marrying.
Once again with me you will be guaranteed a professional and classy ceremony.
Here's what some of my couples have to say.
TESTIMONIALS –
Thank you so much for making our special day what it was. Both Matt
and myself warmed to you instantly and found you incredibly helpful in
organising our ceremony. Our guests commented on how well spoken and
friendly you were and you also managed to look fabulous – despite the cold weather! You made the whole process easy due to your professional manner and obvious experience and I am grateful for finding you.
Thanks again!!
Liana & Matthew Smiles.
2013
Dear Sharon,
We just wanted to say a massive thank you for our wedding. We are so grateful that we could make it legal and so are our parents!
We really appreciate all your help with putting together and
delivering the ceremony. We have had such positive feedback about the whole thing.
All the best,
Nick & Julia De Ville
"Sharon was the celebrant for our wedding in February
2011. She was an absolute pleasure to work with. Throughout the entire
wedding planning process Sharon was there to offer guidance and
support. On the wedding day itself she made both myself and my husband very comfortable. Our ceremony was very relaxed and personalized and
many of our guests were full of praise for how the ceremony was
conducted.
Sharon, a heart felt thanks from both Aaron and I for making our
wedding day amazing!
All the best
Aaron & Sarah Tan
We were absolutely satisfied with Sharon as our celebrant at our
wedding ceremony.
Sharon captured the heart and soul of our relationship and was able to
convey the true meaning of our marriage. She was very helpful in
preparing us for the "Big Day" which turned out fabulously.
Upon meeting Sharon for the first time, we were equally comfortable in
deciding to have her conduct and share in our celebration of our
marriage.
She performed the ceremony graciously and was able to make it
enjoyable for us and the audience too.
We would highly recommend Sharon to any soon to be Husband and Wife.
Thank you very much Sharon for making our wedding day, as beautiful as it was…
Mr and Mrs Lay
2011
Hi Sharon,
I would to thank you again for all your help and support in making
our day so special. As every Bride & Groom knows, no matter how big or
small the ocassion , it can be a very stressful time. Your warmth ,
patience, your deep understanding of love and commitment, your sense
of family and spirituality added so much to our 'Special Day' You
thought of everything and helped us with our vows and understood that
they had to be just right to encapsulate our emotions. We, our family, & friends still look back on that day and just  –  smile. It was just
perfect.
Kind Regards
Diane & Ron
Some Venues in Lilydale
. Yarra View Receptions
40/70-72 Cave Hill Rd, Lilydale VIC 3140
(03) 9735 1699
York on Lilydale
Cnr York & Swansea Rds
Mt Evelyn, VIC, 3796
Chateau Wyuna
Wedding Reception Venues
170 Swansea Rd, Lilydale, VIC 3140
The Chapel Lilydale Restaurant
Wedding Reception Venues
42- 44 Castella St, Lilydale, VIC 3140
Suburbs I Service
Carlton 3053
Carlton South
Carlton North
Docklands 3008
East Melbourne 3002
Jolimont
Flemington 3031 (Shared with City of Moonee Valley)
Kensington 3031
Melbourne 3000
Melbourne 3004 (St Kilda Road area, shared with City of Port Phillip)
North Melbourne 3051
Hotham Hill
Macaulay
Parkville 3052
Royal Park
Port Melbourne 3207
Fishermans Bend
Southbank 3006
South Wharf 3006
South Yarra 3141
West Melbourne 3003
Coode Island
City of Port Phillip Edit
Albert Park 3206😊
Balaclava 3183😊
Elwood 😊
Middle Park 3206😊
Port Melbourne 3207 😊
Beacon Cove
Fishermans Bend😊
Garden City
Sandridge
Ripponlea 3185 😊
St Kilda 3182😀
St Kilda South
St Kilda East 3183
St Kilda West 3182
St Kilda Junction
Southbank 3006
South Melbourne 3205
South Wharf 3006
City of Yarra Edit
Abbotsford 3067😊
Victoria Park
Alphington 3078
Burnley
North Carlton
Clifton Hill 3068
Collingwood 3066
Collingwood North
Cremorne 3121
Fitzroy 3065
Fitzroy North 3068
North Fitzroy
Richmond 3121
Burnley North
North Richmond
Richmond South
West Richmond (the nam
Beaumaris 3193
Black Rock 3193
Brighton 3186
Were Street
Brighton Beach
Brighton North
Middle Brighton
Brighton East 3187
North Road
Cheltenham 3192
Southland Centre
Pennydale
Gardenvale 3185
Hampton 3188
Castlefield
Hampton East 3188
Highett 3190
Sandringham 3191
Moorabbin 3189
Beaconsfield 3807
Officer 3809
Officer South
Pakenham 3810
Edit
Avonsleigh 3782
Bayles 3981
Yallock
Beaconsfield Upper 3808
Cations
Bunyip 3815
Bunyip North 3815
Caldermeade 3984
Cardinia 3978
Lisbaun
Catani 3981
Clematis 3782
Cockatoo 3781
Fielder
Wright
Cora Lynn 3814
Dalmore 3981
Dewhurst 3809
Emerald 3782
Lakeside
Nobelius
Garfield 3814
Garfield North 3814
Gembrook 3783
Cornucopia
Gilwell Park
Whites Corner
Koo Wee Rup 3981
Dalmore East
Koo Wee Rup North 3891
Lang Lang 3984
Lang Lang East 3894
Longwarry 3816 (shared Shire of Baw Baw)
Maryknoll 3812
Menzies Creek 3159 (shared Shire of Yarra Ranges)
Modella 3816 (shared Shire of Baw Baw)
Monomeith 3984
Mount Burnett 3781
Nangana 3781
Nar Nar Goon 3812
Nar Nar Goon North 3812
Nyora 3987 (shared South Gippsland Shireand Shire of Baw Baw)
Officer South 3809
Pakenham South 3810
Pakenham Upper 3810
Rythdale 3810
Tonimbuk 3815
Tooradin North 3977
Tynong 3813
Tynong North 3813
Berwick
Cranbourne 3977
Cranbourne East 3977
Cranbourne North 3977
Merinda Park
Cranbourne West 3977
Cranbourne South 3977
Centreville
Doveton 3177
Endeavour Hills 3802
Eumemmerring 3177
Hallam 3803
Hampton Park 3976
Junction Village 3977
Lynbrook 3975
Narre Warren 3805
Narre Warren North 3804
Narre Warren South 3805
Blind Bight 3980
Cannons Creek 3977
Clyde 3978
Clyde North 3978
Devon Meadows 3977
Fiveways
Harkaway 3806
Lysterfield South 3156
Pearcedale 3912
Tooradin 3980
Warneet 3980
Edit
Dandenong 3175
Cleeland
Dunearn
Dandenong East
Dandenong Plaza
Oakwood Park
Dandenong North 3175
Lyndale
Dandenong South 3175
Keysborough 3173
Parkmore
Noble Park 3174
Harrisfield
Noble Park East
Yarraman
Noble Park North 3174
Springvale 3171
Sandown Park
Springvale South 3172
Lyndhurst 3975
Bangholme 3175
Carrum Downs 3201
Frankston 3199
Eliza Heights
Frankston East
Frankston Heights
Karingal
Leawarra
Long Island
Mile Bridge
Mount Erin
Olivers Hill
Frankston North 3200
Pines Forest
Frankston South 3199
Baden Powell
Langwarrin 3910
Sandhurst 3977
Seaford 3198
Belvedere Park
Kananook
Skye 3977
Lyndhurst South
Bentleigh 3204
Bentleigh East 3165
Coatesville
Eastmoor
Caulfield 3162
Caulfield East 3145
Caulfield North 3161
Caulfield Junction
Crimea
Caulfield South 3162
Hopetoun Gardens
Carnegie 3163
Elsternwick 3185
Gardenvale 3185
Gardenvale West
Glen Huntly 3163
Booran Road
McKinnon 3204
Murrumbeena 3163
Beauville
Ormond 3204
Ormond East
St Kilda East 3183
Aspendale 3195
Aspendale Gardens 3195
Bonbeach 3196
Braeside 3195
Carrum 3197
Chelsea 3196
Chelsea Heights 3196
Cheltenham 3192 (Shared with City of Bayside)
Cheltenham East
Cheltenham North
Clarinda 3169
Clayton South 3169
Dingley Village 3172
Dingley
Heathen Hill
Edithvale 3196
Heatherton 3202
Highett 3190
Mentone 3194
Charman
Mentone East
Moorabbin 3189
Moorabbin East
Wishart
Moorabbin Airport 3194
Mordialloc 3195
Mordialloc North
Parkdale 3195
Patterson Lakes 3197
Patterson Gardens
Waterways 3195
Ashwood 3147
Stocksville
Burwood 3125 (Shared with City of Whitehorse)
Chadstone 3148
Jordanville South
Clayton 3168
Clayton North
Petersville
Westerfield
Whitburn
Glen Waverley 3150
Brentwood
Syndal
Syndal East
Hughesdale 3166
Huntingdale 3166
Monash University 3800
Mount Waverley 3149
Bayview
Highbury View
Jordanville
Pinewood
Mulgrave 3170
Monashville
Mulgrave East
Mulgrave North
Valewood
Waverley Gardens
Waverley Park
Notting Hill 3168
Oakleigh 3166
Oakleigh East 3166
Oakleigh South 3167
Moorleigh
Wheelers Hill 3150
Brandon Park
Jells Park