SPRINGVALE – MARRIAGE & WEDDING CELEBRANT
Call now on 0422448918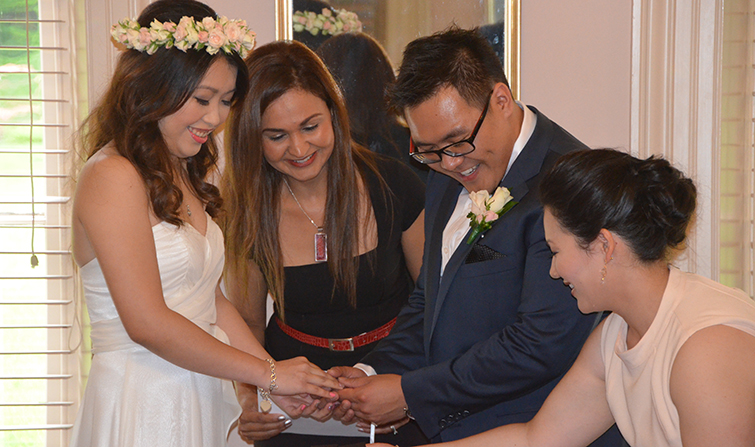 Congratulations on your engagement and thanks for reaching out for a Springvale Marriage Celebrant.
I'm Sharon Osman and have been a celebrant conducting weddings in Springvale and all over Melbourne for over 11 years.
After marrying hundreds of couples from all walks of life, nationalities, cultures and backgrounds I have a wealth of knowledge and extensive experience.
What can I do for you?
Regardless of what sort of wedding ceremony you choose, I am happy to listen, understand, guide offer ideas if required and tailor a ceremony to suit your individual needs.
Voted for several ABIA awards for Best Celebrant in Victoria, I feel humbled & very grateful to all my couples who have voted for me and ABIA for their Support.
My couples are very normal people who's age groups vary from as young as eighteen to as old as ninety three.
They have been Australian, Irish, Scottish, English, Indian, Sri Lankan, Punjabi, Chinese, Vietnamese, Japanese, Thai, Cambodian, Greek, Turkish, Lebanese, Malaysian, Ethiopian, American, Canadian, New Zealanders, students, tourist and much much more.
⠀⠀⠀⠀⠀⠀⠀⠀⠀
As a Springvale Celebrant I don't just marry people from Springvale but extend my services throughout Melbourne. I acquire extensive experience with multicultural people and have a warm personality that attracts people to me effortlessly.

Most of my couples have been recommended to me by my past Wedding Couples.
This not only makes me very grateful but very excited and humbled to know that I really added value to them and impacted them enough for them to recommend me to their family and friends.
There's always something for everyone.  You might choose a glamorous reception wedding or a beautiful garden wedding, or in  a significant spot. There's nothing that I could not do to make your dream day manifest into a magical reality.
OR You might Choose to have something low key with a few people in your back yard.
OR you might want something even more intimate and have a Registry Style Wedding from my office.
Regardless of what sort of Wedding you are planning, as a Springvale Wedding Celebrant, I have something for everyone.
I am a very different kind of Celebrant, with a very different approach. I come from a place of love, warmth and kindness which has drawn hundreds of couples to me from all walks of life, religious backgrounds, cultures, sexual preferences and age groups.
My friendly approach & easy going nature non judgemental nature allows people to instantly feel confident, comfortable and safe with me.
If you are not sure of what you want please call me or email me for a free chat and no obligation advice or quote.
0422448918
cherishedmomentscelebrated@gmail.com
With a passion for love and weddings I have  been meeting and marrying people not only in Springvale or Melbourne Metropolitan but all over Australia and overseas as well.
I have had extensive exposure & experience servicing the Indian, Sri Lankan and Asian community.
If you are a student from overseas and have fallen in love and desire to marry in Australia, call me and I can help you organise your wedding asap. Once you provide me with the Valid Notice of Intention to Marry Form and all legally required documents, I can make your dream a reality, easy & cost effective.
With a background in Quality Assurance & Life Coaching I pride myself in offering a sincere, professional and memorable ceremony. I deliver with class, genuine care and offer unbeatable customer service.
All my clients complement me comment on my warm nature and extremely great service to go the extra mile to make them happy.
Knowing that my couples are truly happy is what brings true fulfilment and deep satisfaction to  me.
I am skilled to create a ceremony that reflects your unique love and desires. Leaving you and your guests with an unforgettable and memorable experience.
Call and find out for yourself. You have nothing to lose but possibly savings as I offer different discounts throughout the year.
0422448918
As a Springvale Celebrant, I cater to suit everyone's budget and requirement. Nothing is too hard because I believe that every situation has a solution.
Give me a no obligation call 0422448918
OR
Email me at cherishedmomentscelebrated@gmail.com