Easy 5 people Legal Marriage Registration – Melbourne Celebrant
Call 0422448918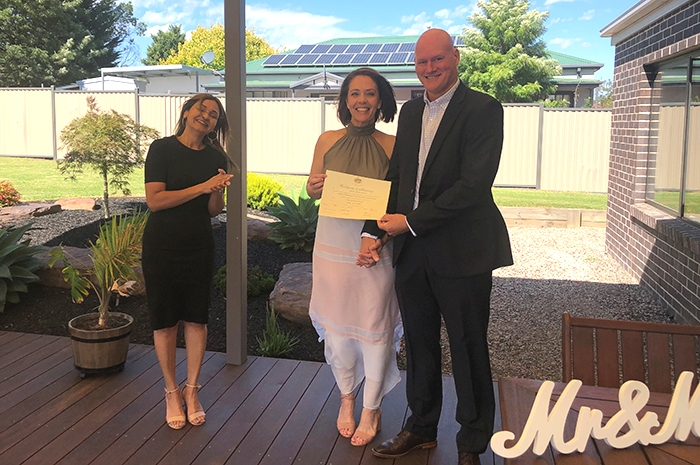 Wanting to get married soon? In these uncertain times, you can still get married with your celebrant and your two witnesses in a month from now.
Congratulations! My name is Sharon Osman and I'm a Celebrant of over 11 years. I must say I've never experienced my couples go through so much uncertainty, disappointment and stress.
Weddings are usually fun, exciting and a bit stressful, but present circumstances have contributed to just that.
However there is some relief for couples who are happy to get married now and have their ceremony and reception later.
On the 24th of March 2020, for reasons of the Corona virus outbreak, the prime minister of Australia announced marriages can still be solemnised with a maximum attendance of no more than 5 people.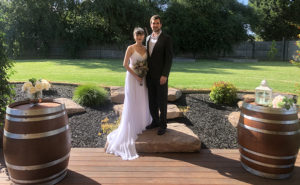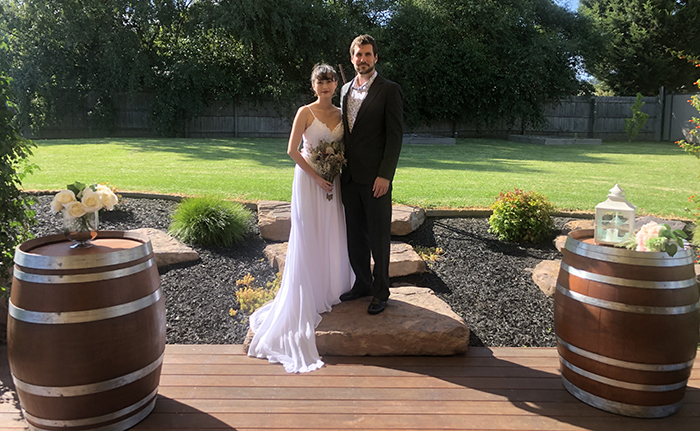 This being the two parties, the authorised marriage celebrant and the two witnesses, with social distancing of 1 person per 4 square meters is to be adhered to. This includes indoor and outdoor weddings.
To add to safety and well-being of all attending,I have extra measures in place.
Hand sanitizer provided for all, separate pens and even the option of live streaming your wedding so your family and friends don't miss out.
Over the years I've learned and evolved a lot, one thing I know for sure is that when it comes to weddings , "one size certainty does not fit all" Every couple is special, unique and have different needs. Some are after just the simple short and sweet option.
My love for weddings has & passion to be of Service to couples has always inspired me to offer total comfort, exceptional value and unbeatable customer service. So if you want to go ahead and say " i do" with just your witnesses in my humble office or garden, then call me today.
0422448918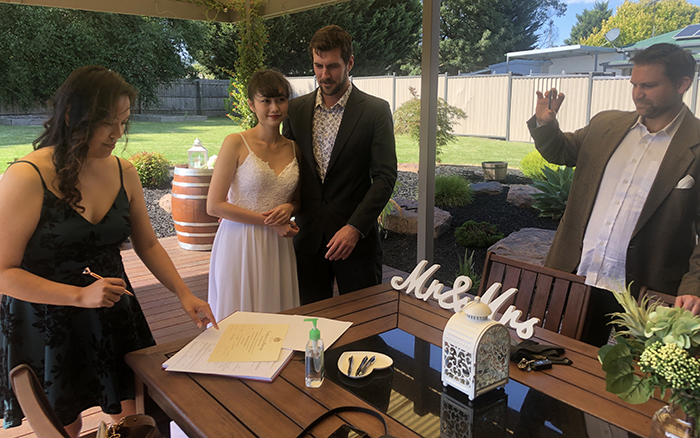 With 4 ABIA awards, and extensive customer reviews, I am Humbled with the valuable experience which will now benefit couples like you.
You may choose something quick and sweet or something more personalised and romantic. Regardless you will be presented with a professional and meaningful Ceremony that will set the scene for the most magical day.
This is not just the only available option at the moment but the most cost effective and loa key too. I marry couples from all walks of life, different backgrounds, nationalities, pregnant mum's, different age groups, sexual preferences or even 1st 2nd or 3rd Marriages. Regardless of whether you are student or on a prospective marriage visa.
Everyone is treated with the same utmost respect. I am confident that with me, you are in the best hands. I offer unlimited guidance, support and help every step of the way and encourage you to be fully involved in designing of your dream ceremony at a later date where family and friends are invited to experience & celebrate your renewal of your marriage vows.
Call or email me for more information.
0422448918
cherishedmomentscelebrated@gmail.com