MULTICULTURAL WEDDINGS/ MIXED MARRIAGE – MELBOURNE CELEBRANT
Call or text now on 0422448918
Hello and Congratulations! Welcome to the most interesting, exciting and significant event… Your wedding.
I'm Sharon Osman a Melbourne Marriage Celebrant and I specialise in Multicultural Weddings and have been marrying couples for over 12 years.
If you are planning a mixed wedding ceremony with multicultural aspects then I might be able to help.
I am truly humbled and honoured to not only have the most amazing job, but to have met and married some truly wonderful couples in Australia and from all over the world.
Having married hundreds couples from all walks of life, different nationalities, cultural beliefs, age groups, religions and sexual preferences, is the most rewarding & enlightening experience every single time.
My clients include students, couples applying for perspective marriage visas, first wedding, second or third. All age groups and cultural backgrounds are treated with full respect and assisted from start to finish.
I cater to everyone's needs and happy to include traditional, cultural or religious aspects of both parties including family and children if required.
There's something very special and unique about multicultural weddings where not only do both parties unite in marriage but two cultures, traditions and families unite as one.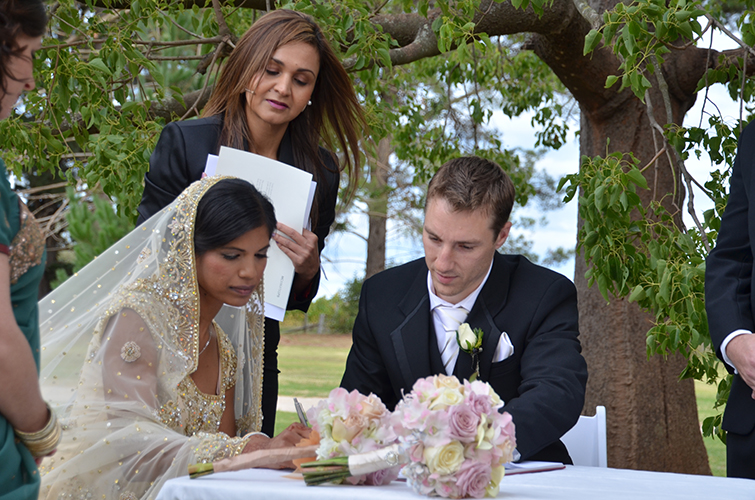 As a Melbourne Multicultural Wedding Celebrant I have married couples who were Australian and Indian,  Australian and Thai,  Australian and Sri Lankan, Australian and Japanese,  Australian and Chinese, Indian and Sri Lankan, Malaysian and  Australian, Hindu and Australian, Sri Lankan Poruwa Buddhist and  Australian, Muslim and Christian, couples from the UK, US, Canada, Africa, France, Germany the list goes on…
Every wedding ceremony is special, unique and memorable, leaving the couple and their guests with the most amazing and warm experience.
So if you are marrying outside your culture or tradition and wanting to blend perfectly, call me for a chat and find out for yourself how I can enhance your ceremony and make your special day extra special.
Call Sharon Osman MELBOURNE CELEBRANT- MULTICULTURAL WEDDINGS/ MIXED MARRIAGES
0422448918