REGISTRY STYLE MARRIAGES – MELBOURNE CELEBRANT
Call now on  0422448918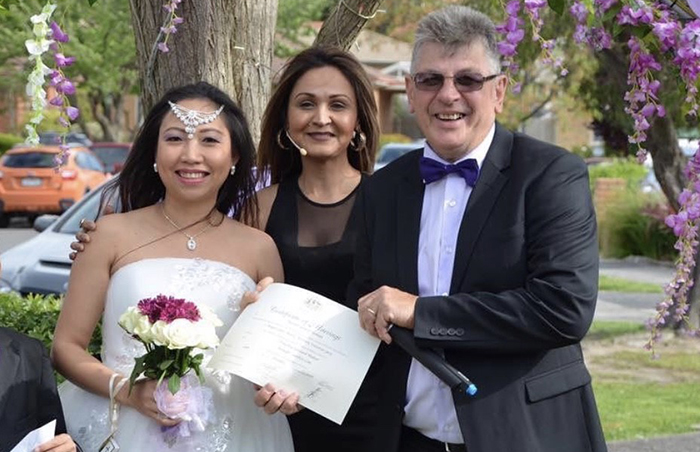 Planning to marry and looking for a Melbourne Celebrant for a Registry Style Marriage?
Well you have come to the right place. Congratulations if you are engaged and at the very start of planning to marry. If you choose to go with a legal registration style marriage, you don't have the stress and expense of venues, service providers and everything else.
I conduct legal registry style weddings from my home office with you both and your two witnesses. If the weather is good I can set up for you a garden wedding. With all the disappointment couples experienced lately due to Covid, I would be delighted to bring some hope and excitement back to make their special day extra special. Like everyone I'm also juggling being optimistic with trying to be realistic with my couples.  I think we all know that having a wedding with family and friends, that is a 150-200 person wedding may just not be feasible in the next couple of months.
Most couples are mindful of this and pretty much narrowing down their options to a Registry Style Marriage, with few guest which is even more cost effective and later on have a Wedding celebration  when it's safe. Or perhaps, a small civil ceremony with only immediate family and our closest friends, with a larger "traditional" wedding with all the bells and whistles later on.
In fact some couples think it's rather cool and different to marry in these very different Covid circumstances. Some believe that it's the best time to marry and they are not obligated to invite the whole village. One could said it works out perfectly for us we can put that wedding money towards our deposit for our home. I totally understand and respect their wishes and it's my job to give them what they want.
So…. Regardless of what you choose I'm dedicated to helping you every step of the way and offer you guidance, advice and support if required. Registry Style Marriages are quick, meaningful and special regardless of whether you have just 2 witnesses or a few close family members, I still present a warm and memorable occasion for you.
With me there's something for everyone and I go all out to ensure that you are happy, all legalities and paperwork attended to, so you can relax and enjoy your special day.
It's amazing how suddenly, in 2021, weddings in these times have been reduced down to the few things that matter the most. The two of you vow to spend the rest of your life together, in the presence of your 2 witnesses in a special and intimate setting. When two people decide to be together and commit, nothing or no one can stop them. I even put together complimentary vows to help make your day meaningful, intimate and memorable.
Ask about the option of having a few people present and marrying in my back yard garden. It's much easier and cheaper than paying hundreds or thousands for one hour in a garden.
Call me and you'll be surprised at the options you have to marry low key, gracefully at a low cost.
0422348918