SAMOAN WEDDINGS – MELBOURNE WEDDING CELEBRANT
Call or text now on 0422448918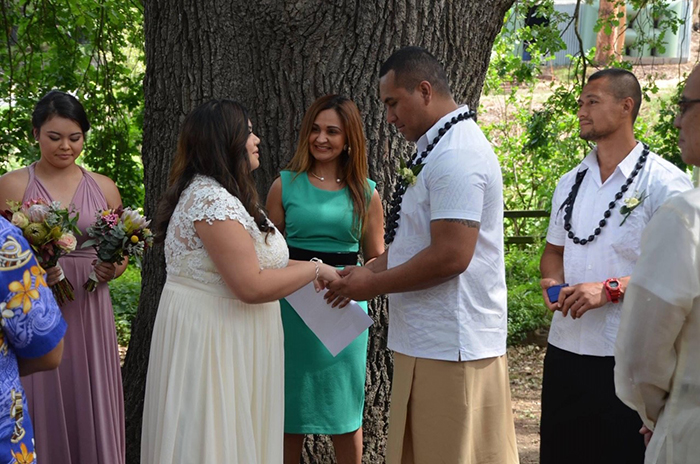 Planning a Samoan Wedding in Melbourne? Congratulations to you both and welcome to my web page!
All countries have their own cultures, ceremonies, rituals and traditions. Most of these are still carried out while some are slowly forgotten. Samoan weddings are a special in which most couples choose to include some aspects of tradition.
I'm Sharon, a Melbourne Celebrant very blessed to have conducted Samoan weddings for many couples.
Over the past 12 years I have met and married couples from all over the world including Samoa.
There's something about weddings and something special about Samoan weddings. They go back to their roots, from the bride and groom meeting at the altar, to the traditional wedding dress and the traditional throwing of the bouquet.
As a Wedding Celebrant conducting Samoan Weddings I fully appreciate that religion plays a significant role and Wedding rituals and traditions are of utmost importance. I absolutely love the warmth and friendliness of the Samoan people.
While looking for a Samoan Wedding Celebrant in Melbourne,  I invite you to consider my services and would love for you to read on.
Meeting people from different cultures and uniting them in marriage is the most amazing, fulfilling and rewarding job In the whole world.
In my time as a Wedding Celebrant marrying Samoan couples, I have married couples with different requirements.
Some want a religious ceremony with prayers, hymns and so on and I gladly put together a personalised ceremony including prayers, rituals and traditional requirements.
If you want it non religious, no problem!!! Some might just want to legally marry now and celebrate in a traditional fashion with family and friends in Samoa.
There's something for everyone.
I come from a long line of love, respect, values and morals and my upbringing has enabled me as one of Melbourne's most loved Wedding Celebrants to serve couples like you. I extend exceptional customer service, sharp professionalism, unimaginable understanding and most of all unbeatable value.
Finding a Celebrant for a Samoan wedding in Melbourne is easy,  but finding the right one for your special day might take a little looking:)
I am totally transparent, upfront, warm and respectful. With me you get what you see, and receive a service that exceeds your expectations. SAMOAN WEDDINGS – MELBOURNE WEDDING CELEBRANT
Regardless of what you choose, big, small or totally intimate. I create something for you and tailor a price to suit your wedding budget and requirements.
There's nothing I haven't done for my couples and this is evident in the ABIA awards I have received due to my amazing couples voting for me. I am deeply grateful and feel blessed.
My ceremonies are meaningful, warm, personal and light hearted most of all they are different and memorable.
So I would love to make your hunt for a Wedding Celebrant easy, why not call me for a quick chat no obligation at all.
Find out how I can make your special day extraordinary.
0422448918