WEDDING CELEBRANT MELBOURNE CITY
Call or text now on 0422448918
Melbourne City Weddings are always Exciting, Elegant & Extremely Picturesque!
I pride myself in offering my clients an experience to remember.
If you are planning your wedding and have not chosen a celebrant as yet, let me recommend Sharon Osman, a Melbourne City Wedding Celebrant
.
With over 12 years of experience, hundreds of weddings up her sleeve, she's met and married couples from almost all countries, nationalities, cultures and back grounds. With three ABIA Finalist Awards and great reviews, Sharon holds her clients in highest regard and offers exceptional service. As a Life Coach & Mentor she is naturally warm, well presented with great public speaking skills. For small intimate groups of 10-15 guests garden facilities are also available. Call to find out more.
Hello & Congratulations!! Thank you for having a read to see what I have to offer. I value your time!
First and foremost I am here to serve you. Part of that entails me holding you in highest regard, being completely respectful, listening, guiding, supporting offering ideas and resources.
So please know that I'm there to deliver your wishes, bring your dreams to life and walk with you every step of the way.
The Ceremony is the most important part of your wedding. It's important that you choose someone who is going to fit with your personalities.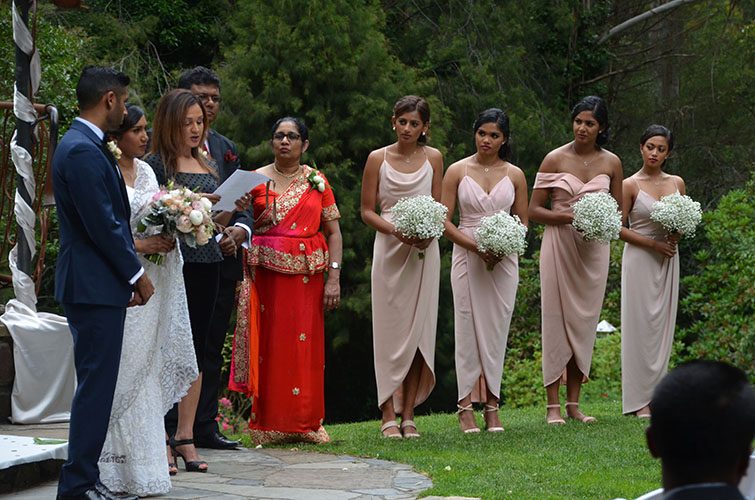 Someone who understand you & you understand. Are you comfortable enough to laugh, cry or be yourself? Follow your heart and gut instinct. Are you feeling at ease, relaxed and warm in their presence?
You should feel at ease and comfortable to share things openly and honestly so everything flows effortlessly.
A really good fit between celebrant and couple is important and the relationship I have with many of my couples stretches over a long period of time. Where they have called me back for their Baby Namings, anniversaries and other significant celebrations.
I still connect with so many of my past couples through Facebook and watch their love blossom and their family grow.
Once you are happy to have me as your celebrant, I make sure that you are clear on prices, travel costs, deposits and cancellation fees. I also make sure I'm on the same page with you, whether in an email or something in writing that way everyone is clear about what is expected of each other.
Having received the Award for ABIA Finalist in 2017, 2018 & 2019, I am humbled and honoured to have the best job in the world.
Every Ceremony that is script is unique, meaningful, warm, engaging and one that reflects you and your personalities. I create a token of your love for each other and share how you met and fell in love. I provide vows for you to choose from and even help you write your own personalised vows. This truly is the cornerstone of your relationship and your ceremony. With over a Decade of experience I have married couples from all over the world. Everything starts with Love!!
A whole lot of heart and soul goes into the creating, personalising and delivering each wedding Ceremony.
Do have a quick look at my testimony page and see what you think. If you have any questions, I'm more than happy to answer them.
Call me on 0422448919