CIVIL MARRIAGE CELEBRANT MELBOURNE SOUTH EASTERN SUBURBS
Call or text now on 0422448918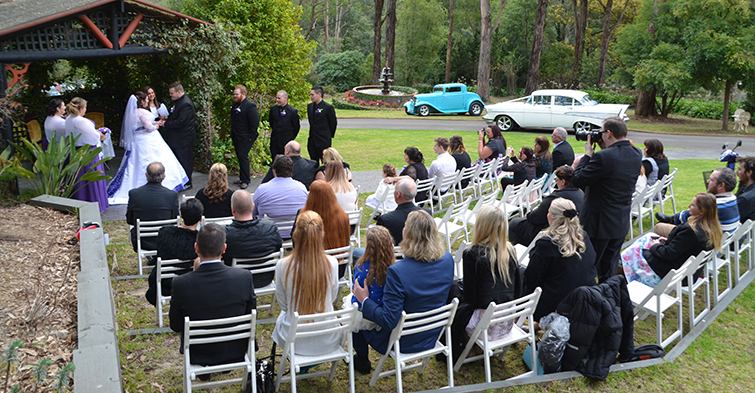 Having a Wedding anywhere in Melbourne's South Eastern Suburbs? I am a Wedding Celebrant and 2017, 2018 and 2019 Finalist at the Australian Bridal Industry Academy Awards for Best Celebrant in Victoria.
Offering exceptional rates and extraordinary service. I extend my Celebrant services to all cultures, nationalities & backgrounds. So for a Professional Service at exceptionally low rates in the South East, contact me today
Permit Sharon a vibrant and warm Wedding Celebrant to share her warmth and add a personal touch to your already magical wedding day. Sharon will authenticate your Ceremony and designing it to suit your individual needs and style. She has been offering her professional services for over 12 years now to clients in the South Eastern Suburbs and all over Melbourne.
Sharon strongly believes that marriage is for life, it is a commitment and celebration of your love before family and friends. Sharon injects your true feelings for each other and designs a ceremony that tells your tales of love, leaving your guests feeling totally connected.
Your wedding day is one of the most significant events in your life, it's important that your ceremony reflects your values, beliefs and personalities, Illuminates your love and commitment, while engaging and entertaining your guests and leaving them awe struck.
Located in the South Eastern Suburbs, Sharon conducts legal marriages from her home office as well for a low cost. Its very important to feel comfortable and connected with your celebrant. Sharon allows you to get to know her first, and with a life coaching background, builds rapport easily. Along with you she designs and drafts a beautiful ceremony filled with fun, sentiment and celebration, a wee bit of emotion adds that deep feeling to the occasion that you will cherish in years to come. With the information you provide, she will tell your story of how and when you met and fell in love, what your hopes and dreams for the future are and anything else important to you. If you like you can have readings, poetry, add romance or humour to lighten the moment.. Most importantly as your Melbourne Wedding Celebrant, Sharon Travels to you any where in the South Eastern suburbs and infact all over Melbourne and offers discounted rates for jobs close to home.
Hi! I'm Sharon and thank you for reading this far. I like to humbly share a bit about myself. With a background in Quality Assurance, training and Life Coaching I can guide and assist you to recognise your dream and work towards it for the best possible outcome. I am also a very passionate Life Coach specialised in Relationship Coaching. I bring along all my added skills, like connecting with you easily, listening, being nonjudgmental, and making you feel safe and comfortable to ask for what you want. With confident public speaking skills, I engage easily with you as you are my focus. I encourage you to write your own vows or you can choose from the samples of vows I send you.
Once I gauge an insight on your ideas, I will construct your ceremony and email it to you ready for your approval. On the day I will be there 20 minutes early to make sure everything is in place. I will present to you a beautiful and professionally printed "Certificate of Marriage" and lodge your paper work with Birth Deaths and Marriages.

Not only do I conduct Traditional Ceremonies for Australians, I also specialise and have married couples who are INDIAN /HINDU, SRI LANKAN, CHINESE / TEA CEREMONY, CHRISTIAN, NON RELIGIOUS, MUSLIM/ARABIC, JEWISH, JAPANESE, PAKASTANI, AFGHAN, TURKISH, THAI, VIETNAMESE, IRANIAN,CHINESE, VIETNAMESS, COMBODIAN, INDONESIAN, SUDANESE, GREEK, ITALIAN, COUPLES FROM THE U.K, CANADA, U.S, ROMANIA, MACEDONIA, EGYPY, AFRICA, FRANCE and many more Countries.
I service the following suburbs.
Armadale, Ashburton, Ashwood, Aspendale Gardens, Balaclava, Bangholme, Beaconsfield, Beaconsfield Upper, Bentleigh, Bentleigh East, Berwick, Braeside, Brighton East, Burnley, Burwood, Burwood East, Camberwell, Cardinia, Carnegie, Carrum Downs, Caulfield, Caulfield East, Caulfield North, Caulfield South, Chadstone, Chelsea Heights, Cheltenham, Clarinda, Clayton, Clayton South, Clyde, Cremorne, Devon Meadows, Dewhurst, Dingley Village, Doveton, Elsternwick, Endeavour Hills, Eumemmerring, Fountain Gate, Gardenvale, Glen Huntly, Glen Iris, Glen Waverley, Guys Hill, Hallam, Hampton East, Hampton Park, Harkaway, Hawthorn, Hawthorn East, Heatherton, Highett, Hughesdale, Huntingdale, Junction Village, Keysborough, Kooyong, Lynbrook, Lyndhurst, Malvern, Malvern East, Mckinnon, Moorabbin, Moorabbin East, Mount Waverley, Mulgrave, Murrumbeena, Narre Warren, Narre Warren East, Narre Warren North, Narre Warren South, Noble Park, Noble Park North, Notting Hill, Oakleigh, Oakleigh East, Oakleigh South, Officer, Officer South, Ormond, Pakenham, Pakenham South, Pakenham Upper, Patterson Lakes, Prahran, Richmond, Ripponlea, Rowville, Rythdale, Sandown Village, Scoresby, South Yarra, Springvale, Springvale South, St Kilda East, Toorak, Waterways, Wheelers Hill, Windsor
If you are interested in enquiring about my celebrancy services please contacted on 0422448918.
more suburbs I Service
Carlton 3053
Carlton South
Carlton North
Docklands 3008
East Melbourne 3002
Jolimont
Flemington 3031 (Shared with City of Moonee Valley)
Kensington 3031
Melbourne 3000
North Melbourne 3051
Hotham Hill
Macaulay
Parkville 3052
Royal Park
Port Melbourne 3207
Fishermans Bend
Southbank 3006
South Wharf 3006
South Yarra 3141
West Melbourne 3003
Coode Island
City of Port Phillip Edit
Albert Park 3206😊
Balaclava 3183😊
Elwood 😊
Middle Park 3206😊
Port Melbourne 3207 😊
Beacon Cove
Fishermans Bend😊
Garden City
Sandridge
Ripponlea 3185 😊
St Kilda 3182😀
St Kilda South
St Kilda East 3183
St Kilda West 3182
St Kilda Junction
Southbank 3006
South Melbourne 3205
South Wharf 3006
City of Yarra Edit
Abbotsford 3067😊
Victoria Park
Alphington 3078
Burnley
North Carlton
Clifton Hill 3068
Collingwood 3066
Collingwood North
Cremorne 3121
Fitzroy 3065
Fitzroy North 3068
North Fitzroy
Richmond 3121
Burnley North
North Richmond
Richmond South
West Richmond (the nam
Beaumaris 3193
Black Rock 3193
Brighton 3186
Were Street
Brighton Beach
Brighton North
Middle Brighton
Brighton East 3187
North Road
Cheltenham 3192
Southland Centre
Pennydale
Gardenvale 3185
Hampton 3188
Castlefield
Hampton East 3188
Highett 3190
Sandringham 3191
Moorabbin 3189
Beaconsfield 3807
Officer 3809
Officer South
Pakenham 3810
Edit
Avonsleigh 3782
Bayles 3981
Yallock
Beaconsfield Upper 3808
Cations
Bunyip 3815
Bunyip North 3815
Caldermeade 3984
Cardinia 3978
Lisbaun
Catani 3981
Clematis 3782
Cockatoo 3781
Fielder
Wright
Cora Lynn 3814
Dalmore 3981
Dewhurst 3809
Emerald 3782
Lakeside
Nobelius
Garfield 3814
Garfield North 3814
Gembrook 3783
Cornucopia
Gilwell Park
Whites Corner
Koo Wee Rup 3981
Dalmore East
Koo Wee Rup North 3891
Lang Lang 3984
Lang Lang East 3894
Longwarry 3816 (shared Shire of Baw Baw)
Maryknoll 3812
Menzies Creek 3159 (shared Shire of Yarra Ranges)
Modella 3816 (shared Shire of Baw Baw)
Monomeith 3984
Mount Burnett 3781
Nangana 3781
Nar Nar Goon 3812
Nar Nar Goon North 3812
Nyora 3987 (shared South Gippsland Shireand Shire of Baw Baw)
Officer South 3809
Pakenham South 3810
Pakenham Upper 3810
Rythdale 3810
Tonimbuk 3815
Tooradin North 3977
Tynong 3813
Tynong North 3813
Berwick
Cranbourne 3977
Cranbourne East 3977
Cranbourne North 3977
Merinda Park
Cranbourne West 3977
Cranbourne South 3977
Centreville
Doveton 3177
Endeavour Hills 3802
Eumemmerring 3177
Hallam 3803
Hampton Park 3976
Junction Village 3977
Lynbrook 3975
Narre Warren 3805
Narre Warren North 3804
Narre Warren South 3805
Blind Bight 3980
Cannons Creek 3977
Clyde 3978
Clyde North 3978
Devon Meadows 3977
Fiveways
Harkaway 3806
Lysterfield South 3156
Pearcedale 3912
Tooradin 3980
Warneet 3980
Edit
Dandenong 3175
Cleeland
Dunearn
Dandenong East
Dandenong Plaza
Oakwood Park
Dandenong North 3175
Lyndale
Dandenong South 3175
Keysborough 3173
Parkmore
Noble Park 3174
Harrisfield
Noble Park East
Yarraman
Noble Park North 3174
Springvale 3171
Sandown Park
Springvale South 3172
Lyndhurst 3975
Bangholme 3175
Carrum Downs 3201
Frankston 3199
Eliza Heights
Frankston East
Frankston Heights
Karingal
Leawarra
Long Island
Mile Bridge
Mount Erin
Olivers Hill
Frankston North 3200
Pines Forest
Frankston South 3199
Baden Powell
Langwarrin 3910
Sandhurst 3977
Seaford 3198
Belvedere Park
Kananook
Skye 3977
Lyndhurst South
Bentleigh 3204
Bentleigh East 3165
Coatesville
Eastmoor
Caulfield 3162
Caulfield East 3145
Caulfield North 3161
Caulfield Junction
Crimea
Caulfield South 3162
Hopetoun Gardens
Carnegie 3163
Elsternwick 3185
Gardenvale 3185
Gardenvale West
Glen Huntly 3163
Booran Road
McKinnon 3204
Murrumbeena 3163
Beauville
Ormond 3204
Ormond East
St Kilda East 3183
Aspendale 3195
Aspendale Gardens 3195
Bonbeach 3196
Braeside 3195
Carrum 3197
Chelsea 3196
Chelsea Heights 3196
Cheltenham 3192 (Shared with City of Bayside)
Cheltenham East
Cheltenham North
Clarinda 3169
Clayton South 3169
Dingley Village 3172
Dingley
Heathen Hill
Edithvale 3196
Heatherton 3202
Highett 3190
Mentone 3194
Charman
Mentone East
Moorabbin 3189
Moorabbin East
Wishart
Moorabbin Airport 3194
Mordialloc 3195
Mordialloc North
Parkdale 3195
Patterson Lakes 3197
Patterson Gardens
Waterways 3195
Ashwood 3147
Stocksville
Burwood 3125 (Shared with City of Whitehorse)
Chadstone 3148
Jordanville South
Clayton 3168
Clayton North
Petersville
Westerfield
Whitburn
Glen Waverley 3150
Brentwood
Syndal
Syndal East
Hughesdale 3166
Huntingdale 3166
Monash University 3800
Mount Waverley 3149
Bayview
Highbury View
Jordanville
Pinewood
Mulgrave 3170
Monashville
Mulgrave East
Mulgrave North
Valewood
Waverley Gardens
Waverley Park
Notting Hill 3168
Oakleigh 3166
Oakleigh East 3166
Oakleigh South 3167
Moorleigh
Wheelers Hill 3150
Brandon Park
Jells ParK