MULTICULTURAL WEDDING- MELBOURNE WEDDING CELEBRANT
Call or text now on 0422448918
Found the love of your life and looking for a Multicultural Wedding Celebrant based in Melbourne?
Congratulations to you both and I hope you're happy with what I have to offer. In a country as culturally diverse as Australia, it's been a pleasure for me to combine two religions and/or ethnic backgrounds in marriage & I must say it's is becoming increasingly common.
If you were born and raised in South Africa while he was born and raised in India & you both met in Australia. Both of you value your heritage and your cultural wedding traditions. So that's where I come in to create a Ceremony that unites the two cultures & families, where both sides feel honoured and respected as they start a new ceremony.
I know one thing for sure, sound communication, understanding, compromise and flexibility are the keys to a successful fusion or multicultural wedding ceremony.
It's often challenging to get everyone to agree on certain cultural or religious traditions, in this case, you may have to find a common ground that will appease both families.
Dealing with family differences, can be complex. It's best you take them into consideration but remember that ultimately it's your Wedding ceremony & your wishes should be respected as well.
So why not give me a call  or email me and let us chat about your dreams and plans. As a Melbourne Multicultural Celebrant see what I have to offer.
0422448918
With numerous ABIA awards and extensive experience over the years I have married hundreds of couples from all walks of life, different nationalities and backgrounds, owning the title Multicultural Wedding Celebrant.
In the ceremonies I have noticed that a common element of various cultures is the exchange of something during the ceremony. Indians exchange garlands, Jews and Christians exchange wedding rings and Buddhists exchange white scarves. Sri Lankans offer each other milk rice. Finding commonality between religious traditions will make your ceremony more personal, authentic and inclusive.
Nothing is too much trouble for me, what you want will be delivered with class, grace and professionalism while all paperwork and legalities are attended to so you can relax and enjoy your day.
When creating your multicultural ceremony, for it to be effective, I always explain the significance of the tradition so that none of your guests will feel left out. Some couples wish to include some meaningful elements in their interfaith ceremony. This uniquely establishes a commonality between religious traditions.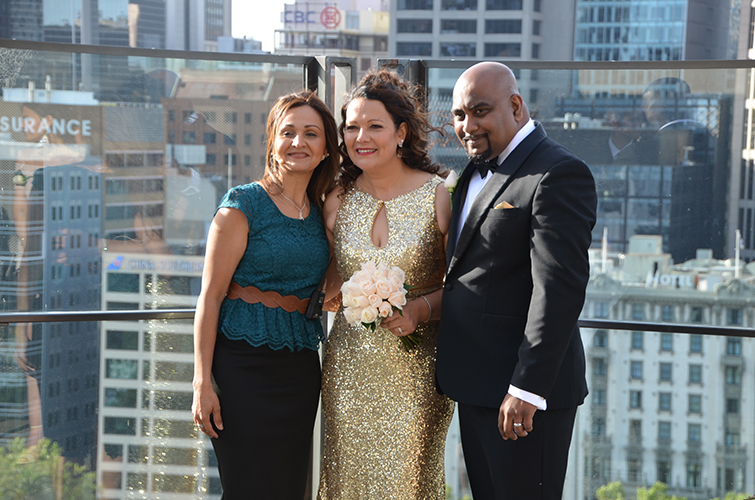 With me you have endless options and possibilities. Just ask and you'll be surprised .
You may want just registration with a ceremony that is short and sweet or you might want the whole traditional ceremony including both cultures.
Either way, I design a ceremony for you, that is heart warming, meaningful and memorable. However you choose to handle your cultural and religious differences, remember that your wedding day is about you and your fiancée and what's most meaningful to you.
It's always good to listen to the advice of family and friends, but ultimately you must hold firmly to what you both believe & want because it's your wedding day.
So if you found my information helpful, let me create your personal, memorable and hopefully stress free wedding ceremony.
Call me today and you will have no regrets. 0422448918