WEDDING CELEBRANT – MELBOURNE MARRIAGES
Call or text now on 0422448918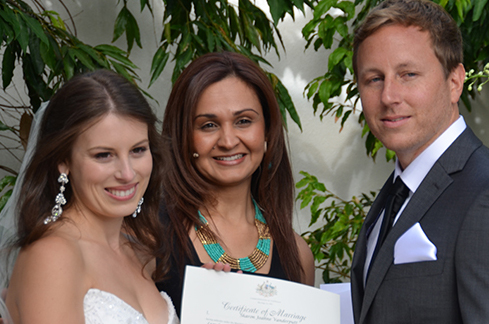 Congratulations and welcome as I guide you through the most exciting time of your life, your wedding ceremony.
Conducting weddings in Melbourne for over 12 years, I am an Authorised Melbourne Wedding Celebrant servicing all suburbs. In the past few months I have seen many brides and grooms express concern to me on about whether they would have to postpone or reduce numbers or even put off their weddings indefinitely. Some were concerned that wedding vendors would close down permanently because of COVID.
I don't have answers to every thing and I wish I did.
In these uncertain times I would like to assure any of my potential future clients that I am in a safe position with my business. I am confident that there is absolutely no chance that I will stop marrying people. I am extremely grateful to all my past clients support. I have had incredible success in this business which enables me to continue to offer my astounding services & unbeatable value to the Melbourne Wedding Industry.
We are all getting through these difficult times and I would love to stay positive as we move forward and aspire to lift your spirits and offer you support in any way I can.
With a passion for love and weddings I began my Celebrant journey in 2009. Graduating from the Academy in Celebrancy was the best thing I did for my self and for the benefit of others.
I love the journey, I've have grown immensely and have have witnessed some really enlightening experiences marrying people.
I now have my heart and soul in weddings and extend my Melbourne Wedding & Marriage Celebrant Services not only in Melbourne but all over Australia and overseas as well.
I have had extensive exposure & Incredible experience servicing the Indian, Sri Lankan, Asian & multi cultural community.
Many of my couples range from the age of 18 where they are mostly overseas students, to those In their 90's and everyone in between. I have married hundreds of couples from all different circumstances and walks of life. First marriage, second, third or even fourth.
No worries, same sex or mix marriages, religious or non religious. Traditional or contemporary no worries at all.
I cater to everyone and individually quote you according to what you want. With me every single couple is unique and every single love story narrated differently.
Whether you are after a quick registration style wedding which is low key and cost effective call me and I can help you organise your wedding asap.
Or you might be after a glamorous fairytale wedding on a larger scale, perhaps a surprise wedding or something totally different. I am always ready and available for change so bring it on.
The process is quite easy. Once you provide me with a valid Notice of Intention to Marry Form and all legally required documents, I can make your dream a reality.
With a background in Quality Assurance & Life Coaching I pride myself in offering a sincere, professional and memorable ceremony. I deliver with class, grace, genuine care and offer unbeatable customer service.
All my couples comment on my remarkable effort to exceed their expectation by going the extra mile to make them happy.
It's most fulfilling and rewarding knowing that my couples are truly happy with their ceremony.
My writing skills come from my background study of English literature and creative writing.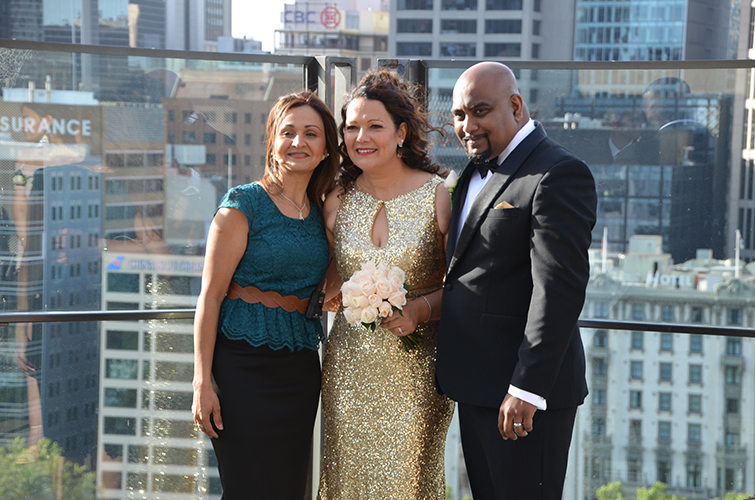 I aim to create a ceremony that reflects your unique love, relationship and life desires. Leaving you and your guests with the most relaxing and memorable experience.
Call and find out for yourself. You will never be disappointed. You have nothing to lose but possibly savings as I offer Different discounts throughout the year.
0422448918
As a Melbourne Marriage Celebrant, I have been blessed to have received numerous ABIA awards. Invaluable testimonies and have won the respect of society.
I started off small but feel humbled that the hard work paid off.
I have a strong belief that everyone is worthy and deserve the best. So I cater to suit everyone's budget and requirement.
Give me a no obligation call 0422448918
With me you're in the hands of one of the best Melbourne Wedding Celebrants and I say that with both humility and joy. I guide you every step the way, offer unlimited correspondence and calls. Everyone is treated with respect, regard, fairness and are heard completely.
I kindly request couples to read the reviews & invest in a trustworthy & reputable Melbourne Wedding Celebrant. In the midst of everything else with your wedding planning at least you have the peace of mind and that your Wedding Ceremony will flow seamlessly. So do spend a few minutes on my website to read testimonials and reviews that my clients have offered.
Choosing a Melbourne Wedding Celebrant is easy but choosing the right Melbourne Wedding Celebrant, will not only eliminate stress, and disappointment but enhance your memories of your significant day.
Call for a no obligation free chat.
0422448918