WEDDING CELEBRANT MOUNT MARTHA
Call or text now on 0422448918
If you are after a Wedding Celebrant in Mount Martha offering affordable and professional Wedding Ceremonies, Legal Registrations / Elopements or any other ceremony,
Contact me today…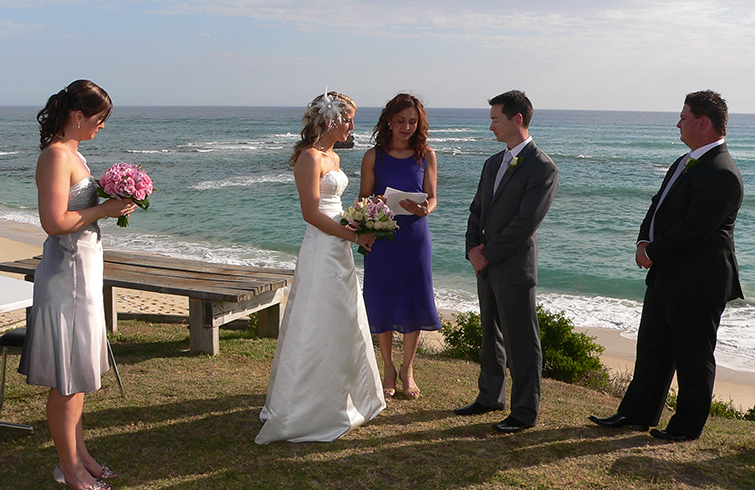 Tying the knot? Congratulations!!
My name is Sharon Osman and I am a Melbourne Wedding Celebrant, servicing Mount Martha and all other Melbourne suburbs for the last 12 years. Nominated  in 2017, 2018 and every year since at the ABIA awards, I am honoured and humbled to serve all Australians.
Having conducted over 600 weddings, and been remarried recently myself,  I have a wealth of knowledge about everything to do with Weddings in Melbourne.
Your wedding ceremony sets the scene for the best day of your life. It is happy and funny, passionate and romantic and it is the ultimate declaration of your love for one another. Working with you and for you, I am honoured to create that personal and unique ceremony just as you have pictured. The day is simply one that everyone remembers for how special and unique it was. If you are looking for a personal and private, down-to-earth and light-hearted ceremony, then you are in good hands. With a background in Quality Assurance, Life Coaching and Public Speaking, each ceremony is articulated professionally and thoughtfully and presented with elegance and style.
I basically deliver whatever you want with a touch of grace and sparkle to it. No matter how big or small, simple or spectacular, every wedding ceremony is different – private, personal and unique.
I have the ability to make you feel relaxed and calm so you can take in and live your day to its fullest.
Remember – if a Celebrant isn't happy, helpful and inspiring, then neither will your ceremony be !
We have one opportunity to get the day right – we do it once and we do it properly.
Don't take my word for it, please read along to see what some of my couples have to say.
TESTIMONIALS –
"Thank you so much for making our special day what it was. Both Matt
and myself warmed to you instantly and found you incredibly helpful in
organising our ceremony. Our guests commented on how well spoken and
friendly you were and you also managed to look fabulous – despite the cold weather! You made the whole process easy due to your professional manner and obvious experience and I am grateful for finding you.
Thanks again!!
Liana & Matthew Smiles. 2013
Dear Sharon,
We just wanted to say a massive thank you for our wedding. We are so grateful that we could make it legal and so are our parents!
We really appreciate all your help with putting together and
delivering the ceremony. We have had such positive feedback about the whole thing.
All the best,
Nick & Julia De Ville
"Sharon was the celebrant for our wedding in February
2011. She was an absolute pleasure to work with. Throughout the entire
wedding planning process Sharon was there to offer guidance and
support. On the wedding day itself she made both myself and my husband very comfortable. Our ceremony was very relaxed and personalized and
many of our guests were full of praise for how the ceremony was
conducted.
Sharon, a heart felt thanks from both Aaron and I for making our
wedding day amazing!
All the best
Aaron & Sarah Tan
We were absolutely satisfied with Sharon as our celebrant at our
wedding ceremony.
Sharon captured the heart and soul of our relationship and was able to
convey the true meaning of our marriage. She was very helpful in
preparing us for the "Big Day" which turned out fabulously.
Upon meeting Sharon for the first time, we were equally comfortable in
deciding to have her conduct and share in our celebration of our
marriage.
She performed the ceremony graciously and was able to make it
enjoyable for us and the audience too.
We would highly recommend Sharon to any soon to be Husband and Wife.
Thank you very much Sharon for making our wedding day, as beautiful as it was…
Mr and Mrs Lay
2011
Hi Sharon,
I would to thank you again for all your help and support in making
our day so special. As every Bride & Groom knows, no matter how big or
small the ocassion , it can be a very stressful time. Your warmth ,
patience, your deep understanding of love and commitment, your sense
of family and spirituality added so much to our 'Special Day' You
thought of everything and helped us with our vows and understood that
they had to be just right to encapsulate our emotions. We, our family, & friends still look back on that day and just  –  smile. It was just
perfect.
Kind Regards
Diane & Ron
Thanks for reading…
It's going to be a wonderful day.  Contact me and let's talk further.
0422448918