MARRIAGE CELEBRANT MULTICULTURAL WEDDINGS
Call or text now on 0422448918
Performing Multicultural Weddings over the years, I have managed to acquire a well-earned reputation for my professionalism, reasonable rates, warm approach and ability to connect with people. For weddings or elopements in the South Eastern Suburbs and all over Melbourne contact: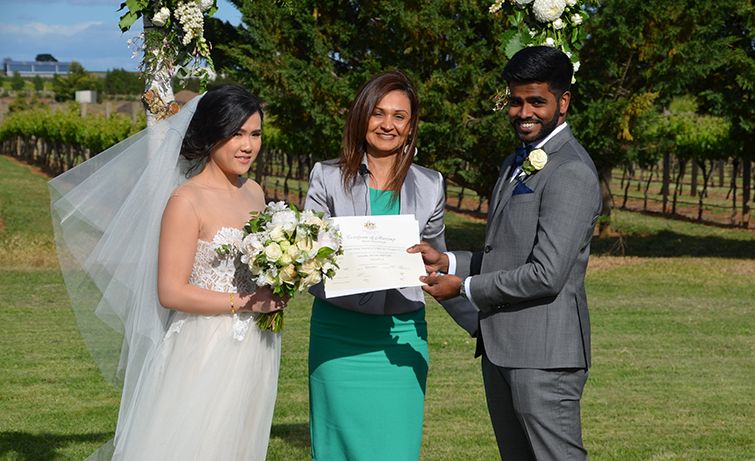 I'm Sharon Osman, a Wedding Celebrant conducting multicultural Marriages all over Melbourne.
Planning a wedding is a very personal matter, and could be a quite a stressful one too. Many inter racial couples are facing even more stresses when attempting to prepare a wedding that combines two cultures. There is little in the way of resources for those planning for a multicultural wedding and thus, the current and past generations of planners can be considered pioneers of the multicultural wedding growth. With a vast increase of multicultural marriages it is apparent that multicultural weddings will be the trend of the future. While many couples prefer their weddings to be culturally neutral, others are facing the multiethnic issue face on and are incorporating both cultures in a unique style of their own. That's where I come in and bring together both cultures and celebrating this wonderful blend in the South Eastern Suburbs & all over Melbourne.
As a Multicultural Wedding Celebrant,  I have conducted many multicultural wedding traditions, including Jewish-Korean, Japanese-Protestant, French- Australian, Thai- Australian, Indian -Australian, Chinese-Australian, Sri Lankan – Indian, Non religious Australian-Indian, Jewish-Muslim, Buddhist-Australian, Hindu-Catholic, just to name a few.  Multicultural weddings are difficult to organize because a variety of factors, over and above the normal elements of cultural neutral weddings must be considered. Choosing the right Celebrant for religious, ethnic and traditional parts of the ceremony is time consuming and emotional. Allow me to take the stress of the Ceremony.
Specialising in personal ceremonies, helping couples plan, write and celebrate their wedding day, I inject freshness and warmth which adds a sparkle to your already bright day.
I am deeply passionate about my job, being a sensitive and compassionate person, I love being of service to others and giving back to society.
With a history in supporting people throughout my career as a Quality Facilitator, trainer and now studying to be a Life coach, I have developed a unique understanding of the many needs that couples have and what they may require for their special day. My ability to listen attentively, build rapport and focus on you enables me to deliver exactly what you want.
I firmly believe that every couple is unique and has the right to choose the type of ceremony that reflects their love and commitment to each other. Therefore I am a very accommodating Melbourne Celebrant who focuses on clients and allow for any special requirements.
I put a lot of effort into making sure that this day is calm, relaxed, fun and easily flowing.
As your Multicultural Melbourne Celebrant, I will craft together the words and the content of your personalized vows that will provide you both a memory that will last a lifetime. Most importantly I travel anywhere in Melbourne.
I am very dedicated, organized, punctual and professional, I offer support to both parties either by email, text or phone.
I guarantee that with calmness I will relax you on the day so that you can absorb the event while I take care of your ceremony.
I am not only a qualified Civil Melbourne Celebrant but have completed the Certificate 1V in Celebrancy.
I have also successfully completed  the required OPD for Celebrants every year and specialized in public speaking. Along with my latest study with the Life Coaching Academy.
My organizational skills and ability to liaise with people is exceptional.
As a person I am warm and friendly and have conducted marriages of people from interstate and overseas.
Mixed marriages, Indian marriages, Japanese back ground, Chinese, Buddhist, Egyptian and Muslim.
My clients vary from Canada, the UK, Japan, Thailand, France, Russia, Macedonia and many more countries.
Whether a simple elopement or a whole personalised ceremony in a venue with a bridal party. Whether it's 4 guests or 300 guests. Regardless of who you are or where you are from, I will still show the same interest and professionalism while dealing with you.
I use a professional PA system so all your guest can hear your ceremony.
A few Testimonials of Clients – Melbourne Suburbs.
"Dear Sharon,
Thank you so much for making our special day what it was. Both Matt and myself warmed to you instantly and found you incredibly helpful in organising our ceremony. Our guests commented on how well spoken and friendly you were and you also managed to look fabulous – despite the cold weather! You made the whole process easy due to your professional manner and obvious experience and I am grateful for finding you."
Thanks again!!
Liana & Matthew Smiles.
2013
"Dear Sharon,
We just wanted to say a massive thank you for our wedding. We are so grateful that we could make it legal and so are our parents!
We really appreciate all your help with putting together and
delivering the ceremony. We have had such positive feedback about the whole thing."
All the best,
Nick & Julia De Ville
"Sharon was the celebrant for our wedding in February
2011. She was an absolute pleasure to work with. Throughout the entire
wedding planning process Sharon was there to offer guidance and
support. On the wedding day itself she made both myself and my husband very comfortable. Our ceremony was very relaxed and personalized and
many of our guests were full of praise for how the ceremony was
conducted.
Sharon, a heart felt thanks from both Aaron and I for making our wedding day amazing!"
All the best
Aaron & Sarah Tan
"We were absolutely satisfied with Sharon as our celebrant at our wedding ceremony.
Sharon captured the heart and soul of our relationship and was able to convey the true meaning of our marriage. She was very helpful in preparing us for the "Big Day" which turned out fabulously.
Upon meeting Sharon for the first time, we were equally comfortable in
deciding to have her conduct and share in our celebration of our marriage.
She performed the ceremony graciously and was able to make it enjoyable for us and the audience too.
We would highly recommend Sharon to any soon to be Husband and Wife.
Thank you very much Sharon for making our wedding day, as beautiful as it was…"
Mr and Mrs Lay
2011