CIVIL MARRIAGE CELEBRANT – MULTICULTURAL WEDDINGS
Phone:  0422448918  or 03 8790 4142
Say "I Do " with a Professional & Experienced Marriage Celebrant, conducting Multicultural weddings all over Melbourne. Contact now for unbeatable prices. 0422448918
Sharon Osman
Civil Marriage Celebrant A11233  Email: cherishedmomentscelebrated@gmail.com
My name is Sharon Osman and I am a Registered Melbourne Celebrant.
"The best thing to hold onto in life is each other"
I'm here to offer you a one of a kind ceremony. I have officiated over 600 weddings  and would love to help make your special day Magical, by simply incorporating the cultural and Traditional aspects you want.
As a 3 time Finalist in the ABIA awards of Celebrant of the year Victoria, I'm humbled to be nominated by my happy couples.
I believe that getting married in Melbourne should be easy, it should be fun and most of all Affordable.
The raw numbers show that over the last several decades, the number of mixed – race marriages among young couples has nearly tripled. Although Sydney is home to more mixed-race marriages and couples from differing ethnic backgrounds, Melbourne is not far behind.
The couples I have married, include a variety of multi cultural people. Some of the same same culture and many of different cultures. For eg. Indian and Australian, Scottish and Australian, Australian and French, Thai and Australian, Chinese and Indian, Malaysian and Australian, Japanese and English, Sri Lankan, and Indian, Srilankan and Australian Croatian, Indonesian and Australian, Indian and Punjab, Egyptian and Jewish, Iranian and Pakistani, Romanian and English…. the list goes on.
I have married people from the U.S. Canada, UK, France, Mauritius, Philippines, Combodia, Italy, India, Sri Lanka, Vietnam and Greece.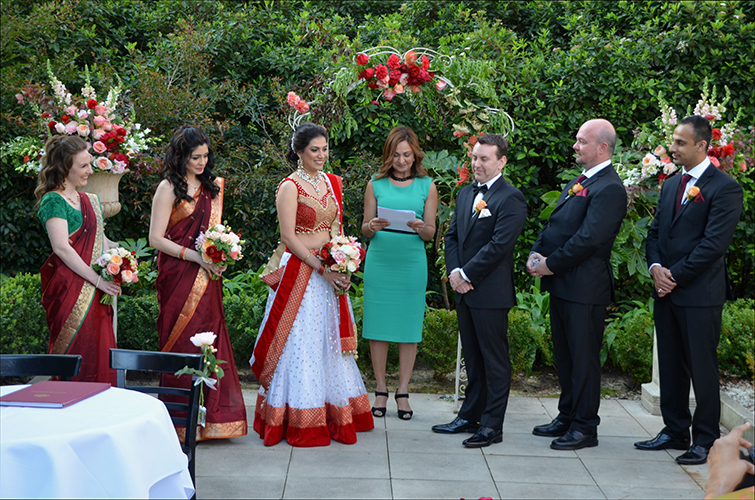 They vary from people who- wished to have a fully organised wedding inviting family and friends to the ceremony which is followed by a reception and all the glamor that goes with weddings. I love it all and I offer them the dream wedding.
However some of my couples Have decided to elope and are from overseas, interstate or from anywhere in Victoria
-They want no guests at their wedding or they want just a few close family and friends.
-They want an alternative to the registry office
-They want an inexpensive, flexible, fun, way of being married
Being available to the multicultural society I offer my Celebrant services to practically anyone who needs me. I assist with Weddings all over Melbourne and surrounds, so you can choose to be married in a park, a cafe, a beach, your favourite restaurant, a hotel room, your backyard, home or in a car or on a boat. I can be serious and solemn, fun and outrageous.
Wherever, whenever, however!
These days I'm known as the Melbourne multi cultural Celebrant, simply because I'm so open minded and love the fact thatclove connects people of different nationalities and back grounds. Being of Indian back ground and bring married an Australian man, I fully get it. My understanding and patience along with my love to blend and unite cultures has enabled me to be successful in this aspect. Your ceremony can be as long or short as you would like it to be, it can be personalised or generic, funny or serious, romantic or factual.  Whether you plan your ceremony for 2 guests 50 or 300 guests, the ceremony can be organised to suit your tastes.
As a Melbourne Celebrant it is very important to me that the legal requirements are met, then the ceremony content is completely up to you. You can dress up or dress down, when you get married with me – no judgements, no pressure – make your ceremony long, short, serious or funny, your wedding is up to you!
I'm refered to aa Affordable Multicultural  Wedding Celebrant Melbourne, because I'm affordable.  What I offer includes, Elope Package Melbourne – Discount Marriage Celebrant Melbourne – Civil Celebrant – Budget Wedding Celebrant Melbourne – Registry Office Alternative – Victorian Elopement
Local Areas Include – Berwick – Dandenong Ranges – Eastern Melbourne – Narre Warren – Rowville – SE Melb – Southeast Melbourne – Yarra Valley – Beaches – Brunswick – Fitzroy – Frankston Ferntreegully – Belgrave – Cranbourne – Springvale – Mulgrave – Clayton – Blackburn – Chadstone – Doveton – Endeavour Hills – Glen Waverley
Contact Sharon Osman For Multi Cultural Weddings now and before that please look at my gallery and Testimonial page to validate my credibility.