MARRIAGE CELEBRANT – MUSLIM WEDDINGS
Call or text now on 0422448918
Officiating Weddings for over 12 years I have conducted many MUSLIM Weddings all over Melbourne. In some cases just legal proceedings and others, whole MUSLIM wedding ceremonies. So for a personal touch at most affordable prices. Contact – Sharon Osman
Welcome to my website. I'm Sharon Osman, an authorised Marriage Celebrant serving the Muslim community all over Melbourne. My warm and approachable nature has attracted couples to me from all over Melbourne, interstate and overseas. I have married Muslims and non Muslims, mixed marriages of Indians, Punjabis, Egyptians, Lebanese, Turkish, Indonesian, Iranian, Malaysian and many more.
Regardless of how big or small, I can tailor a ceremony to suit everyone's needs and budget. A wedding is always a happy time for families to celebrate. In the Muslim World there are colourful, cultural variations from place to place which I fully accommodate.
As a Melbourne Celebrant conducting Muslim weddings, I am very respectful and totally non judgmental in every regard. I understand that according to the Quran, a married Muslim couple, both husband and wife act as each other's protector and comforter and therefore only meant "for each other".
All Muslim marriages have to be declared publicly and are never to be undertaken in secret. For the majority of Muslims, it is the ceremony that counts as the actual wedding alongside a confirmation of the Legal Muslim Proceedings which must be included. In Islam, a wedding is also viewed as a legal contract  in Islamic jurisprudences. However, most Muslim cultures separate both the institutions of the mosque and marriage, no religious official is necessary, but very often an Imam presides and performs the ceremony, he may deliver a short sermon and I take care of the legalities.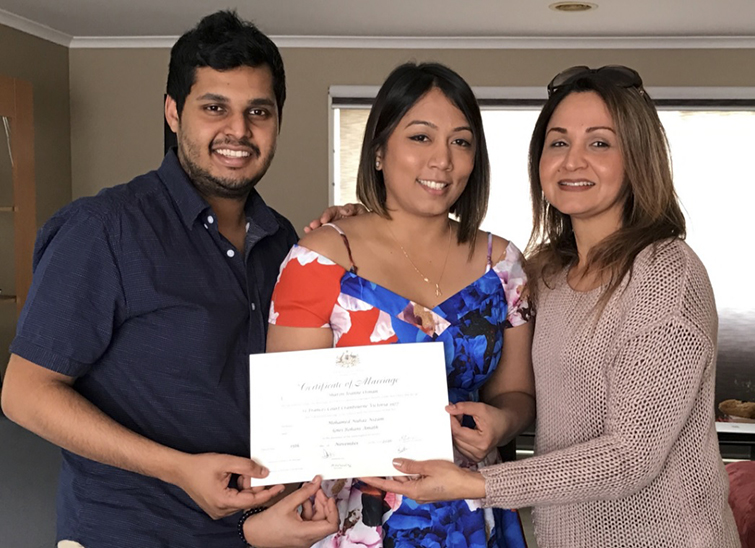 It is forbidden in Islam for parents or anyone else: to force or trick either man or woman into a marriage that is contrary to the individual's will of any one of the couple. It is also necessary for all marriages commence with the best of intentions. This is something that I fully respect as a Melbourne Celebrant. At your ceremony you will experience my professionalism along with my high standards of morals and modest dress code and mannerisms. I am more than happy to incorporate religious requirements in English, and I can most certainly perform the legal ceremony.,
I would love the opportunity to meet you and discuss ways in which we can create the wedding that is true to you in a way that is beautiful and memorable. The ceremony we design together will represent you in every way… It can be as simple or as elaborate as you wish.
Your Muslim Wedding ceremony can be either as simple or as 'planned' as you wish. Some people ask for a simple 'signing' or elopement ceremony which will include only the minimum legal requirements and low cost under Commonwealth Law, according to the Marriage Act of 1961. Whilst others ask for a much more personalised ceremony with lots of other religious or non religious inclusions, sharing your love story, readings, etc. to make it exactly what they wish for. Nothing is too much trouble for me, just tell me what you want and I will assist to make your ceremony just what you envisioned!
Most importantly I use a professional P.A. System so that your ceremony is audible to all your guests.
Why not call me today on 0422448918.
Thanks for reading 🙂