WEDDING CELEBRANT NORTHCOTE
Call or text now on 0422448918
Melbourne Wedding Celebrant servicing Northcote and surrounding suburbs. Offering Great value for Personalised Ceremonies or just legal Elopement Ceremonies. Call now for discounted rates.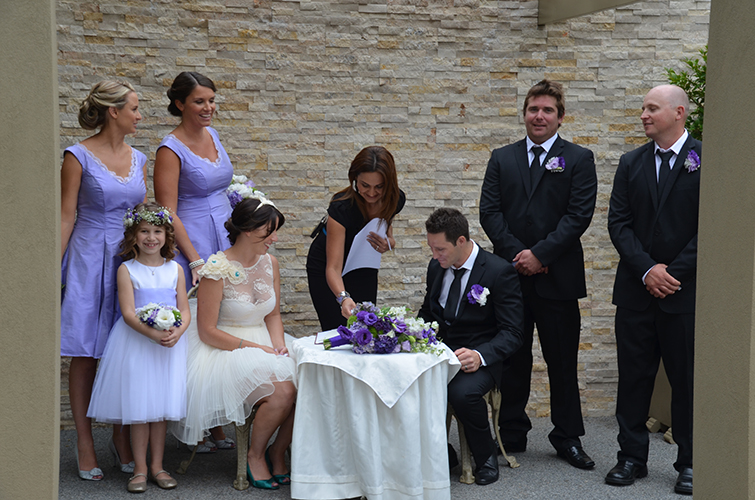 Sharon is one of Melbourne's most warm, respected and loved Celebrants. Her sincerity, warmth and compassion, along with her understanding nature and positive attitude has enabled her to win the hearts of couples in and around Northcote and all over Melbourne.
"It's so fulfilling and humbling for me to be a big part of a couples wedding day, I get absorbed in the excitement and emotion and share every aspect of the ceremony."
Sharon Osman is warm and a non intimidating lady commanding respect from the crowd, with just the right blend of fun and giggles to lighten the day.
"A wedding is a Precious day of great memories.. I encourage laughter and fun to enjoy the experience to the fullest."
"I offer you experience, dedication & attention to detail, I want to help you achieve the perfect personalised ceremony, the way you want it to be, sharing your love story with all"
Just because a wedding has a serious and solemn side does not mean it can't also be fun and really reflect your personalities. Should you have an idea for a fun themed wedding, feel free to discuss your ideas with Sharon. She is full of great ideas and can even help by suggesting songs that could suit your theme. Naturally she will dress up to suit the occasion and work really hard with you to make your wedding dreams come true! The only thing restricting you is your imagination!
Note from Sharon – I love being a wedding celebrant in Melbourne. I love having the ability to legally permit a man and woman who loves each other to tie the proverbial knot. Almost every wedding I have been a part of over the years, I have always had fun and enjoyed looking into the eyes of a love struck couple promising to spend their lives together. I decided to become a celebrant in the first place, because a celebrant is a part of everyone's big day. This is why I love doing what I do, it's why it is a pleasure to be your wedding celebrant. I'm sure that you'll love to have me around, my energy, warmth and positive aura are part and parcel of who I am. I look forward to being a part of your big day!
Most importantly, I am a fully qualified Celebrant, I am also a Life Coach and bring my added skills along to perfect our experience. I am well spoken, and modestly dressed and present myself in a dignified fashion yet engaging and warm on the day.
Please visit my Gallery and Testimony page to read what some of my couples think. If you have a few more minutes, please watch my YouTube video.
Furthermore if you like what you see, please contact me on 0422448918.