CIVIL MARRIAGE CELEBRANT – REGISTRY TYPE MARRIAGE
If you want to Marry Registry Style, Easy Wedding In Melbourne, Sharon Osman takes care of Legalities, providing you with a the relaxed and comfort environment along with a low fee.
So for a no fuss Elopements/ Legal Registration in Melbourne, contact Sharon
Mobile: 0422448918   037904142      Email: cherishedmomentscelebrated@gmail.com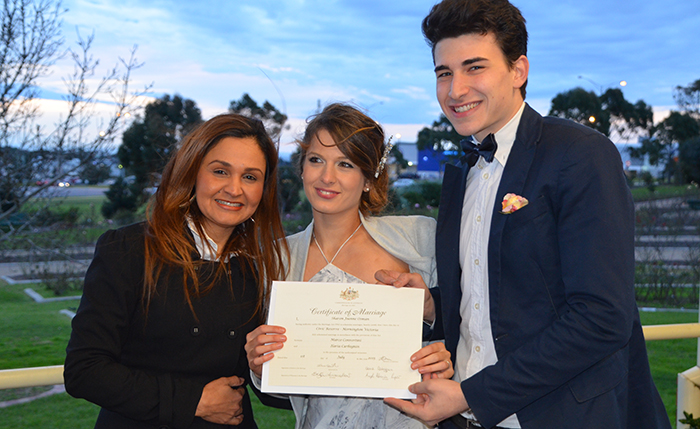 Sharon Joanne Osman is an Authorised Civil Marriage Celebrant located in Melbourne.
Sharon has graduated from the Academy of Celebrancy in 2009 and has conducted over 500 weddings since. Regardless of who you are or where you are from, Sharon has the utmost respect for every background, nationality and culture, holding her clients in the highest regard.
Hello Beautiful People,
Thanks for reading on and Congratulations on your decision to marry. I'm honoured and humbled to say that I was a finalist in the 2017 & 2018 Australian Bridal Industry Awards for Best Celebrant and I have the best job in the world.
I Respect your confidentiality and practice full professionalism.

If you are planning a grand reception overseas and just want legal proceedings, then your in the right place.
If you are planning to marry and your partner is overseas, you can still fill in the NOIM lodge it with me and I can provide a letter confirming your intention and booking.
If you are marrying for the second or third time and want to keep it low key then let me help.
If you want someone to take care of all the legalities, someone warm and compassionate, easy to get along with and patient then come see me.
My love and passion for being of genuine service has drawn couples to me from all over Melbourne, Australia and all over the world.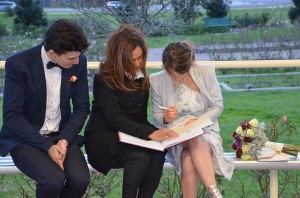 I have married couples from India including Hindu Ceremonies, Indian and Australian couples, couples from  Sri Lanka including Poruwa Ceremonies, Punjabi Couples, couples from Pakistan, Indonesia, Thailand, Chinese bride and Australian groom, and vise versa. Japanese and Australian, Romanian, Italian, Couples from the Netherlands,
Romania, Croatia, students from Italy, Germany, the US, UK, Scotland and Canada.
It's such an honour and privilege to be part of this special day and work with so many interesting couples from all over the world.
Some of the  Local Areas I have officiated Include – Berwick – Dandenong Ranges – Sherbrooke, Eastern Melbourne – Narre Warren – Rowville – SE Melb – Southeast Melbourne – Yarra Valley – Brunswick – Fitzroy – Frankston Ferntree Gully – Belgrave – Cranbourne – Springvale – Mulgrave – Clayton – Blackburn – Chadstone – Doveton – Noble park, Burwood, Blackburn, Chadstone, Endeavour Hills – Glen Waverley and all over Melbourne.
So call me today and let me add a special warmth to your already extraordinary day.
0422448918