WEDDING CELEBRANT RICHMOND
Call or text now on 0422448918
Find the most suited Marriage Celebrant for you in Richmond. Sharon Osman is the best at what she does, which is officiates quality & unique Wedding Ceremonies, Elopements, Same Sex Marriages & Renewal of Vows at affordable prices in Richmond and all over Melbourne. For an unbeatable value, call Sharon today
Welcome to my website and Congratulations! I am a Richmond Wedding Celebrant and a finalist in 2017, 2018 ( and every year since) in the "ABIA", Victorian Celebrant of the year award
Officiating ceremonies for over 12 years in Richmond and all over Melbourne, I am passionate about my work and I'm the kind of Celebrant who gives "you" confidence in my ability to create a relaxed atmosphere that will enable "you" – the bride and groom to enjoy "your day" stress-free.
With a Background in Life Coaching and Mentoring I have extensive public speaking skills derived from inspirational speaking.
My warm and relaxed nature attracts couples to me from Richmond, throughout Australia & some from other parts of the world.
It's important that you find a celebrant who you connect with and who you are comfortable with. One who is happy to discuss and accommodate your personal wishes for the most special day of your life. If you want to write your own wedding vows, I can support and guide you in every way, or you are free to choose from the samples I send you.
It's best to start looking for your celebrant as far in advance as possible whether in Richmond, Melbourne CBD or anywhere else in Melbourne's suburbs. Celebrants with good reputations will be booked up many months in advance, particularly during the popular months of Spring and Summer. You will need to have selected your celebrant at least a calendar month in advance to lodge your Notice of Intended Marriage form. Call me now and find out how I can give you an experience to remember.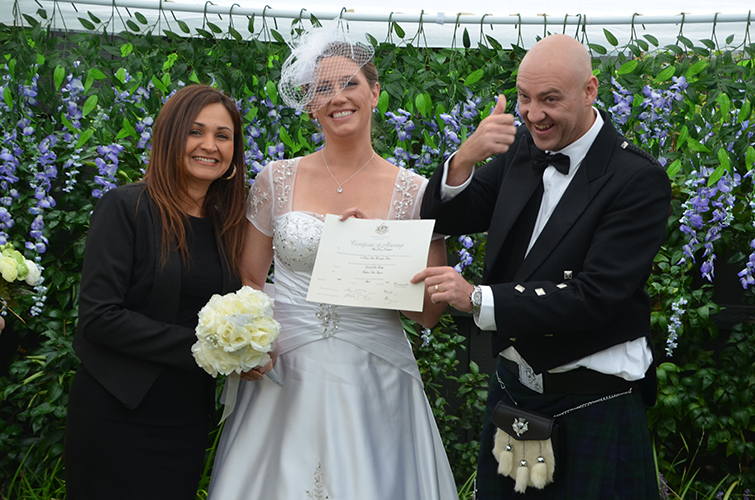 When you are planning a wedding, it is easy to get carried away with ideas for the reception and neglect the actual ceremony itself. This is a shame when the whole point of the occasion is the legal celebration of the couple in marriage. Being in the business for over a decade, I can add a special touch to the ceremony, and ensure it is as memorable as the rest of the day.
My love for weddings enables me to travel to Richmond and all Melbourne suburbs to officiate.
With a background in Quality Assurance and Public Speaking, each ceremony is articulated professionally and thoughtfully and presented with elegance and style.
I basically deliver whatever you want with a touch of grace and sparkle to it. No matter how big or small, simple or spectacular, every wedding ceremony is different – private, personal and unique. I'm even happy to negotiate prices with you.
I have the ability to make you feel relaxed and calm so you can take in and live your day to its fullest.
Remember – if a Celebrant isn't happy, helpful and inspiring, then neither will your ceremony be!
We have one opportunity to get the day perfect  – we do it once and we do it properly.
Don't take my word for it, please read along to see what some of my couples have to say.
TESTIMONIALS –
"Thank you so much for making our special day what it was. Both Matt
and myself warmed to you instantly and found you incredibly helpful in
organising our ceremony. Our guests commented on how well spoken and
friendly you were and you also managed to look fabulous – despite the cold weather! You made the whole process easy due to your professional manner and obvious experience and I am grateful for finding you.
Thanks again!!
Liana & Matthew Smiles.
2013
Dear Sharon,
We just wanted to say a massive thank you for our wedding. We are so grateful that we could make it legal and so are our parents!
We really appreciate all your help with putting together and
delivering the ceremony. We have had such positive feedback about the whole thing.
All the best,
Nick & Julia De Ville
"Sharon was the celebrant for our wedding in February
2011. She was an absolute pleasure to work with. Throughout the entire
wedding planning process Sharon was there to offer guidance and
support. On the wedding day itself she made both myself and my husband very comfortable. Our ceremony was very relaxed and personalized and
many of our guests were full of praise for how the ceremony was
conducted.
Sharon, a heart felt thanks from both Aaron and I for making our
wedding day amazing!
All the best
Aaron & Sarah Tan
We were absolutely satisfied with Sharon as our celebrant at our
wedding ceremony.
Sharon captured the heart and soul of our relationship and was able to
convey the true meaning of our marriage. She was very helpful in
preparing us for the "Big Day" which turned out fabulously.
Upon meeting Sharon for the first time, we were equally comfortable in
deciding to have her conduct and share in our celebration of our
marriage.
She performed the ceremony graciously and was able to make it
enjoyable for us and the audience too.
We would highly recommend Sharon to any soon to be Husband and Wife.
Thank you very much Sharon for making our wedding day, as beautiful as it was…
Mr and Mrs Lay
2011