WEDDING CELEBRANT ROWVILLE  
Call or text now on 0422448918
Congratulations on your engagement!
As an authorized Melbourne Wedding Celebrant officiating Marriages in Rowville, I specialize in personalizing Ceremonies and telling your Love Story. Why not call me today for a fee quote? For small intimate groups of 10-15 guests I have garden facilities available. Call to find out more.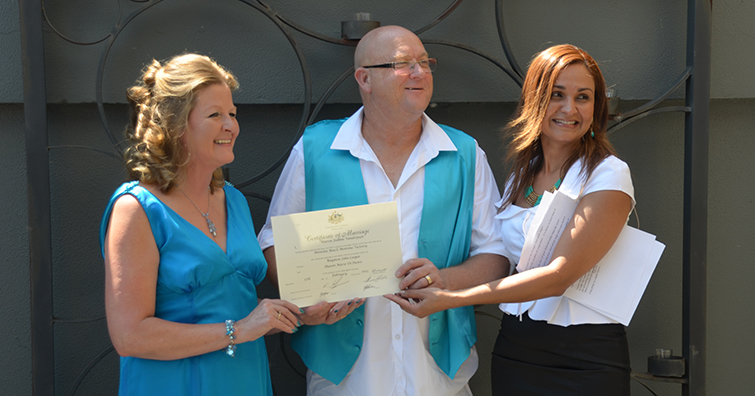 Weddings are extraordinary, special and fun. Whatever you have in mind, from providing a letter for immigration purposes, just legal proceedings, Elopements, Marriage License, At Home Ceremonies, Surprise Weddings or something more elaborate and at a Reception, I'm the right Celebrant for you! I have already helped hundreds of couples from different cultures, backgrounds and nationalities in Rowville and all over Melbourne. I have married couples who are of Indian, Chinese, Thai, Italian, European, Turkish, Muslim, Hindu, Buddhist, Traditional Sri Lankan Poruwa Ceremonies and people of many more religious beliefs.
Such an honour it is to be a Finalist at the Annual Bridal Industry Awards (ABIA Awards) in 2017, 2018, 2019, 2020, 2021 and 2022.  A heart filled thank you to all my past brides and grooms who voted and rated my service.
Please feel free to browse through my testimonials page and see what couples had to say about my services and some lovely photos taken my husband.
Do check out my website for any information you may need in relation to your Marriage/ Marriage License/ Marriage Registration & feel free to give me a call.
Choosing your wedding celebrant is quite an interesting process and one that must be chosen wisely.
Besides the bride or groom, the wedding celebrant is one of the most important people in your wedding. The Celebrant you choose to marry you will play a big role in setting the tone of your ceremony and ensuring that you have the type of wedding you want. Not every officiant performs the same wedding ceremony. Not every officiant will agree to customizations to the traditional ceremony. That's why it is so important that you think carefully about the type of wedding celebrant you want and search carefully before making a decision.
Why should you choose me? Because I am passionate about what I do, I focus on you, I have 12 + years of experience and I make a positive difference.
I'm warm and compassionate, nonjudgmental and authentic. Apart from providing you with the perfect ceremony for your wedding day, I value people and value love. My background in Life Coaching and Mentoring provides superior organisation skills, reliability and professionalism.
This means you can have peace of mind that you are getting a caring and professional Rowville Wedding Celebrant and someone who is dedicated, warm and easy to work with, providing you with a memorable wedding ceremony.
In my 12 year career as a Wedding Celebrant, has been a magical journey.
My kind nature and approachability has been a huge factor to my success as a Marriage Celebrant.
Many couples these days choose to write their own vows which is a wonderful way to add meaning and depth to your ceremony. This is a step I can also help you both with, if you choose.
I look forward to hopefully working with you creating a meaningful and wonderful ceremony and vows for your dream wedding day!
0422448918