MARRIAGE CELEBRANT – ROWVILLE WEDDING
Call now on 0422448918 or 03 87904142
Hello and congratulations!  If you are planning a wedding in Rowville this year or next year, then along with the excitement, you have a lot to decide.
Some of those decisions will be easy, while others might be a little challenging.
That's where I come in. I'm Sharon Osman a Rowville Wedding Celebrant at your service.
Most couples don't know where to begin when it comes to choosing a celebrant.
Most of my couples come to me through word of mouth recommendations, which I am truly grateful for, because it's first hand experience that is shared.
Regardless of whether you are planning something low key in Rowville, like a quick registration, or a glamorous wedding ceremony with family and friends at a venue, or perhaps something intimate with a few guests. Every wedding is treated with the same importance.
Being a Rowville Wedding Celebrant for so long, I help you with your planning even if you choose something traditional or decide to include some cultural aspects, I have the ability to make your dream come true.
Not only will you be assisted every step of the way, but I also co-ordinate and keep everyone calm and engaged with a ceremony that's warm, meaningful, light hearted, romantic and soulful.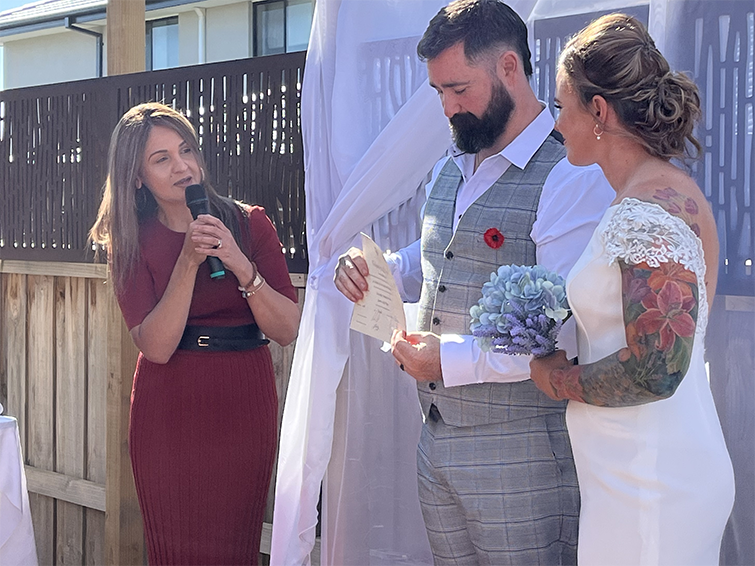 So call me and see what I can do to make you feel at ease, comfortable and rest assured that you are in good hands.
Please also do have a read of my reviews and testimonies that some very satisfied couples shared on my website.
Thanks for reading and hope to serve you.
MARRIAGE CELEBRANT – ROWVILLE WEDDING
0422448918