CIVIL MARRIAGE CELEBRANT SHERBROOKE
Phone: 0422448918  03 8790 4142‬
As a Civil Wedding Celebrant, I love Marrying couples in beautiful Sherbrooke and offer exceptionally low rates. From Legal Marriages/Legal Registrations/Elopements, to Glamorous Weddings and everything in between. Contact me for a obligation free quote.
Sharon Osman
Civil Marriage Celebrant A11233    Email: cherishedmomentscelebrated@gmail.com  Phone: 0422448918  03 8790 4142‬
Hello and Welcome!!  My name is Sharon Osman and I am an authorized Civil Marriage Celebrant of over 9 years, based in Melbourne. From the magical mountains ranges of Sherbrooke, to our beautiful gardens of Melbourne, I offer you a wonderful, professional ceremony in a friendly and relaxed way that you will cherish for a lifetime, and your family and friends will always remember.
I'm humbled to say that I was a Finalist in the 2017 & 2018 ABIA ( Australian Bridal Industry Awards for Celebrant of the Year Victoria )
Having discovered my passion over 9 years ago I decided to become a Marriage Celebrant and never looked back. Helping people to make the best day of their lives perfect and memorable gives me the most happiness and fulfillment. I have a soft spot in my heart for Sherbrooke weddings and conducted many marriages in and around Sherbrooke. As a matter of fact I got married in Sherbrooke Poets Lane in 2014.
Reflecting back over my Celebrancy experiences and journey, I feel privileged that I have a lot to offer you. With a Back ground  in Quality Assurance, Life Coaching and public speaking, I have gained a wealth of knowledge that contributes to my profession. With my gentle and compassionate personality allow me to add my own unique touch to your already Extraordinary day.
I truly love being a Celebrant, and having had a Sherbrooke Wedding too I had the most amazing Celebrant, the lady who trained me to be a Celebrant.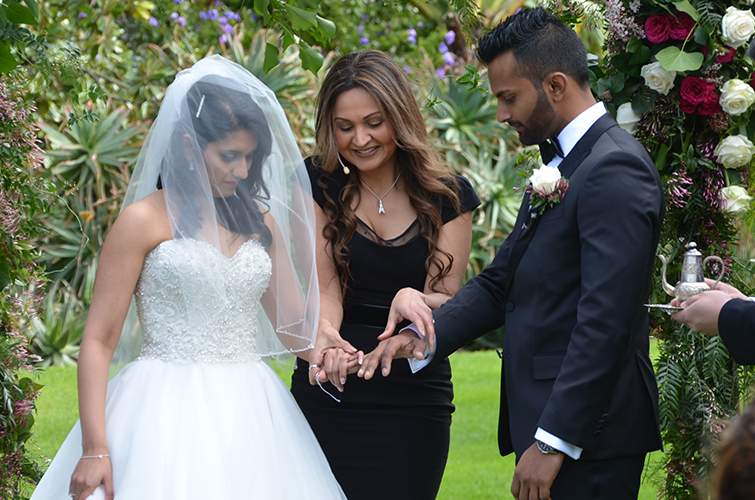 I fully understand how important the right celebrant is. I know that your wedding day is one of the most important days of your life. I am here to help and add value on this very special day, and to make it the one that you have always dreamt of. Whether your wedding be on a large scale, or be it small and intimate, here at Sherbrooke or anywhere in Melbourne, I am here to make it perfect for you both, including all your special requirements.
I have married over 500 couples and still love my job. My love for personal development has led me to be a Qualified Life Coach as well. The skills I bring along enhance my ability to serve you, understand you and hold you in a place of magnificence where you can envision your wedding and tell me what exactly you want. It's my job to put together your Love Story & deliver. I send you a list of Vows that you can choose from and I assist every step of the way to ensure your special day is extra special. I use a professional Mipro PA system so your ceremony is audible. Most of all, I'm told I radiate Love & warm energy that relaxes my couples and calms my brides..:)
Planning a wedding in Sherbrooke? Here are a few tips to help you along the way.
Wedding and Budget are two words that may not always belong in the same sentence. Many brides I talk to tell me their final wedding cost ends up being about double what they had initially budgeted for. This could be because their budget was unrealistic for their expectations or because like most brides they had never been through the wedding process before and therefore not entirely sure what to include in the initial budget. However there are ways to keep your budget in check and spend your money wisely.
If you're paying for your honeymoon yourselves, remember to budget for that as well. After finding out a ball park figure you will then know if you can or cannot afford the wedding you are dreaming of. If you are over budget start by prioritising the things that are really important to you, for example you may want to ensure you have beautiful wedding photos, or the perfect dress, or it might even be the honeymoon you are most excited about. Start by booking these services first and if it means you have to sacrifice on wedding cars, elaborate cakes or bonbonnieres, you will still have the bulk of your perfect wedding. It is wiser to have a few exceptional & quality suppliers, and to do without other aspects of the wedding that you can live without than having to settle for mediocrity.
I have conducted Australian traditional Weddings, INDIAN Weddings, SRILANKAN, PUNJABI, PAKISTANI & AFGHAN all over Sherbrooke and Melbourne, even couples from interstate and Overseas.
Here are some money saving tips I found online that will save you money.
Reception
Cut the guest list. This will slash your catering costs and save on invitations and even the number of centrepieces.
Think off-peak season and save thousands! I got married on a Friday in May 2014 and it was the perfect autumn day and I saved heaps.
Hold your ceremony and reception in one spot — it will cut travel time for suppliers and doubling up on things.
Skip the Saturday wedding.
Flowers
Use more greenery than flowers.
Swap out costly flowers.
Stick to just one or two kinds of flowers.
Buy flowers that are in season.
Include non-floral decorations, like lanterns.
Food & Drink
Skip the main course — appetisers and drinks are fine too.
Offer beer, wine, and a signature cocktail instead of a full bar.
Serve comfort foods like barbecue chicken, mashed potato, and corn. It's fun and often cheaper.
Skip the champagne toast.
Cakes
Order a small one or two-tiered cake and then supplement cake with a larger sheet cake (hidden back in the kitchen).
Keep the add-ons simple.
Use fresh flowers, not sugar ones.
Reuse ceremony flowers for the cake table.
Stationery & Bomboniere
Get single-page invites to save on postage.
Give out one bomboniere per couple.
Email your save-the-dates.
Make your own menu cards, name place cards and wedding bomboniere packaging.
Photo, Video & Music
Have a photographer you love but can't afford the prices? Ask them if they have an associate shooter who will do your wedding for less.
Look for a company who do video and photography in one.
Opt for a smaller band.
Hire a band or DJ who can do both the ceremony and the reception.
Don't forget to ask your talented friends to help with areas they can, you will be pleasantly surprised to find they will be only happy to. But most importantly, plan the wedding that you want and don't be persuaded by pushy friends or family or over competitive girl friends!
Have fun with the planning and if in doubt, chat to one of the wonderful wedding planners on the coast, or even your celebrant as they can help you with ideas and budget suggestions.
Sharon Osman Melbourne Wedding Celebrant
Some Wedding Venues in and around Sherbrooke.
MARYBROOK
10 SHERBROOKE ROAD
SHERBROOKE VIC 3789
POET'S LANE
13 Sherbrooke Rd, Sherbrooke, VIC 3789
Lyrebird Falls
2 reviews
Wedding Venue
175 Monbulk Rd, Kallista VIC 3791
Suburbs I Service
Carlton 3053
Carlton South
Carlton North
Docklands 3008
East Melbourne 3002
Jolimont
Flemington 3031 (Shared with City of Moonee Valley)
Kensington 3031
Melbourne 3000
Melbourne 3004 (St Kilda Road area, shared with City of Port Phillip)
North Melbourne 3051
Hotham Hill
Macaulay
Parkville 3052
Royal Park
Port Melbourne 3207
Fishermans Bend
Southbank 3006
South Wharf 3006
South Yarra 3141
West Melbourne 3003
Coode Island
City of Port Phillip Edit
Albert Park 3206😊
Balaclava 3183😊
Elwood 😊
Middle Park 3206😊
Port Melbourne 3207 😊
Beacon Cove
Fishermans Bend😊
Garden City
Sandridge
Ripponlea 3185 😊
St Kilda 3182😀
St Kilda South
St Kilda East 3183
St Kilda West 3182
St Kilda Junction
Southbank 3006
South Melbourne 3205
South Wharf 3006
City of Yarra Edit
Abbotsford 3067😊
Victoria Park
Alphington 3078
Burnley
North Carlton
Clifton Hill 3068
Collingwood 3066
Collingwood North
Cremorne 3121
Fitzroy 3065
Fitzroy North 3068
North Fitzroy
Richmond 3121
Burnley North
North Richmond
Richmond South
West Richmond (the nam
Beaumaris 3193
Black Rock 3193
Brighton 3186
Were Street
Brighton Beach
Brighton North
Middle Brighton
Brighton East 3187
North Road
Cheltenham 3192
Southland Centre
Pennydale
Gardenvale 3185
Hampton 3188
Castlefield
Hampton East 3188
Highett 3190
Sandringham 3191
Moorabbin 3189
Beaconsfield 3807
Officer 3809
Officer South
Pakenham 3810
Edit
Avonsleigh 3782
Bayles 3981
Yallock
Beaconsfield Upper 3808
Cations
Bunyip 3815
Bunyip North 3815
Caldermeade 3984
Cardinia 3978
Lisbaun
Catani 3981
Clematis 3782
Cockatoo 3781
Fielder
Wright
Cora Lynn 3814
Dalmore 3981
Dewhurst 3809
Emerald 3782
Lakeside
Nobelius
Garfield 3814
Garfield North 3814
Gembrook 3783
Cornucopia
Gilwell Park
Whites Corner
Koo Wee Rup 3981
Dalmore East
Koo Wee Rup North 3891
Lang Lang 3984
Lang Lang East 3894
Longwarry 3816 (shared Shire of Baw Baw)
Maryknoll 3812
Menzies Creek 3159 (shared Shire of Yarra Ranges)
Modella 3816 (shared Shire of Baw Baw)
Monomeith 3984
Mount Burnett 3781
Nangana 3781
Nar Nar Goon 3812
Nar Nar Goon North 3812
Nyora 3987 (shared South Gippsland Shireand Shire of Baw Baw)
Officer South 3809
Pakenham South 3810
Pakenham Upper 3810
Rythdale 3810
Tonimbuk 3815
Tooradin North 3977
Tynong 3813
Tynong North 3813
Berwick
Cranbourne 3977
Cranbourne East 3977
Cranbourne North 3977
Merinda Park
Cranbourne West 3977
Cranbourne South 3977
Centreville
Doveton 3177
Endeavour Hills 3802
Eumemmerring 3177
Hallam 3803
Hampton Park 3976
Junction Village 3977
Lynbrook 3975
Narre Warren 3805
Narre Warren North 3804
Narre Warren South 3805
Blind Bight 3980
Cannons Creek 3977
Clyde 3978
Clyde North 3978
Devon Meadows 3977
Fiveways
Harkaway 3806
Lysterfield South 3156
Pearcedale 3912
Tooradin 3980
Warneet 3980
Edit
Dandenong 3175
Cleeland
Dunearn
Dandenong East
Dandenong Plaza
Oakwood Park
Dandenong North 3175
Lyndale
Dandenong South 3175
Keysborough 3173
Parkmore
Noble Park 3174
Harrisfield
Noble Park East
Yarraman
Noble Park North 3174
Springvale 3171
Sandown Park
Springvale South 3172
Lyndhurst 3975
Bangholme 3175
Carrum Downs 3201
Frankston 3199
Eliza Heights
Frankston East
Frankston Heights
Karingal
Leawarra
Long Island
Mile Bridge
Mount Erin
Olivers Hill
Frankston North 3200
Pines Forest
Frankston South 3199
Baden Powell
Langwarrin 3910
Sandhurst 3977
Seaford 3198
Belvedere Park
Kananook
Skye 3977
Lyndhurst South
Bentleigh 3204
Bentleigh East 3165
Coatesville
Eastmoor
Caulfield 3162
Caulfield East 3145
Caulfield North 3161
Caulfield Junction
Crimea
Caulfield South 3162
Hopetoun Gardens
Carnegie 3163
Elsternwick 3185
Gardenvale 3185
Gardenvale West
Glen Huntly 3163
Booran Road
McKinnon 3204
Murrumbeena 3163
Beauville
Ormond 3204
Ormond East
St Kilda East 3183
Aspendale 3195
Aspendale Gardens 3195
Bonbeach 3196
Braeside 3195
Carrum 3197
Chelsea 3196
Chelsea Heights 3196
Cheltenham 3192 (Shared with City of Bayside)
Cheltenham East
Cheltenham North
Clarinda 3169
Clayton South 3169
Dingley Village 3172
Dingley
Heathen Hill
Edithvale 3196
Heatherton 3202
Highett 3190
Mentone 3194
Charman
Mentone East
Moorabbin 3189
Moorabbin East
Wishart
Moorabbin Airport 3194
Mordialloc 3195
Mordialloc North
Parkdale 3195
Patterson Lakes 3197
Patterson Gardens
Waterways 3195
Ashwood 3147
Stocksville
Burwood 3125 (Shared with City of Whitehorse)
Chadstone 3148
Jordanville South
Clayton 3168
Clayton North
Petersville
Westerfield
Whitburn
Glen Waverley 3150
Brentwood
Syndal
Syndal East
Hughesdale 3166
Huntingdale 3166
Monash University 3800
Mount Waverley 3149
Bayview
Highbury View
Jordanville
Pinewood
Mulgrave 3170
Monashville
Mulgrave East
Mulgrave North
Valewood
Waverley Gardens
Waverley Park
Notting Hill 3168
Oakleigh 3166
Oakleigh East 3166
Oakleigh South 3167
Moorleigh
Wheelers Hill 3150
Brandon Park
Jells Park