WEDDING CELEBRANT SHERBROOKE
Call or text now on 0422448918
As a Sherbrooke Wedding Celebrant, I love marrying couples in beautiful Sherbrooke and offer exceptionally low rates. From Legal Marriages/Legal Registrations/Elopements, to Glamorous Weddings and everything in between. Contact me for an obligation free quote.
Hello and Welcome!!  My name is Sharon Osman and I am an authorized Marriage Celebrant of over 12 years, based in Melbourne. From the magical mountain ranges that Sherbrooke is a part of, to our beautiful gardens of Melbourne, I offer you a wonderful, professional ceremony in a friendly and relaxed way that you will cherish for a lifetime, and your family and friends will always remember.
I'm humbled to say that I was a finalist in the 2017 (and every year since) ABIA  Australian Bridal Industry Awards for Celebrant of the Year Victoria
Having discovered my passion over 12 years ago I decided to become a Marriage Celebrant and never looked back. Helping people to make the best day of their lives perfect and memorable is an honour. I have a soft spot in my heart for Sherbrooke weddings and conducted many marriages in and around Sherbrooke. As a matter of fact I got married in Sherbrooke's Poets Lane in 2014.
Reflecting back over my Celebrancy experiences and journey, I feel privileged that I have a lot to offer you. With a back ground in Quality Assurance, Life Coaching and public speaking, I have gained a wealth of knowledge that contributes to my profession. With my gentle and compassionate personality, allow me to add my own unique touch to your already extraordinary day.
I truly love being a Celebrant, and having had a Sherbrooke Wedding too I had the most amazing Celebrant, the lady who trained me to be a Celebrant.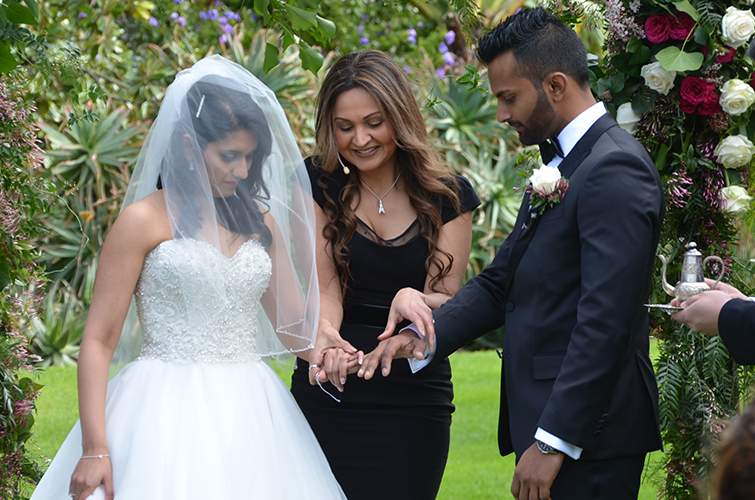 I fully understand how important the right celebrant is. I know that your wedding day is one of the most important days of your life. I am here to help and add value on this very special day, and to make it the one that you have always dreamt of. Whether your wedding be on a large scale, or be it small and intimate, here at Sherbrooke or anywhere in Melbourne, I am here to make it perfect for you both, including all your special requirements.
I have married over 600 couples and still love my job. My love for personal development has led me to be a qualified Life Coach as well. The skills I bring along enhance my ability to serve you, understand you and hold you in a place of magnificence where you can envision your wedding and tell me what exactly you want. It's my job to put together your Love Story & deliver. I send you a list of vows that you can choose from and I assist every step of the way to ensure your special day is extra special. I use a professional Mipro PA system so your ceremony is audible. Most of all, I'm told I radiate love and warm energy that relaxes my couples and calms my brides..:)
Planning a wedding in Sherbrooke? Here are a few tips to help you along the way.
Wedding and Budget are two words that may not always belong in the same sentence. Many brides I talk to tell me their final wedding cost ends up being about double what they had initially budgeted for. This could be because their budget was unrealistic for their expectations or because like most brides they had never been through the wedding process before and therefore not entirely sure what to include in the initial budget. However there are ways to keep your budget in check and spend your money wisely.
Call today on 0422448918