WEDDING CELEBRANT SOUTH BANK
Call or text now on 0422448918
Wedding Celebrant, South Bank Weddings offering professional services and also all over Melbourne. Sharon Osman is a finalist in the Australian Bridal Industry Academy Awards, 2017and every year since for Celebrant of the year Victoria.
Elopement Style, Personalised Fairytale Weddings, and anything in between. All ceremonies at amazing costs
Contact myself on 0422448918 today.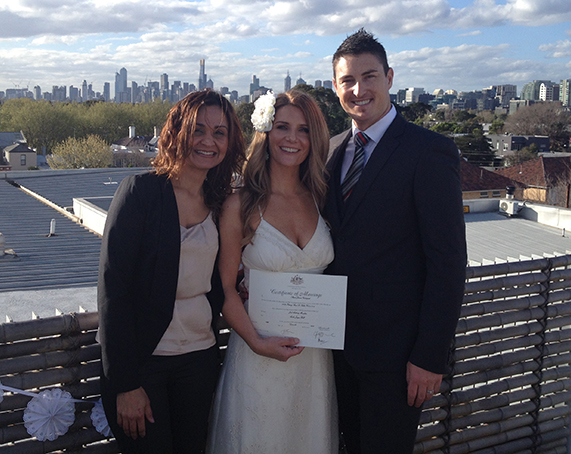 Choosing the Celebrant for your special day is very important.
Planning a wedding is exciting and enjoyable but is also a lot of work. The last thing you need is a Celebrant you don't connect with.
Just like venues get booked out for South Bank Weddings, so do Celebrants. It's always best to book a Celebrant as soon as you have booked your venue. A good, professional and reliable celebrant will be booked out as much as 12 – 18 months ahead. Particularly if you are to marry in the Spring, Autumn and Summer months. I also travel all over Melbourne.
The next step is to fill in the Notice of Intended Marriage Form (NOIM) which can be downloaded or sent to you by myself. This form must be lodged with me a minimum of one month prior to the wedding date and it remains valid up to 18 months.
The identification requirements are showing proof of original birth certificates. For those born overseas a foreign passport is acceptable in lieu of a birth certificate, only if one can't be obtained. Australian passports are now accepted – if you were born in Australia you must have an Australian Birth Certificate.
In the case of a previous marriage, you will also need to furnish documentary evidence of how the marriage terminated. in the case of Divorce then a Certificate is imperative.
It is not mandatory to have the above mentioned documents at the time of booking your celebrant, however they must be shown to me before the wedding can take place.
If born overseas and your birth documents have been lost or destroyed, I can help you with a Statutory Declaration.
In the profession for over 12 years, I have also had rewarding and creative careers in training and assessing and Quality Assurance. I am also an experience Professional Life Coach specialising with Relationships and personal Development.
As your South Bank Marriage Celebrant, when I perform a wedding I do my best to give nothing less than my best. Regardless of whether the couple marry at a 5 Star Reception or their humble backyard, whether the bride wears a track suit to her ceremony or a gown more expensive than my car.
Please read what some of my clients have to say.
"Hi Sharon,
I hope you're well…
Now that we are back from our honeymoon, we both wanted to say an absolute HUGE thank you for the most amazing ceremony you provided for us on our wedding day! The words, your spirit, your voice, your calmness, your honesty in your delivery and your joy was so evident amongst us and our guests throughout the ceremony, and it was just perfection…
We have received so many compliments and amazing feedback on the ceremony that we truly, from the bottom of our hearts, thank you
sincerely for being a part of our beautiful day and for making it
exactly what we had envisaged. We honestly could not have asked for
anything more…
Thanks again so much, it was honestly perfection…
Lots of love and hope to see you again soon and we will definitely be recommending your services to anyone we know getting married or any other ceremony…
Fabian and Angela Mawer
Xx
Sharon was a fantastic celebrant that made our wedding day perfect and complete. Not only is she elegant and presented perfectly, but she speaks eloquently and made the ceremony process simple and easy for us to just concentrate on the day.
Sharon comes highly recommended from myself and my husband and we
believe that in all situations she would make a wedding day smooth and perfect, just like she did ours.
Regards
Madurya & Benjamin
2013
Dear Sharon,
Thank you for helping us with the vows, this part was the scariest and
on the day we thought they worked out just perfectly thanks to you.
Regards
Suzie & Kunal
Sharon is a beautiful person who made our special day a truly memorable experience. She is great to deal with – friendly, warm, polite, efficient and punctual. She really feels like more of a friend than a stranger whom we just met. She took the time to write personalized vows for us which really pulled on the heart strings and had tears welling in the eyes of our guests. We would recommend Sharon to anyone who would like their event to be beyond special.
Mr & Mrs Todzy
Dear Sharon,
Thank you for being a fantastic Celebrant for us, on our very special Wedding Day.
Your calm and pleasant nature was the perfect combination for us. Thank you so much for your help and support on Saturday, you made us feel very at ease and calm.
You were a part of of our very special big day- Thank you.
Love
Scott & Freya
March 2014 "