CIVIL WEDDING CELEBRANT SOUTH MELBOURNE

Call now on 0422448918
Based in Melbourne, I service South Melbourne, officiating Personalised Wedding Ceremonies, Same Sex  Weddings, legal Marriages/ Elopements/ Marriage License/ Marriage Registration, Multi Cultural Weddings Surprise Weddings & Funerals
Sharon Osman
Civil Marriage Celebrant A11233    Email: cherishedmomentscelebrated@gmail.com   Phone: 0422448918    0387904142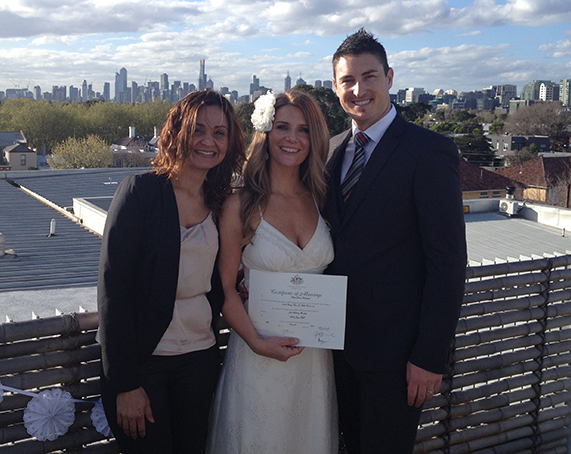 As a Melbourne Marriage Celebrant I have conducted countless number of Weddings in South Melbourne will make sure your wedding is a perfect day for you always remember. I'm pleased to say that I was nominated as a finalist in the 2017, 2018 & 2019 Australian Bridal Industry Awards for Celebrant of the year Victoria.
I am a professional marriage celebrant of over 10 years, sincerely and dearly passionate about assisting you with your big day. I am also a professional Life Coach & Mentor and bring a wealth of patience, professionalism and public speaking skills.
I have conducted hundreds of Weddings in South Melbourne and all over Australia.
The "big day" is "your day" and as your South Melbourne wedding celebrant, I'll help make it an unforgettable experience you've always dreamed it would be.
I attend to every detail and Make sure it is taken care of properly and professionally in a way that fully reflects the love you and your partner have for each other.
I am well known for my warmth and sincerity and often clients often  say " I saw your picture and I new you were the one for us" or " I heard your voice over the phone and I liked you" I feel so overwhelmed and humbled when I hear that.
I love my job and I will Personally write your own exclusive ceremony that is about you and I tell your story. When and where you met and what your love story  is like.
Regardless of what sort of Wedding you like or regardless or culture, nationality or religious background, I extend my service I'm most respectful and honourable way. I offer unbeatable service at exceptional value.
I pay attention to detail and make sure all your hopes and dreams are shared with the people you love on the day.
I Provide vows for you to choose from & readings if required. If you want cultural aspects included, I do that too.
All legal work completed, and promptly lodged with Births Deaths and marriages.
Use of a professional PA system, so that your ceremony is audible to all your guests. I can play music that you provide for your ceremony.
Some of the Other Ceremonies I conduct include:
Easy Elopement Style  Marriage License/ Marriage Registration & Same Sex Marriages In South Melbourne or from my home Office
This is for Couples who achieve noticeable milestones in their marriages and who wish to reaffirm their commitment and devotion to one another can do so by renewing their vows.
Letting your partner and your family and friends understand that this original commitment is still as sincere and meaningful as the first time around.
This private ceremony is an open display to all those that surround them of their undeniable beliefs in the true spirit of a Marriage.
This is truly one of the most moving occasions a couple can undertake to experience.
COMMITMENT CEREMONIES
I believe that people who experience the deep affection and devotion to another in one's life-time no matter what their gender deserve the right to publicly announce and take the next step in their journey together.
Even though these events are not legally binding, they are an outwardly public dedication to one another.
By taking the next step and celebrating your continued commitment to your partner in front of family and friends, whether it be a quiet intimate ceremony or a loud and flamboyant celebration, the Commitment Celebration is a bold and real experience only limited by your imagination!
LIFE CELEBRATION CEREMONIES
It is said we should celebrate one's life rather than mourn one's passing away.
My aim is always to comfort the families and friends who are left behind whilst giving them a service to remember with great fondness the person who has left this world.
Involving all those who wish to speak at the service and allowing closure to all those who come to reflect.
These ceremonies are always deeply emotional and yet enlightening as we celebrate our loved ones life.
I have married couples from all walks of life from different cultures and nationalities. Don't take my word for it. Please look at my gallery and rad some of these testimonials.
TESTIMONIALS
Thank you so much for making our special day what it was. Both Matt
and myself warmed to you instantly and found you incredibly helpful in
organising our ceremony. Our guests commented on how well spoken and
friendly you were and you also managed to look fabulous – despite the cold weather! You made the whole process easy due to your professional manner and obvious experience and I am grateful for finding you.
Thanks again!!
Liana & Matthew Smiles.
2013
Dear Sharon,
We just wanted to say a massive thank you for our wedding. We are so grateful that we could make it legal and so are our parents
We really appreciate all your help with putting together and
delivering the ceremony. We have had such positive feedback about the whole thing.
All the best,
Nick & Julia De Ville
"Sharon was the celebrant for our wedding in February
2011. She was an absolute pleasure to work with. Throughout the entire
wedding planning process Sharon was there to offer guidance and
support. On the wedding day itself she made both myself and my husband very comfortable. Our ceremony was very relaxed and personalized and
many of our guests were full of praise for how the ceremony was
conducted.
Sharon, a heart felt thanks from both Aaron and I for making our
wedding day amazing!
All the best
Aaron & Sarah Tan
We were absolutely satisfied with Sharon as our celebrant at our
wedding ceremony.
Sharon captured the heart and soul of our relationship and was able to
convey the true meaning of our marriage. She was very helpful in
preparing us for the "Big Day" which turned out fabulously.
Upon meeting Sharon for the first time, we were equally comfortable in
deciding to have her conduct and share in our celebration of our
marriage.
She performed the ceremony graciously and was able to make it
enjoyable for us and the audience too.
We would highly recommend Sharon to any soon to be Husband and Wife.
Thank you very much Sharon for making our wedding day, as beautiful as it was…
Mr and Mrs Lay
2011
Hi Sharon,
I would to thank you again for all your help and support in making
our day so special. As every Bride & Groom knows, no matter how big or
small the ocassion , it can be a very stressful time. Your warmth ,
patience, your deep understanding of love and commitment, your sense
of family and spirituality added so much to our 'Special Day' You
thought of everything and helped us with our vows and understood that
they had to be just right to encapsulate our emotions. We, our family, & friends still look back on that day and just – smile. It was just
perfect.
Kind Regards
Diane & Ron
Hi Sharon,
I would just like to thank you so much for your lovely ceremony
yesterday, you did such an amazing job & really made Indies day one to
remember. We had lots of comments on what a beautiful job you did.I
have passed your details on to a friend who asked me for your details
for her daughters naming day.
Thank you once again & hopefully if we ever are blessed with another
child in the future you will be around to do the ceremony.
Kind Regards
Jen, Sean & Indie
Hi Sharon,
I hope you're well…
Now that we are back from our honeymoon, we both wanted to say an absolute HUGE thank you for the most amazing ceremony you provided for us on our wedding day! The words, your spirit, your voice, your calmness, your honesty in your delivery and your joy was so evident
amongst us and our guests throughout the ceremony, and it was just perfection…
We have received so many compliments and amazing feedback on the ceremony that we truly, from the bottom of our hearts, thank you
sincerely for being a part of our beautiful day and for making it
exactly what we had envisaged. We honestly could not have asked for
anything more…
Thanks again so much, it was honestly perfection…
Lots of love and hope to see you again soon and we will definitely be
recommending your services to anyone we know getting married or any other ceremony…
Fabian and Angela Mawer
Xx
Sharon was a fantastic celebrant that made our wedding day perfect and complete. Not only is she elegant and presented perfectly, but she speaks eloquently and made the ceremony process simple and easy for us to just concentrate on the day.
Sharon comes highly recommended from myself and my husband and we
believe that in all situations she would make a wedding day smooth and perfect, just like she did ours.
Regards
Madurya & Benjamin
2013
Dear Sharon,
Thank you for helping us with the vows, this part was the scariest and
on the day we thought they worked out just perfectly thanks to you.
Regards
Suzie & Kunal
Sharon is a beautiful person who made our special day a truly memorable experience. She is great to deal with – friendly, warm, polite, efficient and punctual. She really feels like more of a friend than a stranger whom we just met. She took the time to write personalized vows for us which really pulled on the heart strings and had tears welling in the eyes of our guests. We would recommend Sharon to anyone who would like their event to be beyond special.
Mr & Mrs Todzy
Dear Sharon,
Thank you for being a fantastic Celebrant for us, on our very special Wedding Day.
Your calm and pleasant nature was the perfect combination for us. Thank you so much for your help and support on Saturday, you made us feel very at ease and calm.
You were a part of of our very special big day- Thank you.
Love
Scott & Freya
March 2014
Dear Sharon,
Thank you so much for creating such a beautiful Wedding Ceremony for us. From meeting you the first time, you made us feel at ease and confident that the day will just be perfect. You were a breath of fresh air, and we could not have wished for a more empathetic and passionate Celebrant than you.
Thank You.
Michael & Fretzi Walburgh
Dear Sharon,
Thank you for performing Maya's naming Ceremony and celebrating her special day with us.
With Love
Lee Sarah & Maya
xox
Suburbs I Service for both straight and SAME SEX MARRIAGES
Carlton 3053
Carlton South
Carlton North
Docklands 3008
East Melbourne 3002
Jolimont
Flemington 3031 (Shared with City of Moonee Valley)
Kensington 3031
Melbourne 3000
Melbourne 3004 (St Kilda Road area, shared with City of Port Phillip)
North Melbourne 3051
Hotham Hill
Macaulay
Parkville 3052
Royal Park
Port Melbourne 3207
Fishermans Bend
Southbank 3006
South Wharf 3006
South Yarra 3141
West Melbourne 3003
Coode Island
City of Port Phillip Edit
Albert Park 3206😊
Balaclava 3183😊
Elwood 😊
Middle Park 3206😊
Port Melbourne 3207 😊
Beacon Cove
Fishermans Bend😊
Garden City
Sandridge
Ripponlea 3185 😊
St Kilda 3182😀
St Kilda South
St Kilda East 3183
St Kilda West 3182
St Kilda Junction
Southbank 3006
South Melbourne 3205
South Wharf 3006
City of Yarra Edit
Abbotsford 3067😊
Victoria Park
Alphington 3078
Burnley
North Carlton
Clifton Hill 3068
Collingwood 3066
Collingwood North
Cremorne 3121
Fitzroy 3065
Fitzroy North 3068
North Fitzroy
Richmond 3121
Burnley North
North Richmond
Richmond South
West Richmond (the nam
Beaumaris 3193
Black Rock 3193
Brighton 3186
Were Street
Brighton Beach
Brighton North
Middle Brighton
Brighton East 3187
North Road
Cheltenham 3192
Southland Centre
Pennydale
Gardenvale 3185
Hampton 3188
Castlefield
Hampton East 3188
Highett 3190
Sandringham 3191
Moorabbin 3189
Beaconsfield 3807
Officer 3809
Officer South
Pakenham 3810
Edit
Avonsleigh 3782
Bayles 3981
Yallock
Beaconsfield Upper 3808
Cations
Bunyip 3815
Bunyip North 3815
Caldermeade 3984
Cardinia 3978
Lisbaun
Catani 3981
Clematis 3782
Cockatoo 3781
Fielder
Wright
Cora Lynn 3814
Dalmore 3981
Dewhurst 3809
Emerald 3782
Lakeside
Nobelius
Garfield 3814
Garfield North 3814
Gembrook 3783
Cornucopia
Gilwell Park
Whites Corner
Koo Wee Rup 3981
Dalmore East
Koo Wee Rup North 3891
Lang Lang 3984
Lang Lang East 3894
Longwarry 3816 (shared Shire of Baw Baw)
Maryknoll 3812
Menzies Creek 3159 (shared Shire of Yarra Ranges)
Modella 3816 (shared Shire of Baw Baw)
Monomeith 3984
Mount Burnett 3781
Nangana 3781
Nar Nar Goon 3812
Nar Nar Goon North 3812
Nyora 3987 (shared South Gippsland Shireand Shire of Baw Baw)
Officer South 3809
Pakenham South 3810
Pakenham Upper 3810
Rythdale 3810
Tonimbuk 3815
Tooradin North 3977
Tynong 3813
Tynong North 3813
Berwick
Cranbourne 3977
Cranbourne East 3977
Cranbourne North 3977
Merinda Park
Cranbourne West 3977
Cranbourne South 3977
Centreville
Doveton 3177
Endeavour Hills 3802
Eumemmerring 3177
Hallam 3803
Hampton Park 3976
Junction Village 3977
Lynbrook 3975
Narre Warren 3805
Narre Warren North 3804
Narre Warren South 3805
Blind Bight 3980
Cannons Creek 3977
Clyde 3978
Clyde North 3978
Devon Meadows 3977
Fiveways
Harkaway 3806
Lysterfield South 3156
Pearcedale 3912
Tooradin 3980
Warneet 3980
Edit
Dandenong 3175
Cleeland
Dunearn
Dandenong East
Dandenong Plaza
Oakwood Park
Dandenong North 3175
Lyndale
Dandenong South 3175
Keysborough 3173
Parkmore
Noble Park 3174
Harrisfield
Noble Park East
Yarraman
Noble Park North 3174
Springvale 3171
Sandown Park
Springvale South 3172
Lyndhurst 3975
Bangholme 3175
Carrum Downs 3201
Frankston 3199
Eliza Heights
Frankston East
Frankston Heights
Karingal
Leawarra
Long Island
Mile Bridge
Mount Erin
Olivers Hill
Frankston North 3200
Pines Forest
Frankston South 3199
Baden Powell
Langwarrin 3910
Sandhurst 3977
Seaford 3198
Belvedere Park
Kananook
Skye 3977
Lyndhurst South
Bentleigh 3204
Bentleigh East 3165
Coatesville
Eastmoor
Caulfield 3162
Caulfield East 3145
Caulfield North 3161
Caulfield Junction
Crimea
Caulfield South 3162
Hopetoun Gardens
Carnegie 3163
Elsternwick 3185
Gardenvale 3185
Gardenvale West
Glen Huntly 3163
Booran Road
McKinnon 3204
Murrumbeena 3163
Beauville
Ormond 3204
Ormond East
St Kilda East 3183
Aspendale 3195
Aspendale Gardens 3195
Bonbeach 3196
Braeside 3195
Carrum 3197
Chelsea 3196
Chelsea Heights 3196
Cheltenham 3192 (Shared with City of Bayside)
Cheltenham East
Cheltenham North
Clarinda 3169
Clayton South 3169
Dingley Village 3172
Dingley
Heathen Hill
Edithvale 3196
Heatherton 3202
Highett 3190
Mentone 3194
Charman
Mentone East
Moorabbin 3189
Moorabbin East
Wishart
Moorabbin Airport 3194
Mordialloc 3195
Mordialloc North
Parkdale 3195
Patterson Lakes 3197
Patterson Gardens
Waterways 3195
Ashwood 3147
Stocksville
Burwood 3125 (Shared with City of Whitehorse)
Chadstone 3148
Jordanville South
Clayton 3168
Clayton North
Petersville
Westerfield
Whitburn
Glen Waverley 3150
Brentwood
Syndal
Syndal East
Hughesdale 3166
Huntingdale 3166
Monash University 3800
Mount Waverley 3149
Bayview
Highbury View
Jordanville
Pinewood
Mulgrave 3170
Monashville
Mulgrave East
Mulgrave North
Valewood
Waverley Gardens
Waverley Park
Notting Hill 3168
Oakleigh 3166
Oakleigh East 3166
Oakleigh South 3167
Moorleigh
Wheelers Hill 3150
Brandon Park
Jells Park
Here are some venues you might be interested in.
Belucci's Function Centre
328 Kings Way, South Melbourne VIC
Luminair Roof top
Cnr York Street & Browns Lane, South Melbourne, VIC, 3205
The South Melbourne Trader
South Melbourne Function Venues VIC
Centro Ristorante Italiano
South Melbourne Function Venues VIC
City Park Hotel
South Melbourne Function Venues VIC
Emerald Hotel
South Melbourne Function Venues VIC
Hilton Melbourne South Wharf Hotel
South Melbourne Function Venues VIC
HONEY Bar and Restaurant
South Melbourne Function Venues VIC