MELBOURNE WEDDING – MARRIAGE CELEBRANT
Call 0422448918 now!
Just got engaged and after a Melbourne Wedding/Marriage Celebrant? You're in the right place. Congratulations and welcome to all the excitement of getting married.
I'm Sharon Osman, a Melbourne Wedding/Marriage Celebrant of 12 years. My Experience extends far and wide marrying couples from all over Melbourne, interstate and overseas.
With a background in Coaching and Quality assurance, you are guaranteed precision, professionalism and excellent public speaking skills. For an elegant, outstanding and affordable Wedding in Melbourne, contact me for a free Quote and find out how I can transform your wedding ceremony to something unforgettable.
Email- cherishedmomentscelebrated@gmail.com
Mobile- 0422448918
I am humbled and privileged to serve couples doing what I love which is uniting people in marriage.
My journey as a Melbourne wedding celebrant has been nothing short of fulfilling and rewarding. Over the years I have met, befriended and married hundreds of couples, all over Melbourne, interstate and Overseas Couples.
I always say I was born to serve, add value to lives & offer you only the best. After performing over 800 weddings and receiving several ABIA awards & Best Customer Service award I am humbled and constantly competing with myself to keep learning, growing and improving.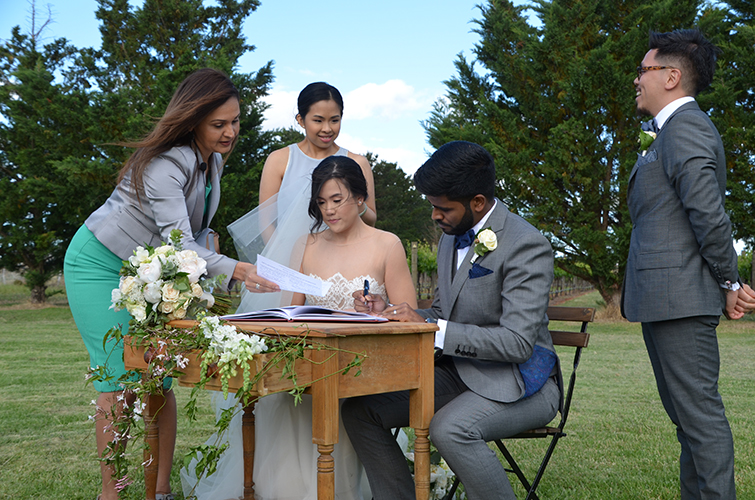 I want you to know that you are in the best hands. From day one you are my priority, my responsibility and my focus. I have never disappointed, cancelled on or discredited anyone I've ever met. I am a woman of my word and always deliver more than l promise.
As an Authorised Melbourne Wedding/Marriage Celebrant, my Style is Authentic and Modern. There's always something to suit everyone's needs. From a simple Legal Elopement in my home office, to a registry style wedding in your backyard, or a meaningful & personalised ceremony. I offer you a uniquely meaningful ceremony that is totally about you & one that will draw on the attention of your family and friends leave a lasting memory of your wedding day.
Regardless of who you are, nationality, culture, religion, sexual preference or age group. My approach is from a place of love, kindness, understanding & respect. Every ceremony is unique, meaningful and has a fun vibe.
With me as your Melbourne Wedding Celebrant, you will enjoy a relaxed and calm ceremony, in the most amazingly peaceful atmosphere. As your celebrant I will make sure that this is exactly how you envisioned it.
You are ensured of my prompt and genuine delivery, presenting your ceremony with grace, light heartedness and class.
Your wedding day is a very significant day in your life & choosing a celebrant is an important step in planning your wedding. My wish is that you choose wisely.
My fee includes:-
An obligation free first meeting
My assistance through all the legal requirements
A personalised wedding ceremony, designed to suit you individual needs.
A high quality PA system.
Music played through my system if required.
Vows & Readings
Unlimited guidance & support.
Presentation certificate
Lodgement of the marriage with Births, Deaths & Marriages.
Why not contact me and see if I'm the one to Serve you.
Melbourne Wedding/Marriage Celebrant – Sharon Osman
0422448918