SOUTH EASTERN SUBURBS – WEDDING / MARRIAGE CELEBRANT
Call or text now on 0422448918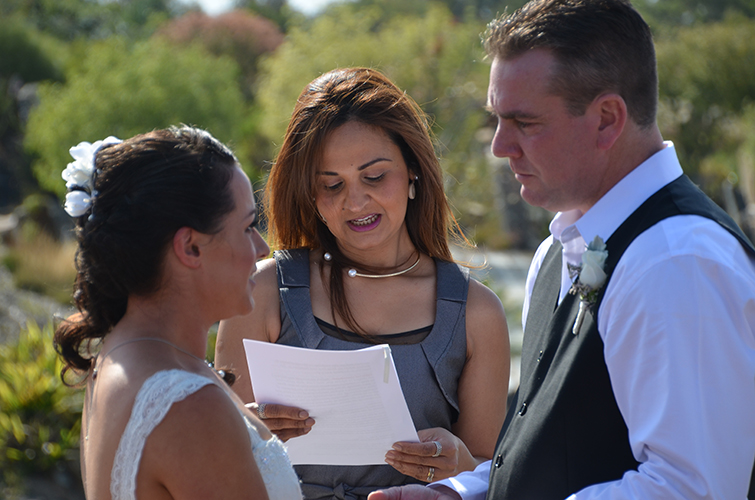 Hello and welcome, congratulations on your upcoming wedding and thanks for reading on.
If you are located in the South Eastern Suburbs and looking for a Marriage Celebrant, I most certainly can assist.
I'm Sharon Osman a Melbourne Wedding Celebrant with over 12 years of service up my sleeve.
I am and have been in the South Eastern Suburbs for many years now, meeting and helping couples as they plan their special wedding day.
If you know what sort of wedding ceremony you want?  Great, give me a call and I'll deliver almost anything you wish to make your dreams a reality.
If you are new to all of this and don't know where to being, let me shed some light on some of your options.
Servicing the South Eastern Suburbs as a Wedding Celebrant, I offer two sorts of weddings.
Legal registration from my office with you both and your two witnesses. This is a quick, low key and cost effective way to get married. This includes lodging the Notice form with me, all legalities on the day and I even apply for and order your legal certificate for you both after the wedding. Alternatively, I can also come to you both.
Personalised Wedding Ceremonies. This is a little more elaborate for those who choose to marry and celebrate with family and friends at a venue of their choice. This includes lodging the "Notice" form with me, all legalities on the day, a personalised ceremony uniquely designed for you both, sharing how you both met, fell in love and the qualities you love about each other, it's filled with love, romance and memories of your special relationship.
You'll receive vows to choose from, I use a professional PA System and microphone so everyone can hear your ceremony, I also allow for any personal requests, religious or cultural aspects to be included in your ceremony.  I even apply for and order your legal certificate for you both after the wedding. So you basically just get to relax and take in your special day and leave the whole ceremony to me. My couples are my focus and you will have my full attention and support every step of the way. Some couples choose alternative ceremonies or have very different needs. I am extremely flexible and design custom ceremonies to suit you. Nothing is too much trouble for me, whether you plan to marry in the South Eastern Suburbs or anywhere in Melbourne. Call me for more information and you're going to be surprised on how much value you receive. All your questions will be answered so you can make an informed decision. 0422448918
WEDDING MARRIAGE CELEBRANT – SOUTH EASTERN SUBURBS